small diesel locomotive 100 547-9
| | |
| --- | --- |
| Builder: | Henschel |
| Constructed: | 1934 |
| Works number: | 22344 |
In October 1934 our small diesel loco was delivered by Henschel, Kassel to the German State Railway as Kö 4547. After working in the east under the control of the army high command in Berlin, it returned to the German State Railway in the GDR. Here it was renumbered to 100 547-9 on 1 June 1970. On 17 December 1991 a shopping proposal for our small loco was turned down, although it was officially renumbered in 1994 to 310 547-5.

It was withdrawn from service on 29.06.1994. That same year, it was given to the railway repair and maintenance workshops in Wittenberge previously the RAW Wittenberge, as "a device for internal shunting". It was taken over by our society after being withdrawn.

A start has recently been made on its cosmetic restoration and return to working order.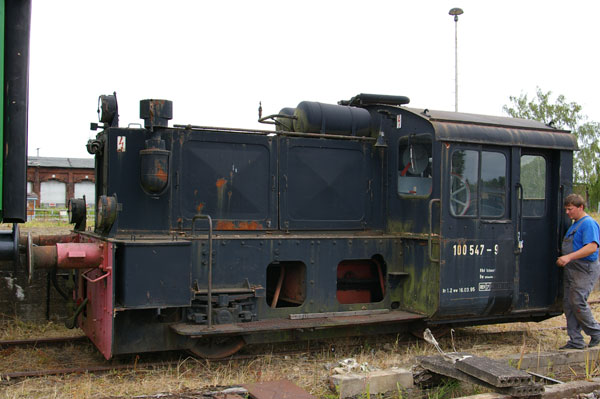 Inzwischen hat die optische und betriebsfähige Aufarbeitung begonnen.
image of the month