Forthcoming steam weekends (2024): 04-05 May 2024; 06-07 July 2024; 08 September 2024; 12-13 October 2024
Opening hours at other times:
from 30 March 2024 to 26 October 2024 every saturday from 10 am to 5 pm.
Further information is available
here
.
18.04.2023: Spring Steam at the Historic Engine Shed Wittenberge
On 6 and 7 May 2023 it's that time again: the Historic Engine Shed in Wittenberge invites you to this year's Spring Steam. On both days there will once again be plenty on offer for railway enthusiasts young and old. For example, the two small steam locomotives Emma and Pritzwalk will pull a special train through the grounds. Here you can comfortably explore the large museum grounds at Wittenberg station in a passenger coach from 1920. During the journey, you can even let the wind and a pinch of steam blow around your nose on the outside platforms of the carriage. Or you can ride in the driver's cab on a large freight steam locomotive of the former German Reichsbahn and watch the locomotive crew at work. The active members of the association are also looking forward to presenting the association's own large diesel locomotive 114 774 to the public. It will be able to move under its own power for the first time in a long time. Interested visitors will certainly be able to visit the driver's cab and learn some interesting details about the locomotive from the museum staff. Incidentally, it and many other operational exhibits will also be presented during the parade rides, which will take place on Saturday at 2 pm and on Sunday at 3 pm.
If you're not quite comfortable with that, you can also start small. The trolley cars of the association invite you to take a ride. Of course, the museum's treasures will also be presented on the turntable in turn. Those who want to take a souvenir home with them are sure to find something at the souvenir stalls in the engine shed. Hunger or thirst will be satisfied with delicacies from the grill and the famous pea soup from the Wittenberge volunteer fire brigade. All at a family-friendly price. Admission prices are € 8 for adults and € 4 for children. For families there is a family ticket for € 20.
The engine shed is open to visitors from 10 am on both days. On Saturday, visiting hours end at 5 pm, on Sunday at 4 pm (admission until one hour before). For those who still want to take that special photo, a photo session is recommended on Saturday from 5 p.m. (separate admission charge). Among other things, the mighty express steam locomotive 01 509 and one or two other exhibits from the museum's collection will be put in a photo-friendly light. The museum staff have already drafted a "script" for this. The photographers' wishes will be gladly taken into account.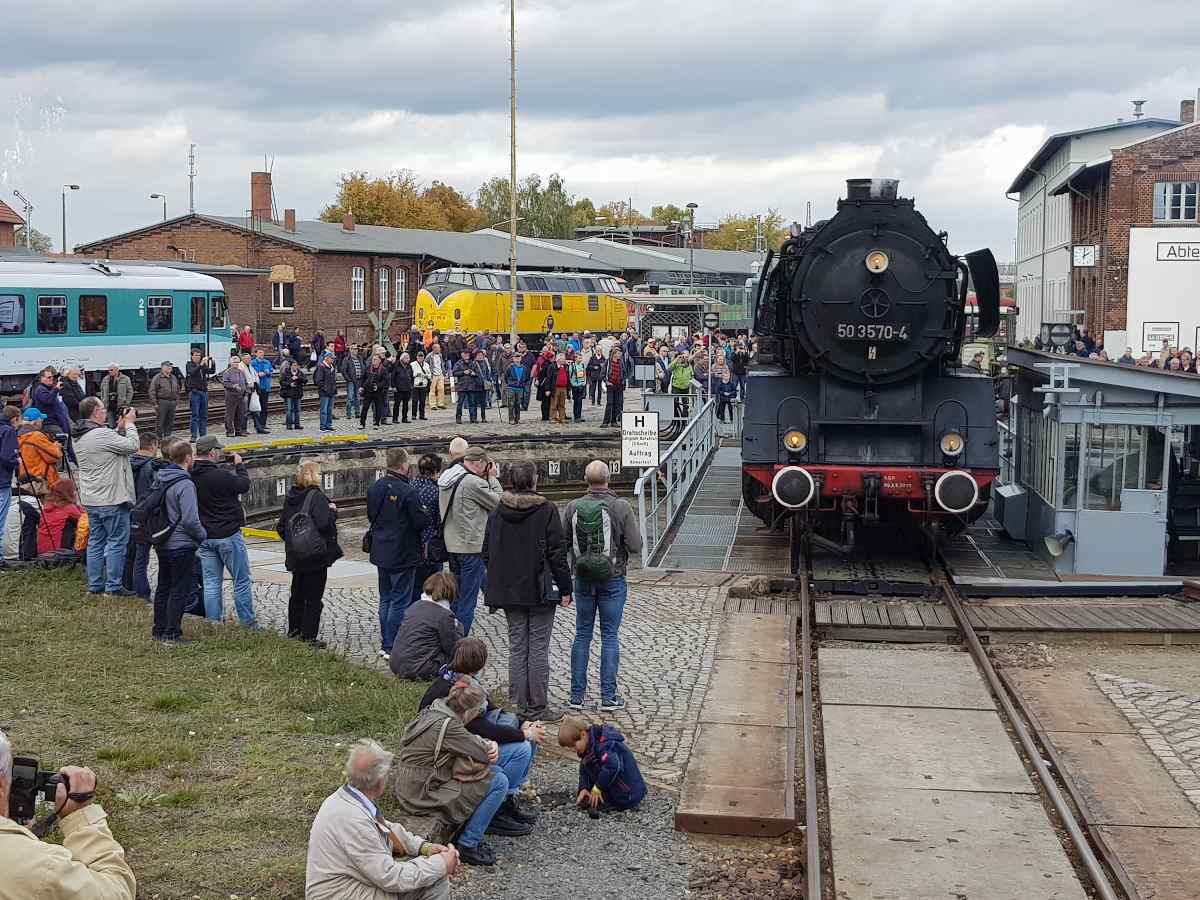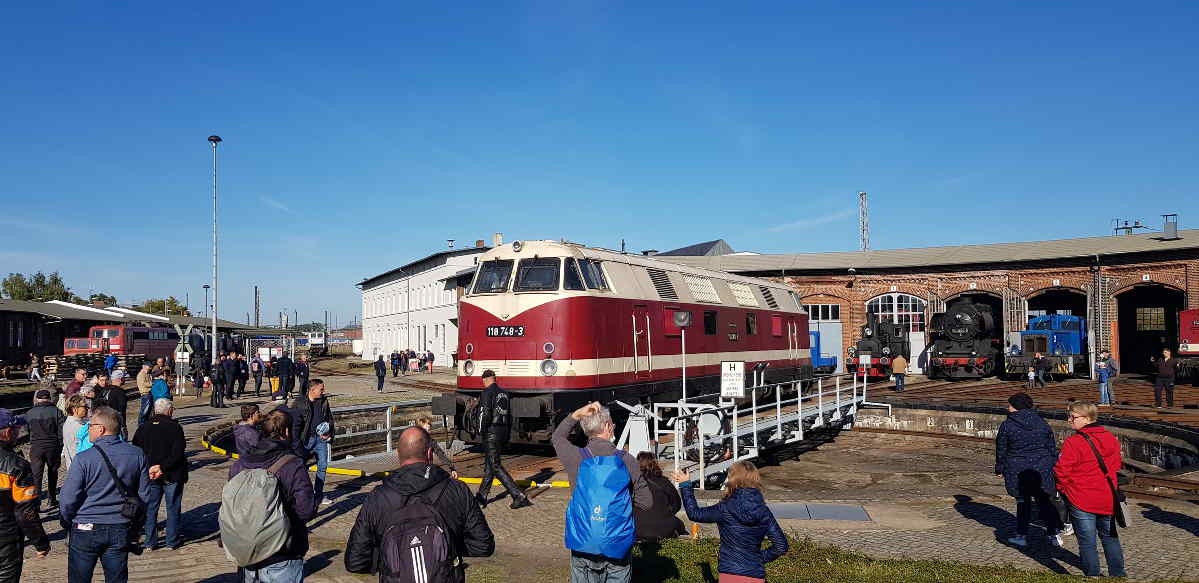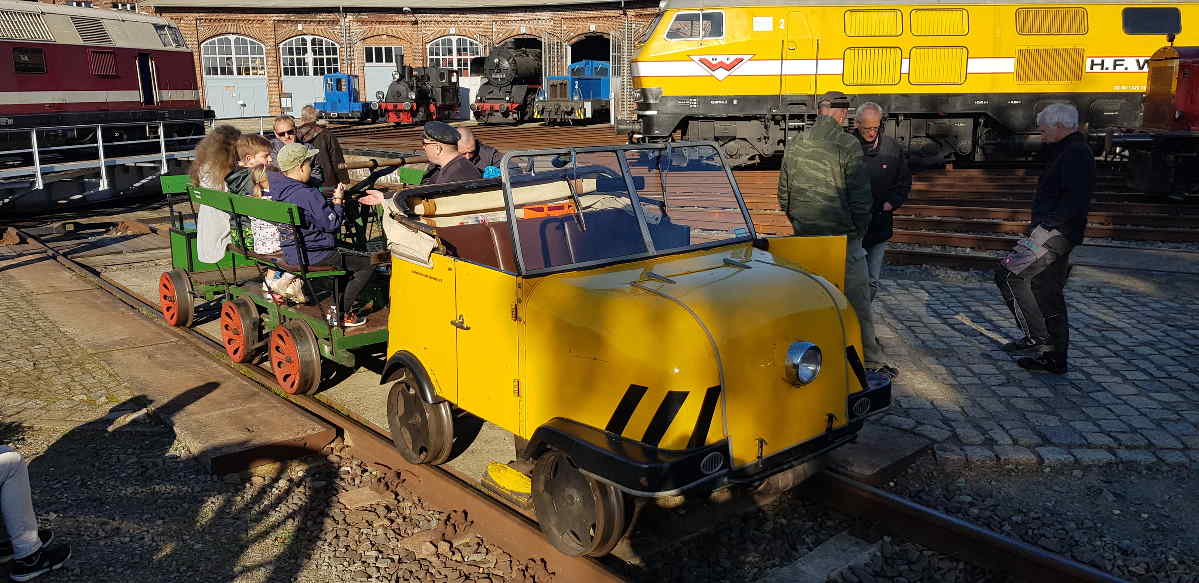 overview