Beiwagen 197 833-7
From its opening in 1887, the Neuhaldensleben Railway Company (NhE) operated the line between Haldensleben and Eilsleben, on the line between Magdeburg and Helmstedt.

In the early 1930s, the NhE started investing heavily in replacing its rolling stock. To rationalise passenger traffic, in 1932 a baggage car was converted in its own workshops into a powered railcar. This powered railcar used to operate with two control trailers, constructed in 1927 as passenger carriages by the Waggonbaufabrik Wismar and which were also suitably reconstructed in the NhE's workshops. The train, made up of powered railcar carrying the number T03 and the two control trailers C 309 and C 310, was very popular with the travelling public.

Four years later, in 1936, on a four-axle railcar chassis obtained from WUMAG in Görlitz but surplus to requirements there, its own workshops built the four-axle control trailer which was given the number C 111.

After the NhE was taken over by the German State Railway on 01.04.1949, control trailer C 111 was initially numbered VS 145 502 und until 04.07.1956 was allocated to the newly-established depot at Haldensleben. In 1956, it was also repainted for the first time. After 1956, the control trailer was allocated in turn to the depots at Aschersleben, Brandenburg-Altstadt, Jerichow and then back to Brandenburg.

In 1961, a third headlight was installed by the repair shops at Dessau and in 1962, also in Dessau, the control trailer was finally converted into a full trailer. Tail-lamp holders were added, as were aluminium baggage and umbrella racks. The trailer now received the number VB 147 512 and was allocated in turn to the depots at Jerichow, Brandenburg, Haldensleben, Blankenburg, Salzwedel, Stendal, Brandenburg, Haldensleben, Blankenburg, Stendal, Haldensleben and again Brandenburg, then from June 1968 until its retirement it was stationed in Bw Jerichow.

In the 1970 computer renumbering programme, it was renumbered 197 833-7. At the end of 1971/start of 1972 the trailer was repainted in the Schöneweide repair shops. It was there again from May to September 1974. As the result of a recent agreement, the standard Prussian bogies were replaced by bogies as used on the rapid transit (S-Bahn) fleet and the carriage was again repainted, this time into the livery it was to carry until its withdrawal.

The trailer was signed off from its last overhaul at Bw Jerichow on 08.08.1977. Later stored in Schönhausen/Elbe, it was towed to Salzwedel on 02.05.1982 to be placed in the care of the 7/64 Association Salzwedel, which in 1990 was to become the Draisinen- and Modellbahnfreunde Salzwedel – Salzwedel Rail Trolley and Model Railway Society.

When the society was wound up at the end of 2012, the vehicle was transferred to the Dampflokfreunde Salzwedel e.V..

Externally, our trailer car is today presented in the condition in which it was running between 1972 and 1974.


Technical details
| | |
| --- | --- |
| Length over buffers: | 19450 mm |
| Extreme width: | 2935 mm |
| Height above TOR: | 3770 mm |
| Seating (original): | 100 |
| Compartment connection: | 2 compartments, centre gangway, seating 3+2 |
| Bogie pivot pitch: | 12000 mm |
| Axle boxes: | Plain bearing |
| Running wheels diameter: | 1000 mm |
| Buffer plate diameter: | 370 mm |
| Coupling: | Heavy-duty screw |
| Heating originally: | Hot water (Harz F floor-mounted stove) |
| Type of brakes: | Shoe brakes |
| Handbrake: | Screw brake |
| Weight in working order: | 30.74 t (before rebuilding) |
| Weight in working order: | 30.6 t (after rebuilding) |
image of the month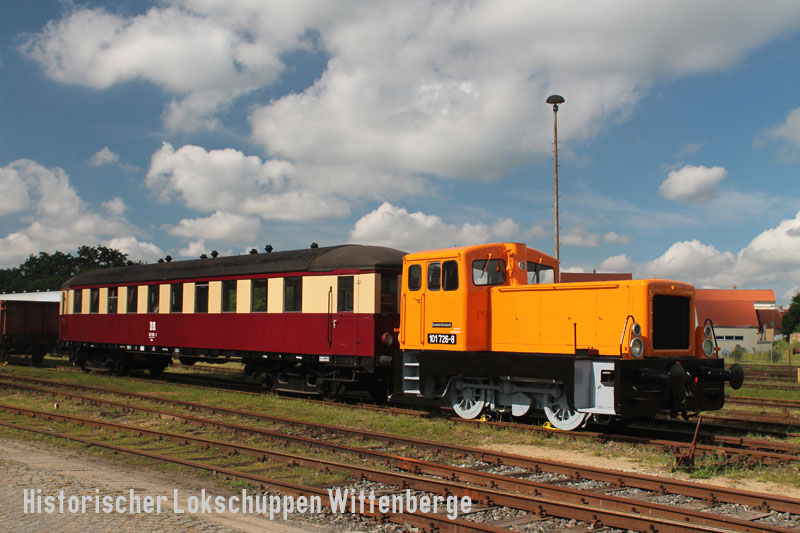 August 2014