steam locomotive 44 594
| | |
| --- | --- |
| Builder: | Krupp, Essen |
| Constructed: | 1941 |
| Works number: | 2242 |
| Power output: | 2.000 PS |
| State: | Exhibit |
Steam loco 44 594 was delivered to the German State Railway in August 1941. She belongs to a class of heavy freight locomotives designed with three cylinders and capable of putting out more than 2,000 HP. After WWII, many of these locos remained in the GDR, while many more in West Germany were taken into German Federal Railway's stock. Our example spent most of her service working from Dillenburg, Giessen and Betzdorf, while for the last few months of her active service in 1975, she was transferred to Gelsenkirchen.

Instead of being cut up following her withdrawal, she was towed to Hamburg
together with a number of her sisters to be used in load-testing the newly-built Süderelbbrücke (South Elbe Bridge). She eventually came into the possession of the railway museum Hamburg-Wilhelmsburg, which burned dow as the result of an arson attack in 1994. Our loco was also severely damaged in this incident and remained in the ruins of the Wilhelmsburg loco shed for a further seven years.

In 2001, the Salzwedel Steam Loco Friends acquired the loco and on 2012 she joined the collection at the Historic Loco Shed Wittenberge. Although the loco strictly represents the German Federal Railway, she is a typical reminder of the golden age of steam in Wittenberge, since there were several locomotives of the same type allocated here. At the moment, the locomotive is only wearing a makeshift coat of paint; it is not intended to restore her to working order, but further optical work to make her a worthy exhibit is planned.
image of the month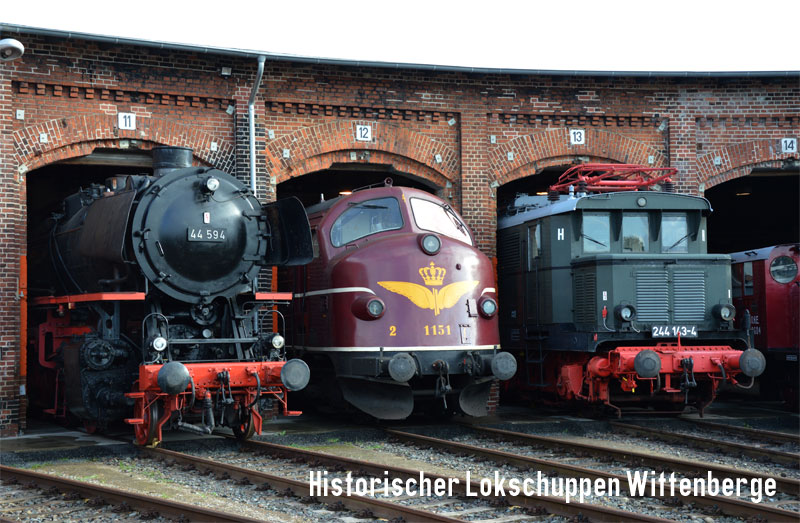 November 2016