steam locomotive 50 3570-4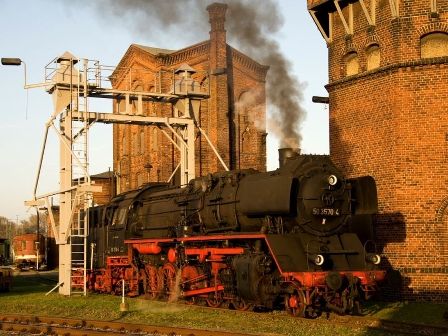 | | |
| --- | --- |
| Builder: | Henschel, Kassel |
| Constructed: | 1942 |
| Works number: | 26639 |
| State: | Refurbishing |
Steam loco 50 3570-4 was put into service in 1942 as one of several thousand of her type. At the time, she carried the number 50 2308. One of many to remain in the GDR at the end of the war, she was extensively rebuilt at the end of the 1950s. The reconstruction involved provision of a new boiler, and she was then allocated the running number 50 3570.

Following rebuilding, she was to see service in Saxony-Anhalt until 1983, when she was reallocated to Wittenberge depot. She was withdrawn from service here in 1993. For the last few years of service for the German State Railway, she was mostly used as a stationary boiler to provide heating for state railway buildings.

In 1993, she was acquired by the permanent way contractior Hermann Wiebe which initially had her visually restored for exhibition. Thereafter, she spent a good ten years dry and protected from the elements on federal army premises near Nienburg / Weser. Then in 2003, she was put in the care of the society "Steam Loco Friends Salzwedel", which took on the task of restoring her to working order. This work was completed in 2009, and today the locomotive is on display in the Historic Loco Shed at Wittenberge.