25.01.2020: Latest news
The work on the Breuer tractor, about whose field of use and mode of operation we reported on last time, is continuing. For the first time, the transmission has been opened to see how far corrosion has already taken its toll. To our surprise, it still looks quite good, even though the transmission oil was already contaminated with condensation, forming a foul-smelling emulsion. But as they say: hold your nose and keep going! In the meantime, it was also possible to remove the gearbox, which will be cleaned soon.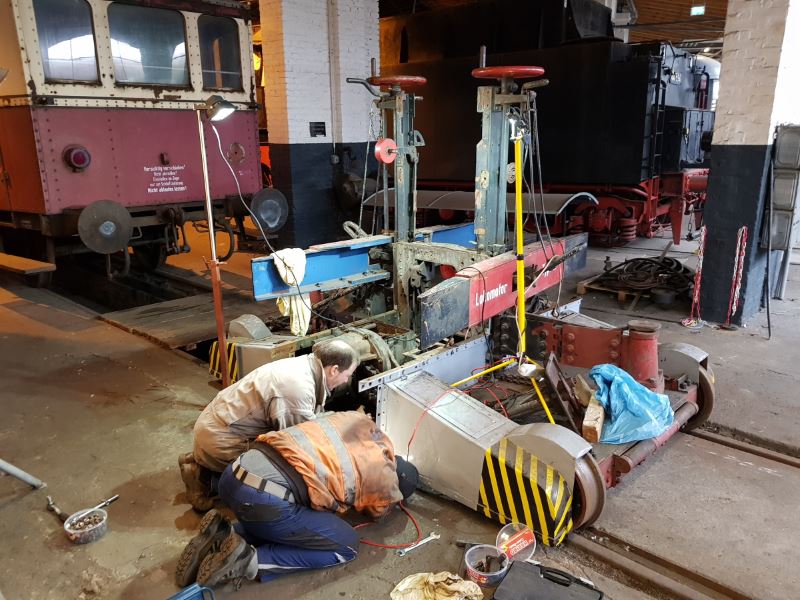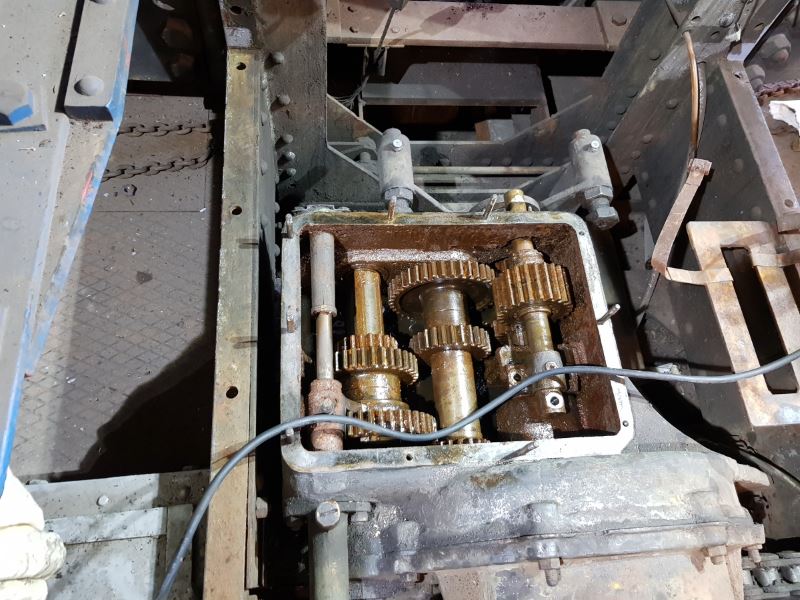 VB 197 805 also continues to make progress; it has now been gutted so that we can treat the inside of the body with rust protection. and meanwhule the first interior panels have been reattached along the window strip.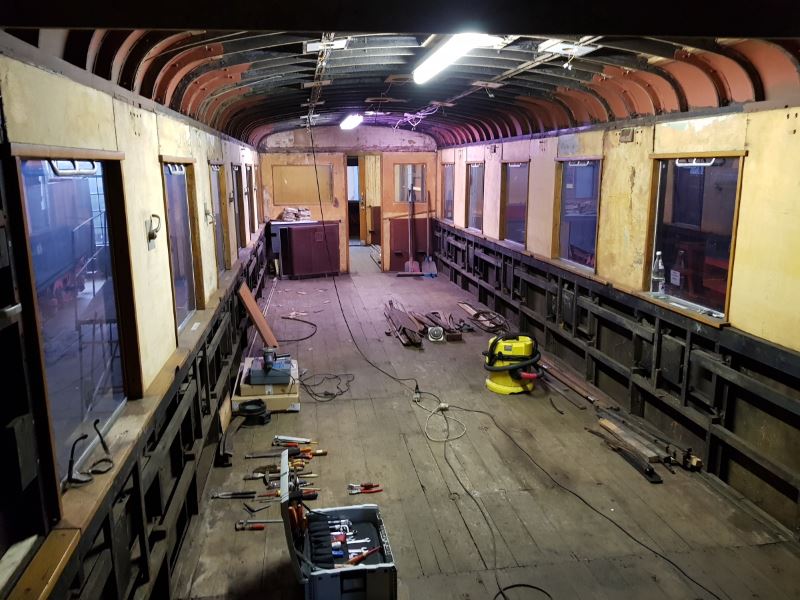 We have also removed parts of the floor to inspect the condition of the frame underneath it. We were very positively surprised. All load-bearing parts have survived the decades undamaged. The next picture shows the slotted main girder, which supports the car body on the bogie below with the unpowered axles. The beams which absorb tractive and impact forces from the vehicle coupling and the buffers, lead radially to the left in the picture.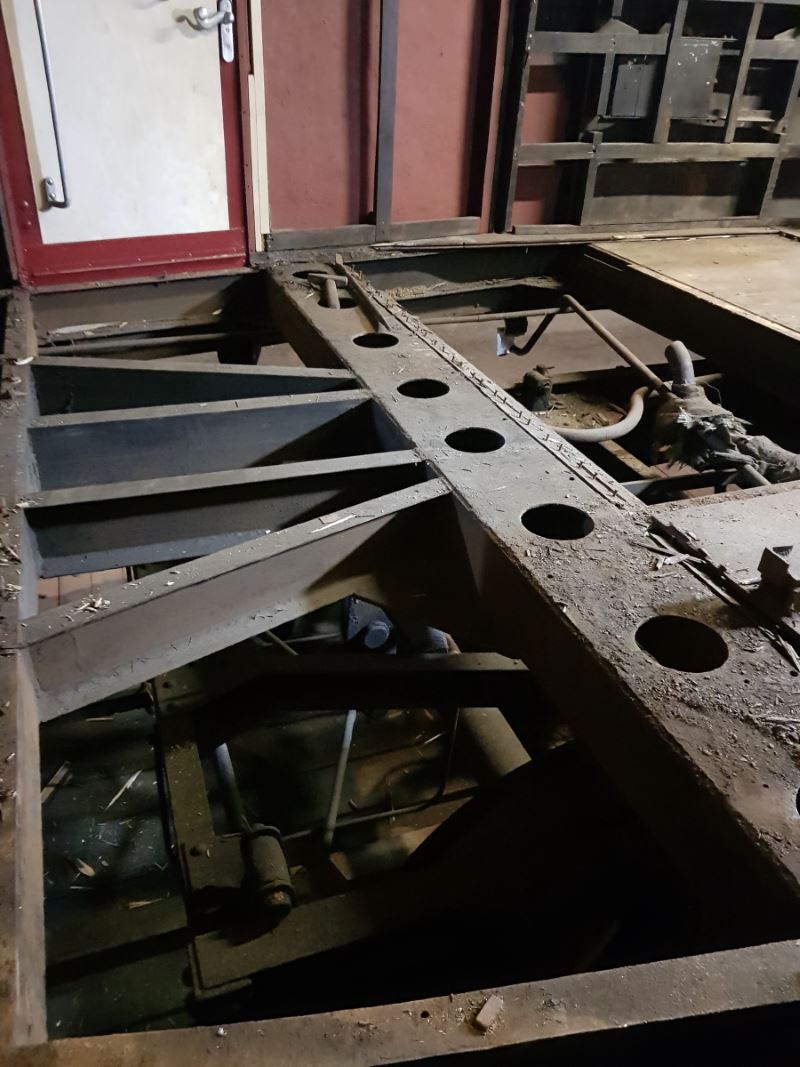 There is also progress to report outside. Scaffolding will be erected next week on the remnants of engine shed 1, the parts of which have already been delivered. Specialist companies will then start to refurbish the remaining walls. After that, parts of the building will be given a roof again.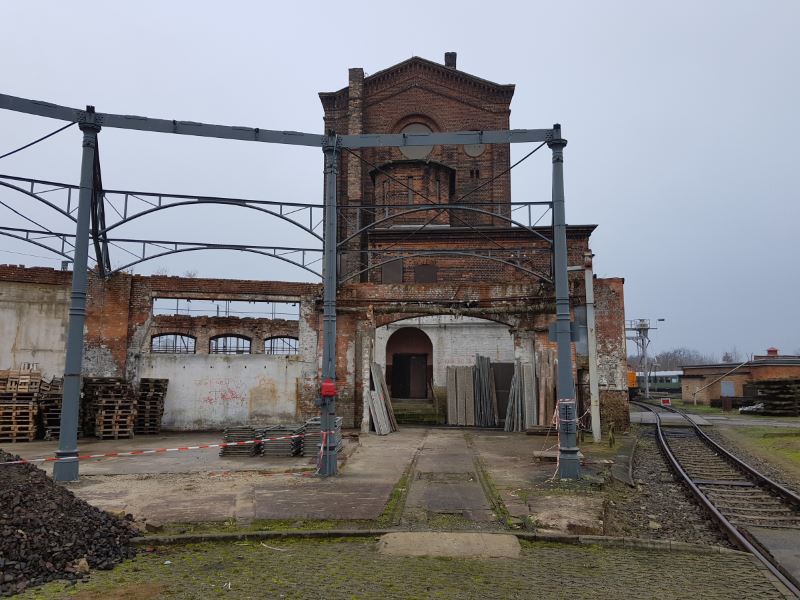 What else have we managed to do without having up-to-date pictures? Fortunately, the open heart surgery on our forklift truck was very successful. It drives and stacks again like brand new. Next, our excavator gets some attention. Here the oils and filters have to be changed and the mechanical operation of the slewing gear has to be reworked. Oh yes, and then we measured the wheel tyre profiles on our operational locomotives and changed the brake valve on a shunting locomotive.
As you can see, there is always a lot to do. Anyone who would like to help us and is at least 14 years old is very welcome. There is always an opportunity to try things out on Saturdays from 10:00 am. But you have to bring clothes which can get dirty - really dirty!. However, no previous experience or even training as a metalworker is required. There are always tasks that can be done alone, in a team or supervised. The nice thing is that afterwards you can see the results of your efforts and have the satisfied feeling of having worked on the preservation of a piece of history.
vehicles:
197 805-5
,
Breuer Lokomotor
related articles (News):
related articles (Press):
overview