Forthcoming steam weekends (2024): 04-05 May 2024; 06-07 July 2024; 08 September 2024; 12-13 October 2024
Opening hours at other times:
from 30 March 2024 to 26 October 2024 every saturday from 10 am to 5 pm.
Further information is available
here
.
12.04.2015: Rollout V100
Am Samstag, den 11.4.2015, nutzten die Aktiven und Besucher des Museums das schöne Wetter, um die Diesellok
204 774-4
(Baureihe V 100 der Deutschen Reichsbahn) im Sonnenschein zu begutachten. Unser Vereinskollege Björn Strähle hatte die Lok in mühevoller Handarbeit angeschliffen, grundiert und schließlich mit Hochglanzlack neu lackiert. Danke dafür nochmal! Das Bild zeigt den derzeitigen Zustand. Bis zum 1. Lokschuppenfest am 09./10.05.2015 werden noch die Handstangen und Pufferträger schwarz und die Lampenringe silbern lackiert. Selbstverständlich werden auch noch die neuen Nummernschilder mit der Beschriftung
114 774-3
angebracht. Dann präsentieren wir die Lok in der letzten Lackierung und Beschriftung der Deutschen Reichsbahn.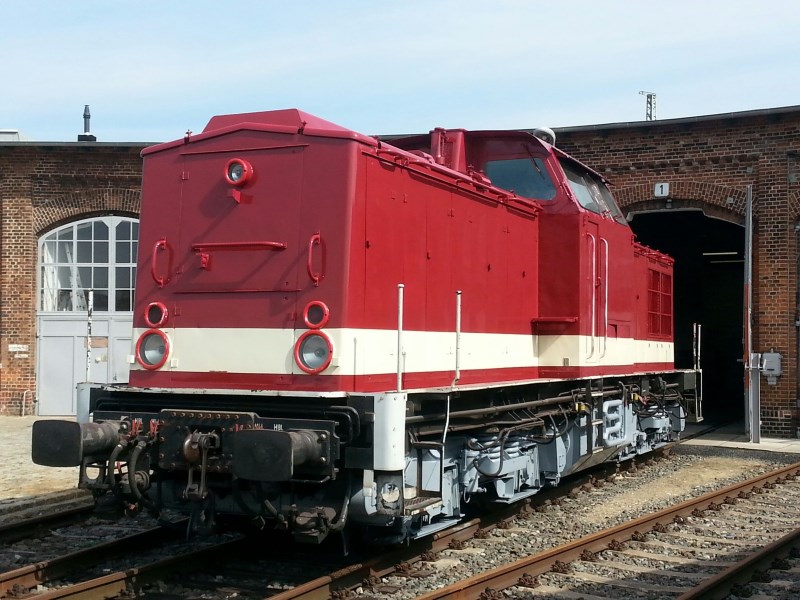 vehicle:
114 774-3
Stichwörter:
Fahrzeugrestauration
related articles (News):
related articles (Press):
overview