28.11.2023: Germany's largest collection of railway bells
You're probably wondering what chimes have to do with the railway. Well, today we are going to provide an answer and it has a lot to do with Wolfgang List, the railway book author and home railway chronicler who died about a year ago and who had his home in Stendal.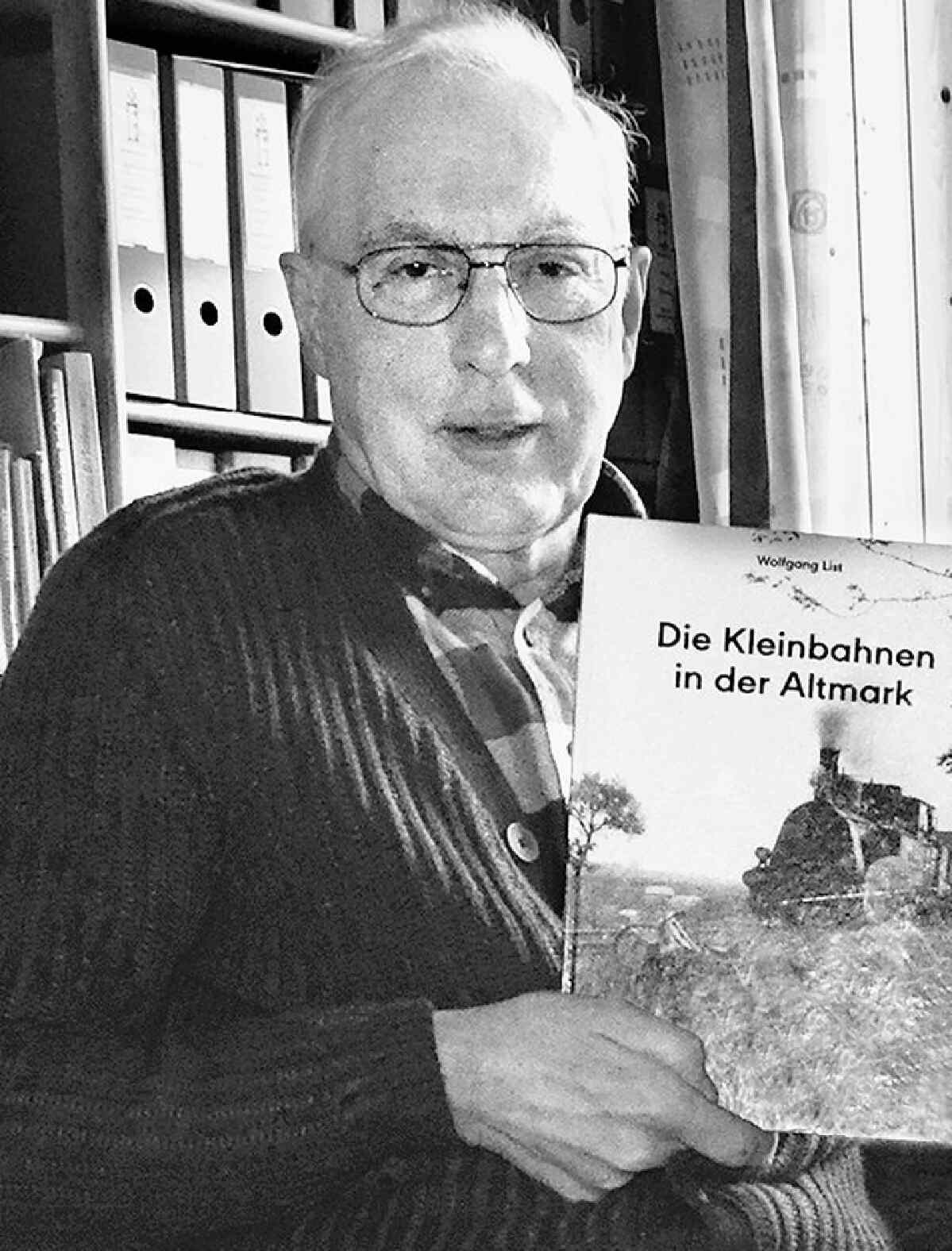 He began collecting railway chimes in 1984. These were devices for announcing trains from one railway station to another, i.e. from one station to the next and all barrier keepers and signal boxes in between. They all had to be informed when a train left the neighbouring station in their direction. And this was done by means of sound signals in the form of chimes.
How were these chimes generated? The station masters - today they would be called traffic controllers - of each station had an inductor crank in their office that generated electricity.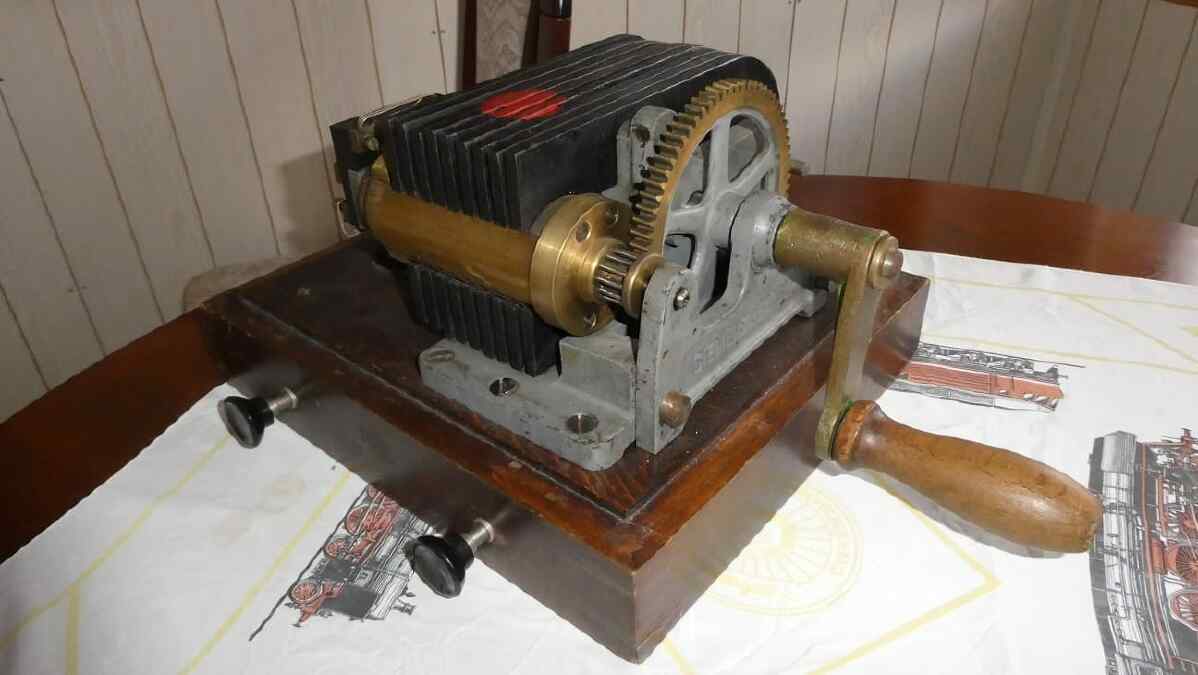 This current was fed via cables along the line via all the intermediate barrier keepers in between to the office of the next stationmaster.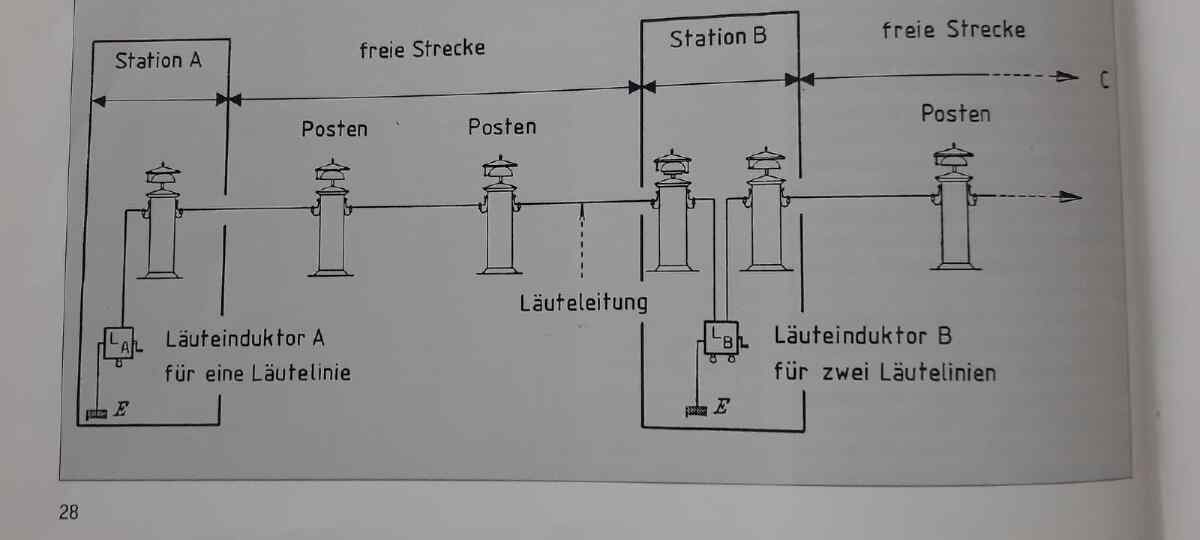 In these offices, there were chimes of different sizes that were triggered by the electricity. The current caused a lock in the chimes to be released and a kind of clockwork mechanism to be activated, reminiscent of a grandfather clock in our grandparents' parlour.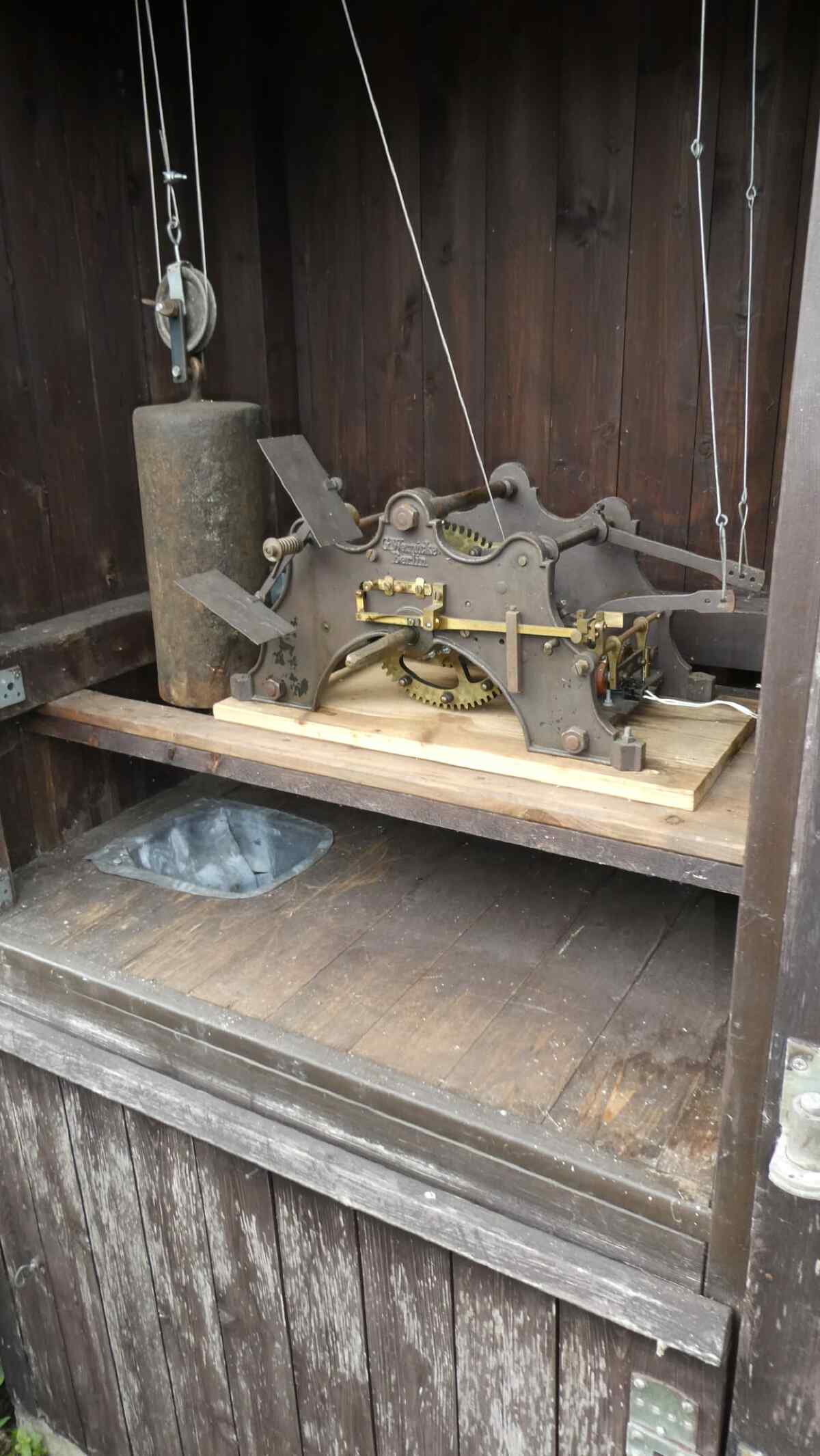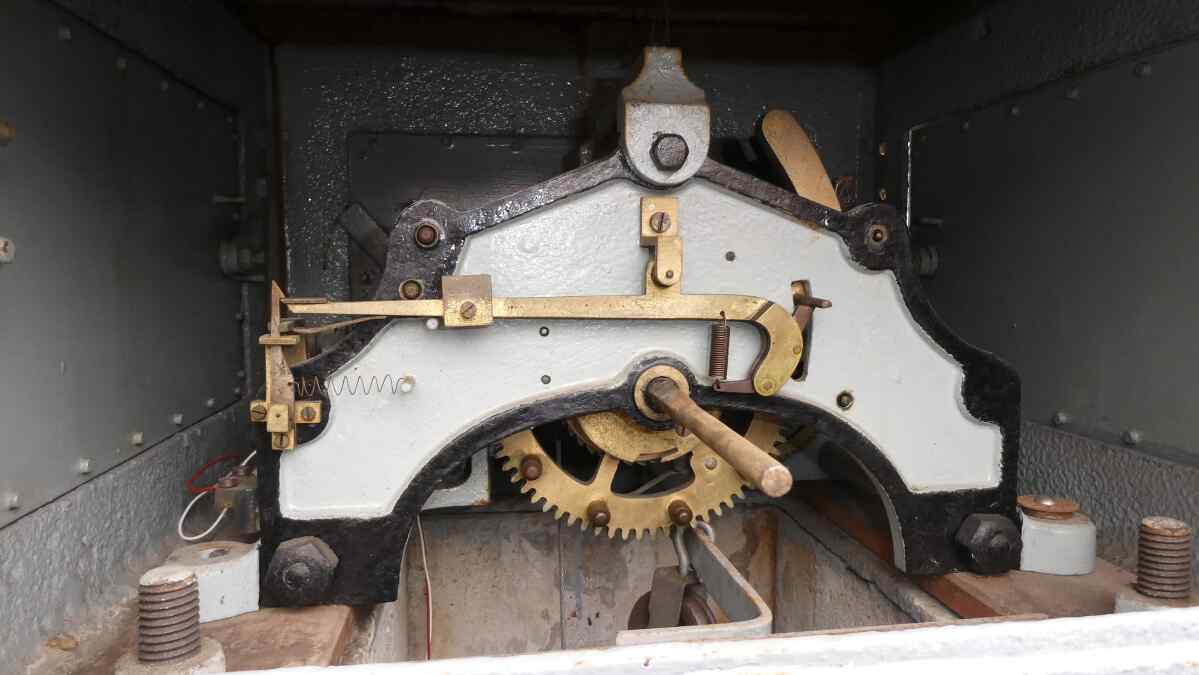 The clockwork mechanism was used to strike the bells on the ringing mechanism several times, e.g. six times in succession. To ensure that the bells always worked, they had to be serviced regularly and their clockworks wound up. This task was the responsibility of line marshals/line keepers on all railway lines.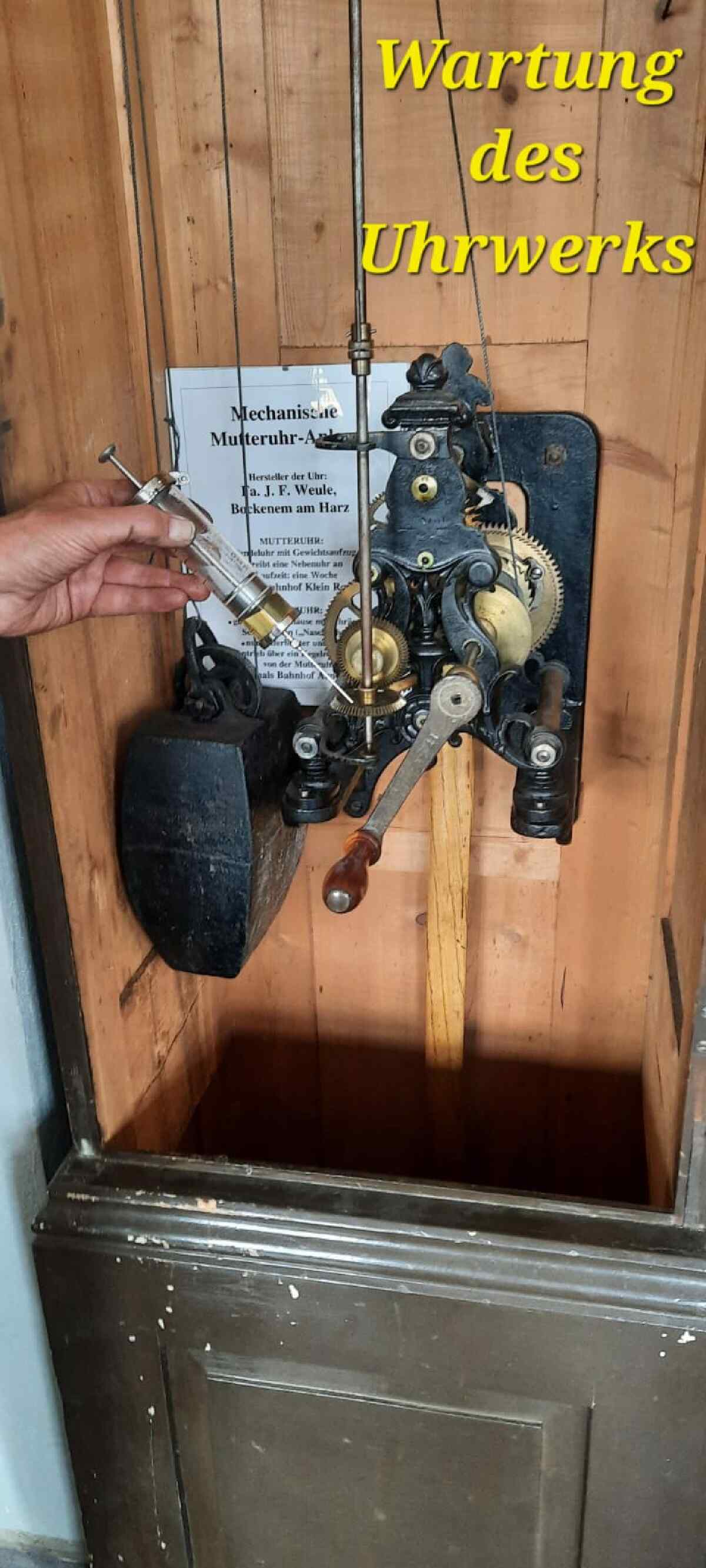 The chiming of the bells signalled that a train was on the line and that its approach was imminent. The barrier keepers then had to get ready to shut the barriers and at the next station everything had to be prepared for the train to enter, e.g. the points had to be set to the correct track. It is estimated that there were tens of thousands of different types of bells on the German railways. This type of train announcement was used from 1846 and ended in the late 1950s when more modern telecommunications technology took over the task.
The chimes were available in different designs and sizes. If a ringing signal was to be generated in an office, a small version that hung on the wall or stood on the stationmaster's desk was sufficient.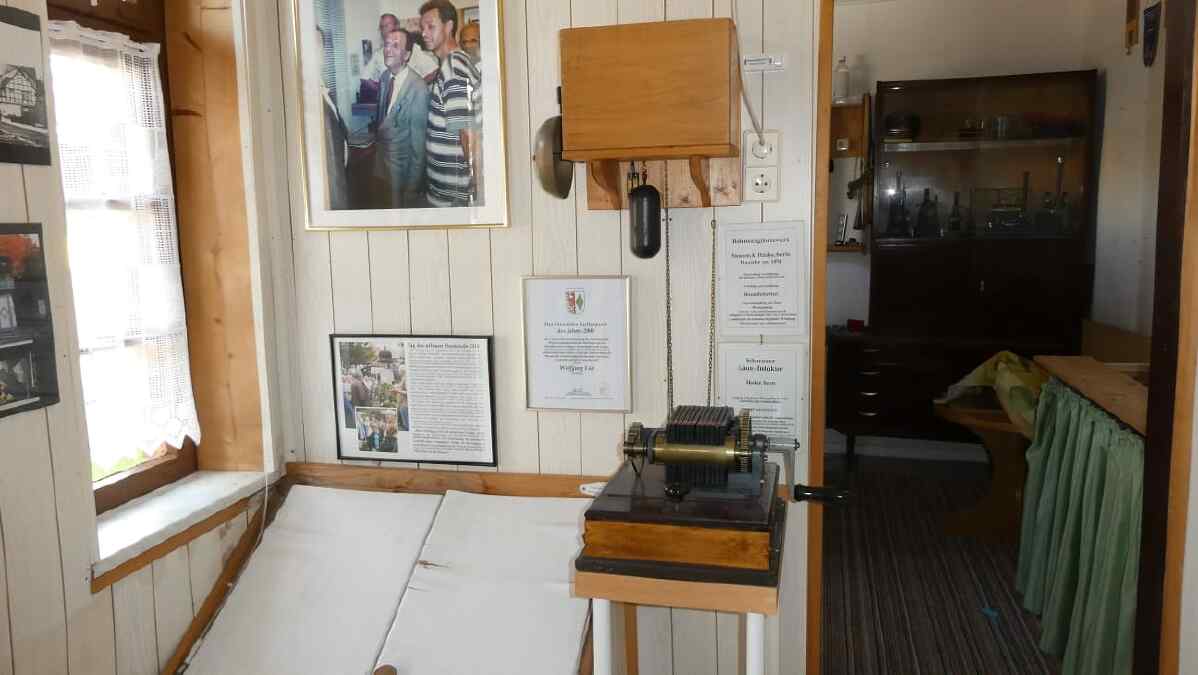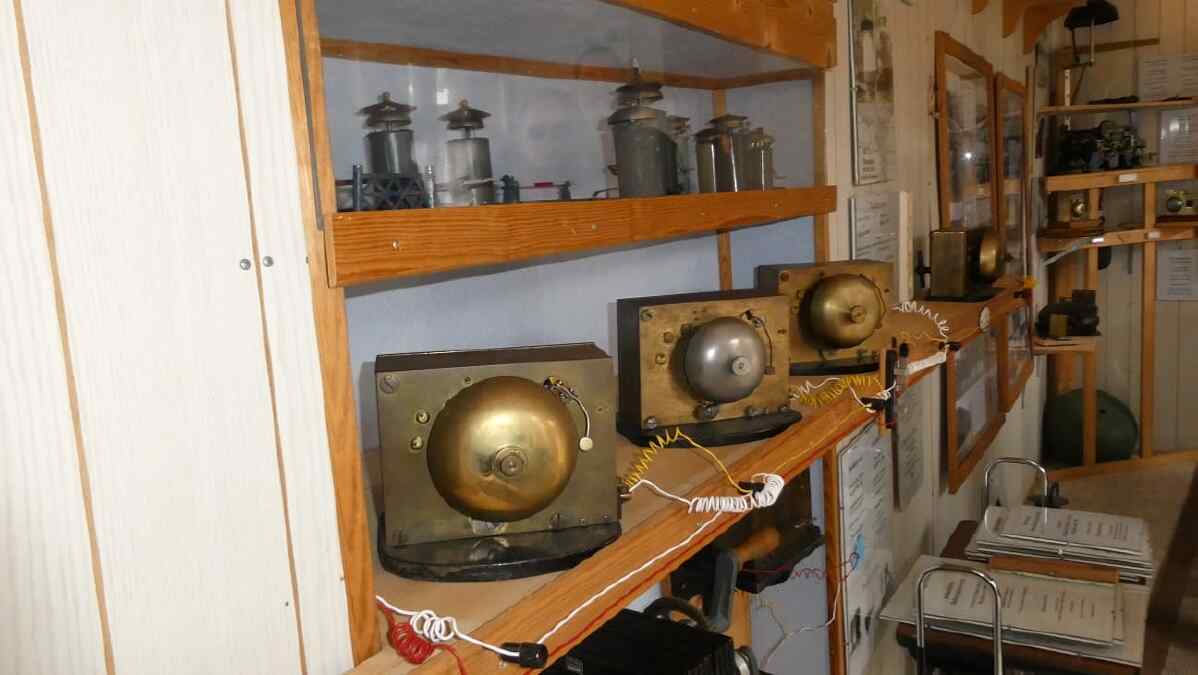 However, to ensure that the bell signal could be heard over long distances, the large ringing stations had bells of different sizes. Some were mounted on outside walls or on roofs.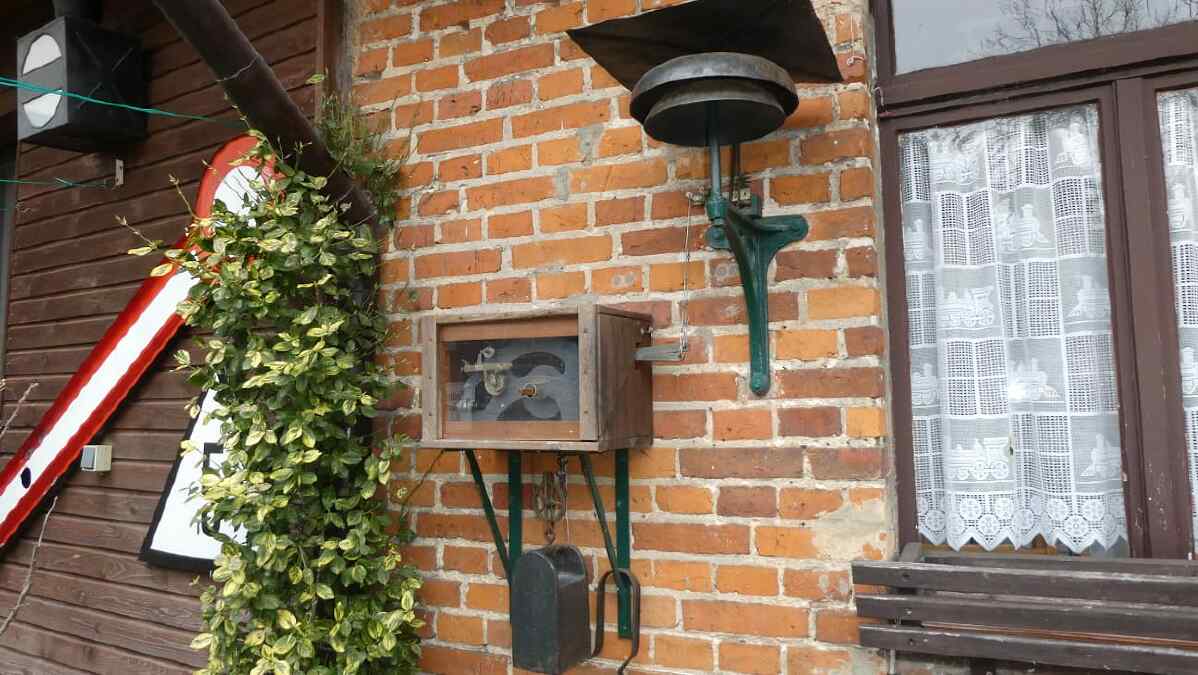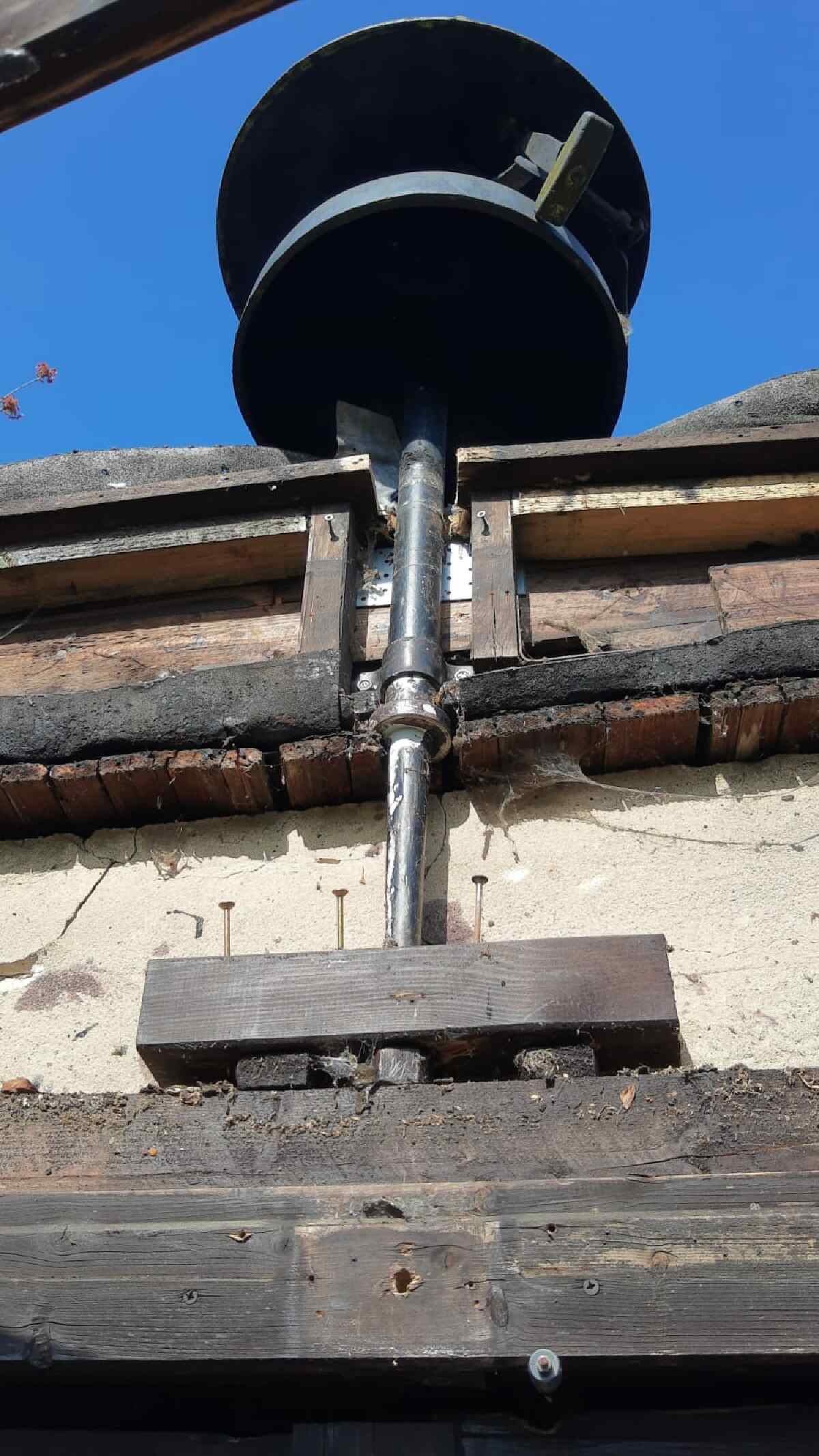 Or they were mounted on equipment houses specially made for the ringing stations, which could be the size of a telephone box. Again, there were different designs made of wood or metal, depending on the manufacturer and railway company that used them.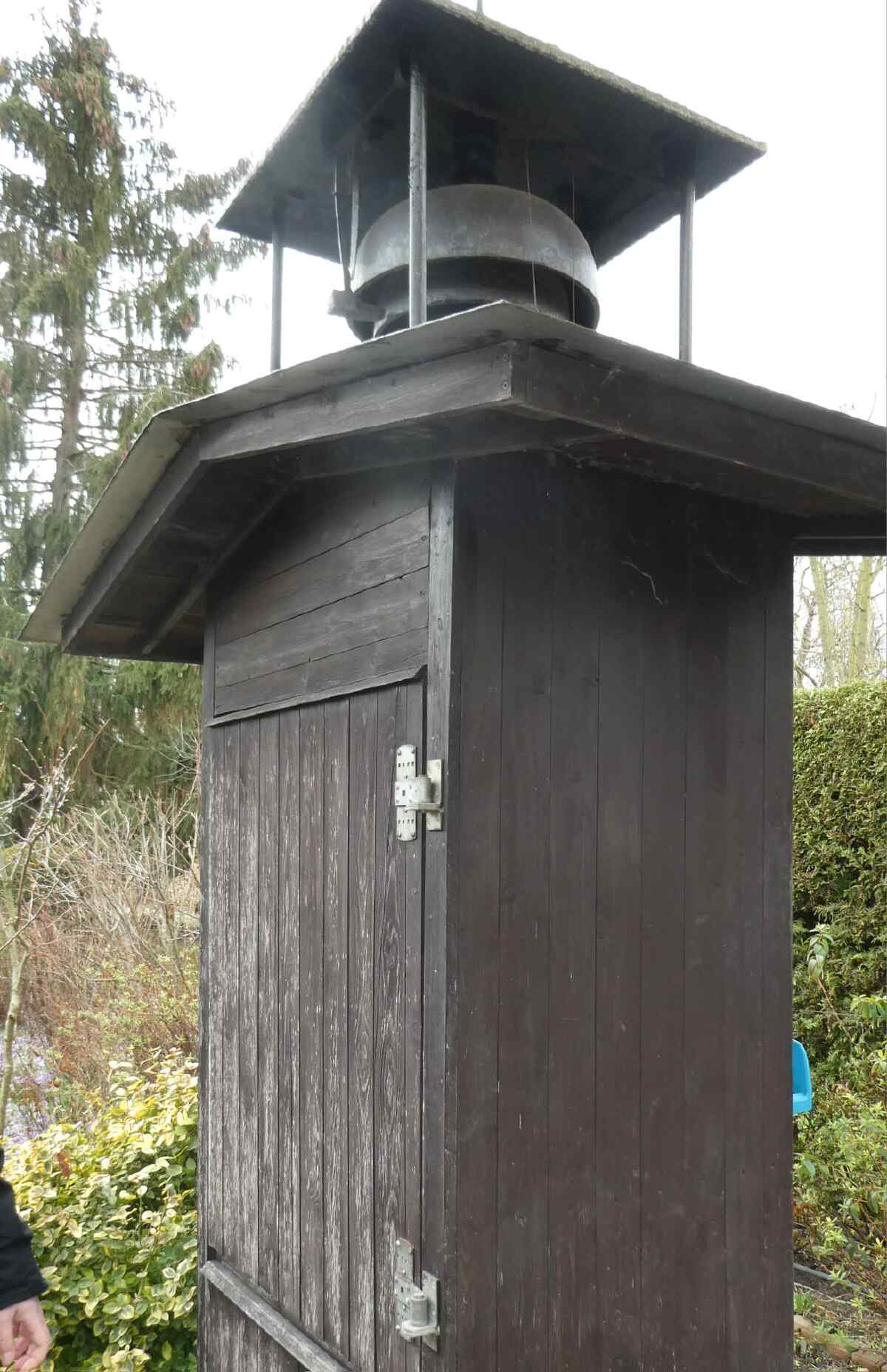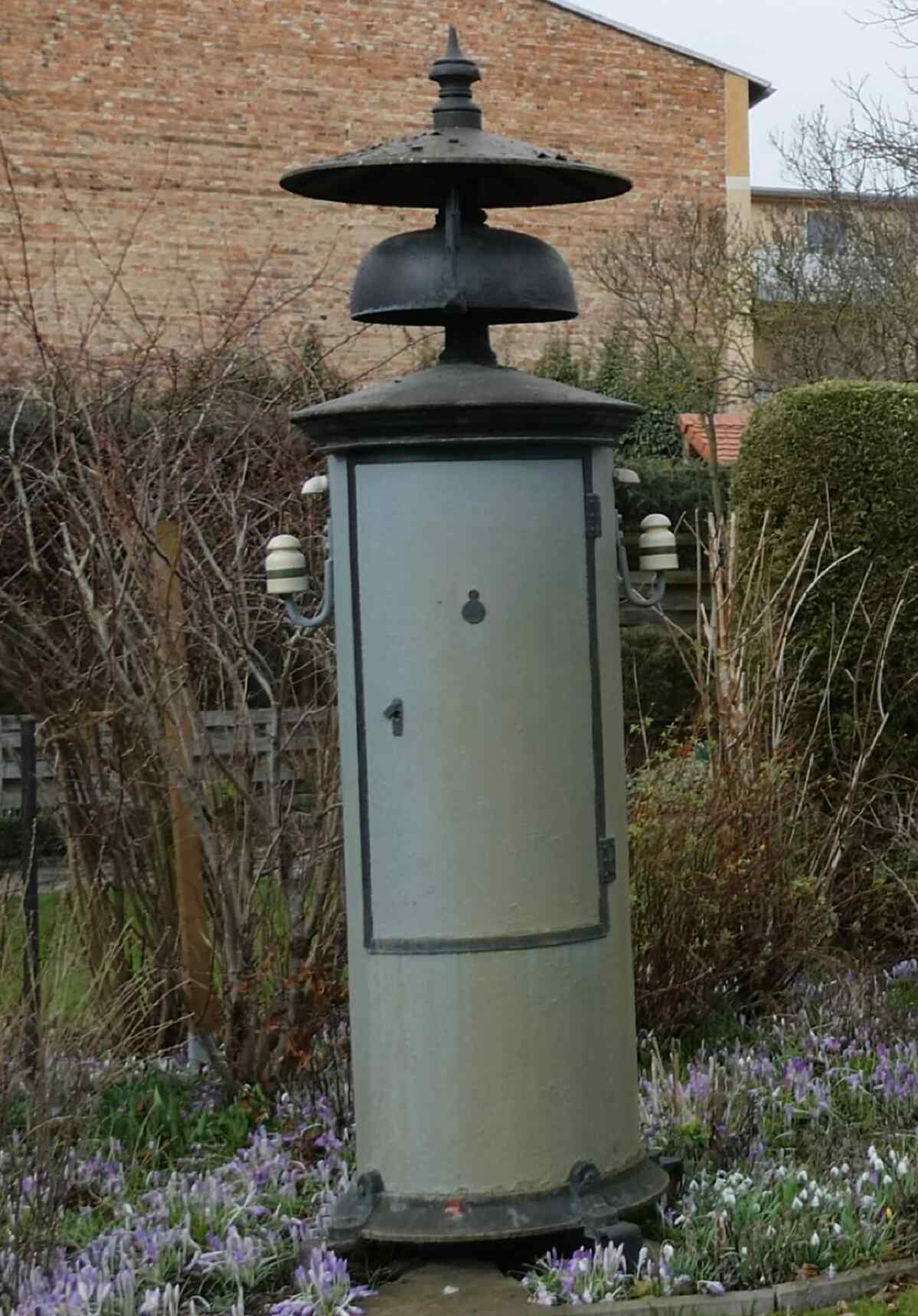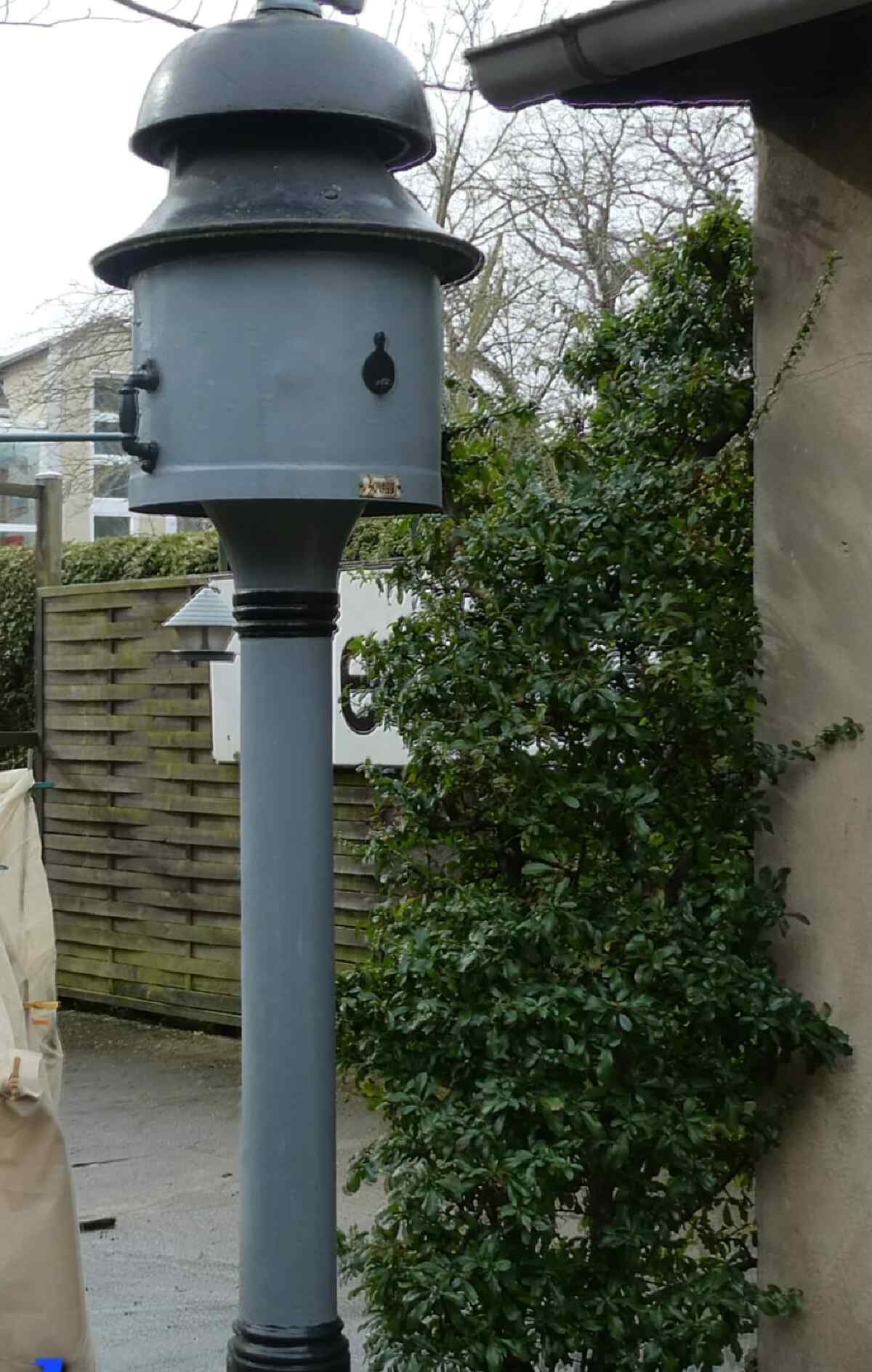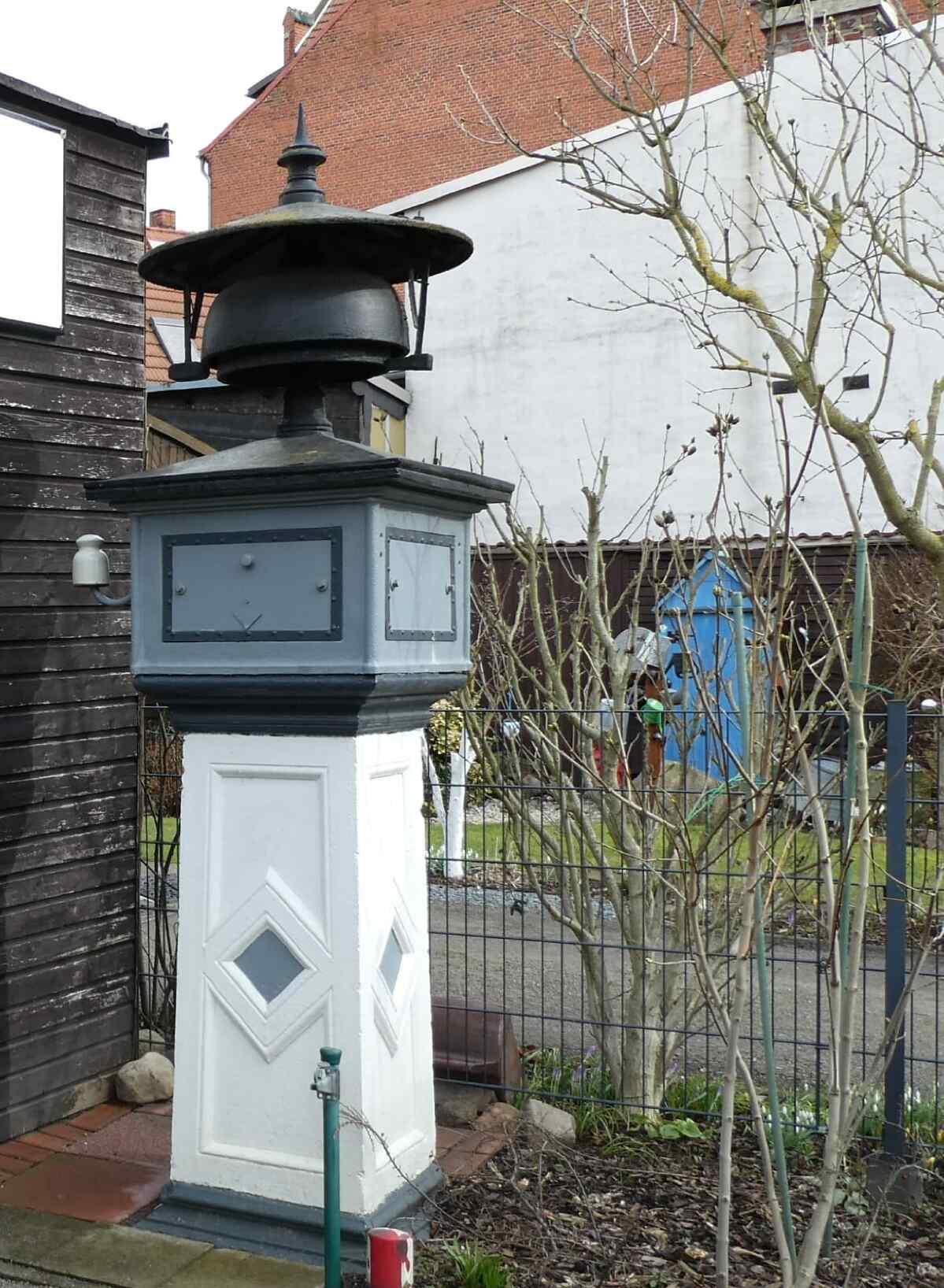 Wolfgang List had built up his collection over 40 years and had installed a number of devices in his garden and garden building and restored them to working order. The control centre and storage location for smaller items was located in a small, specially dedicated building, affectionately known as Post 93.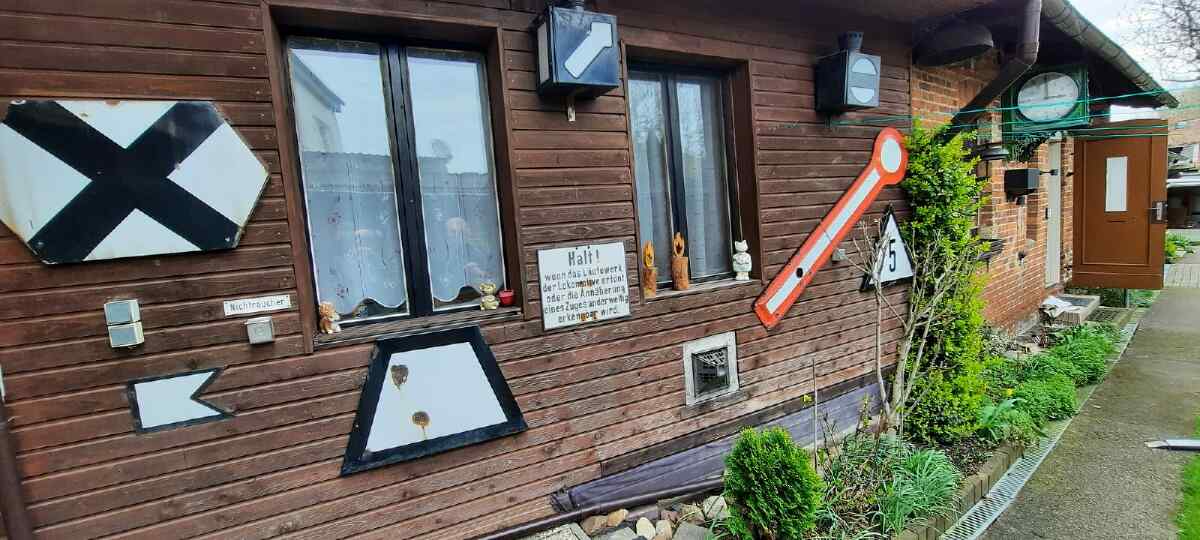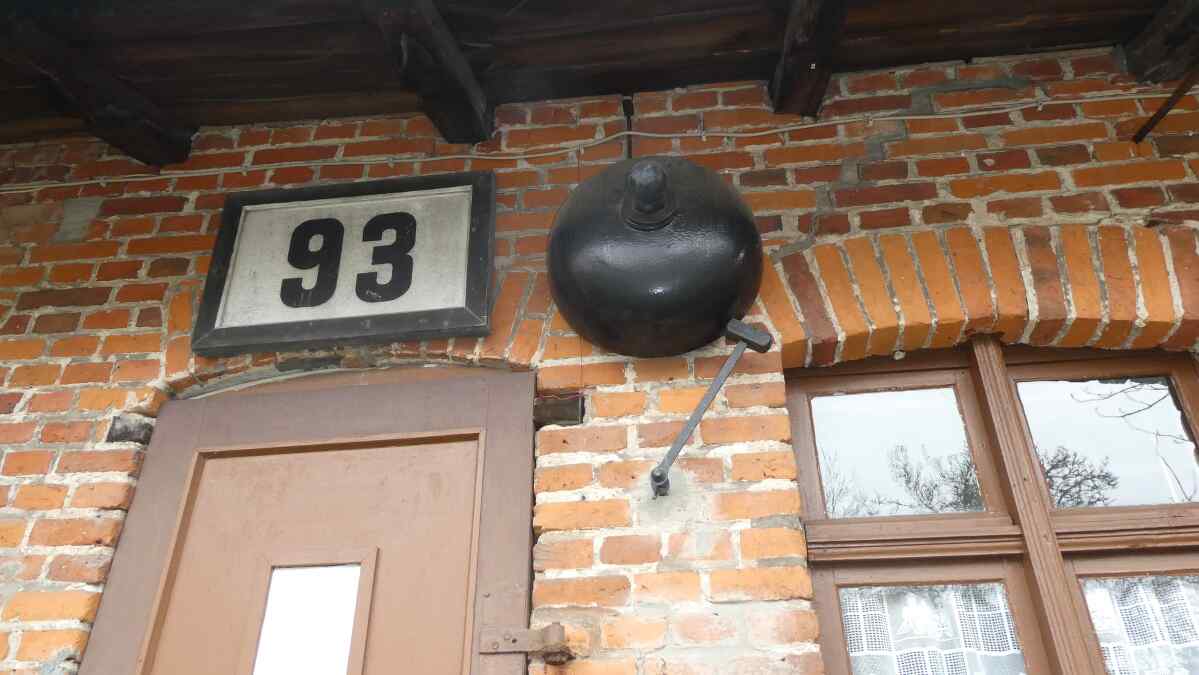 Unfortunately, the List family's estate had to be given up and sold after his death, making the collection obsolete. We got in touch with the family in March 2023 and it soon became clear that the collection should be preserved and exhibited in Wittenberge. We would like to express our sincere thanks for this and will thus create a memorial to Wolfgang List.
During the summer of 2023, the exhibits were carefully dismantled and transported to Wittenberge by car, trailer and lorry.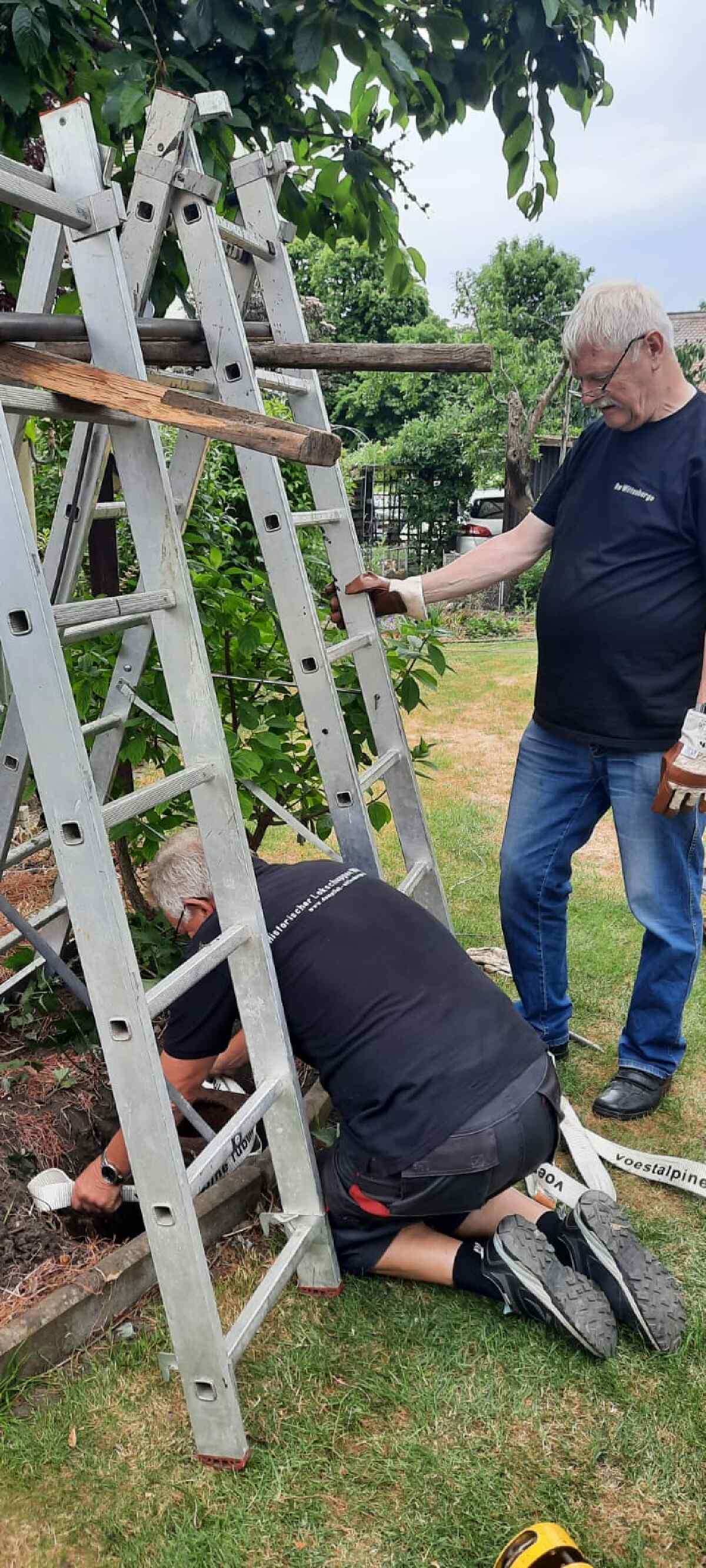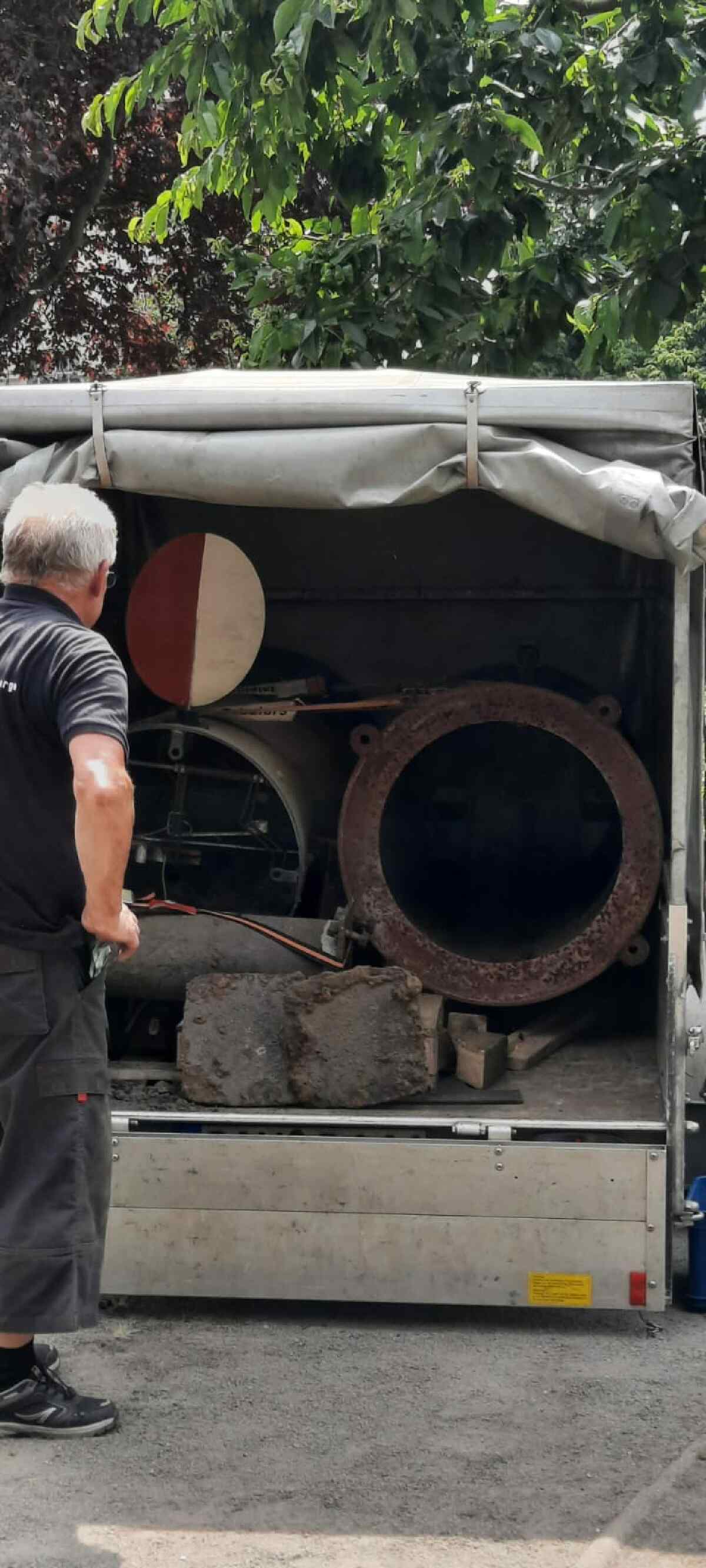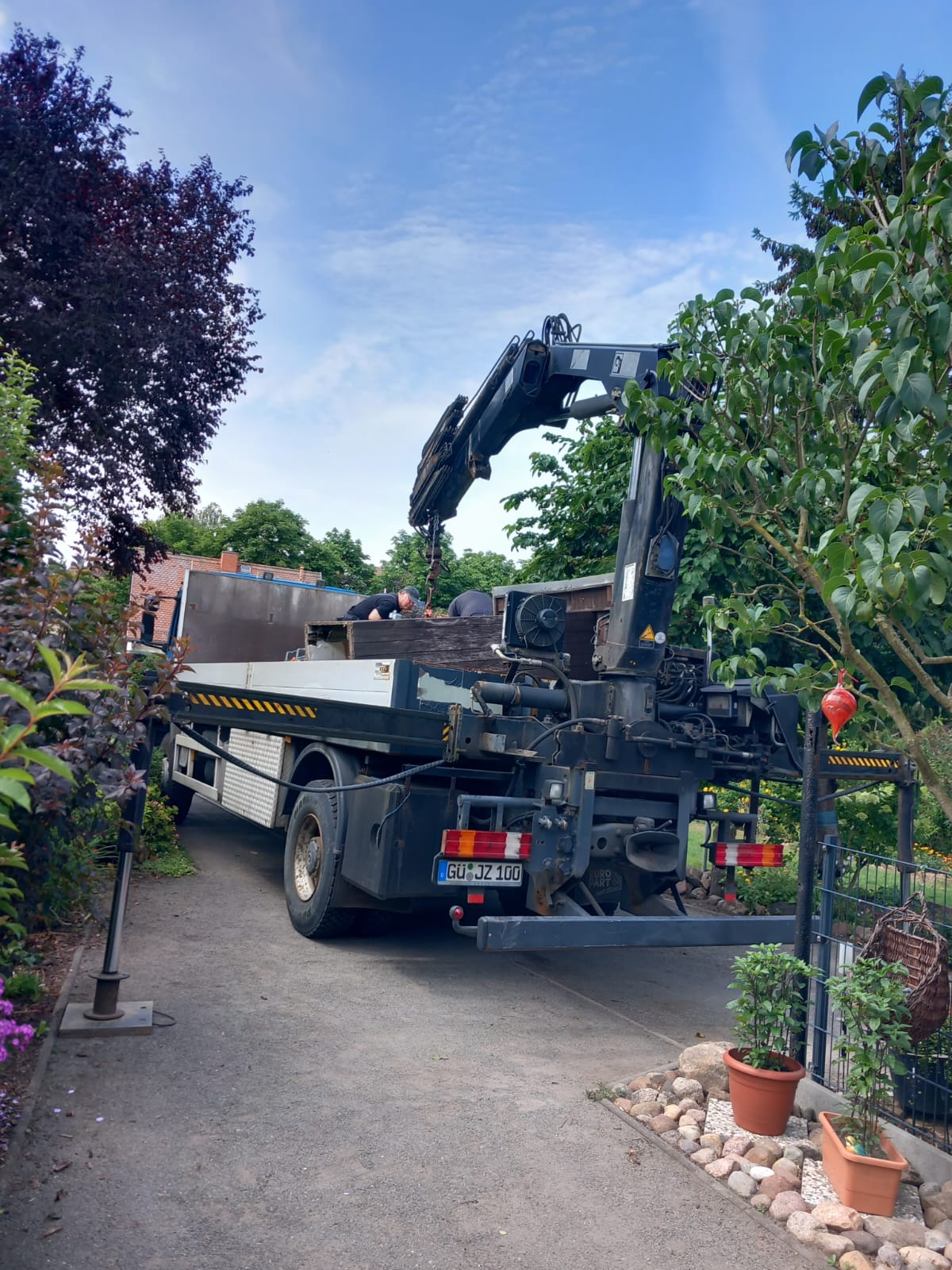 In Wittenberge, the large exhibits, which are intended for outdoor use, have now been set up on the site of the so-called Kohlenhof. Appropriate foundations were poured and the equipment mounted on them.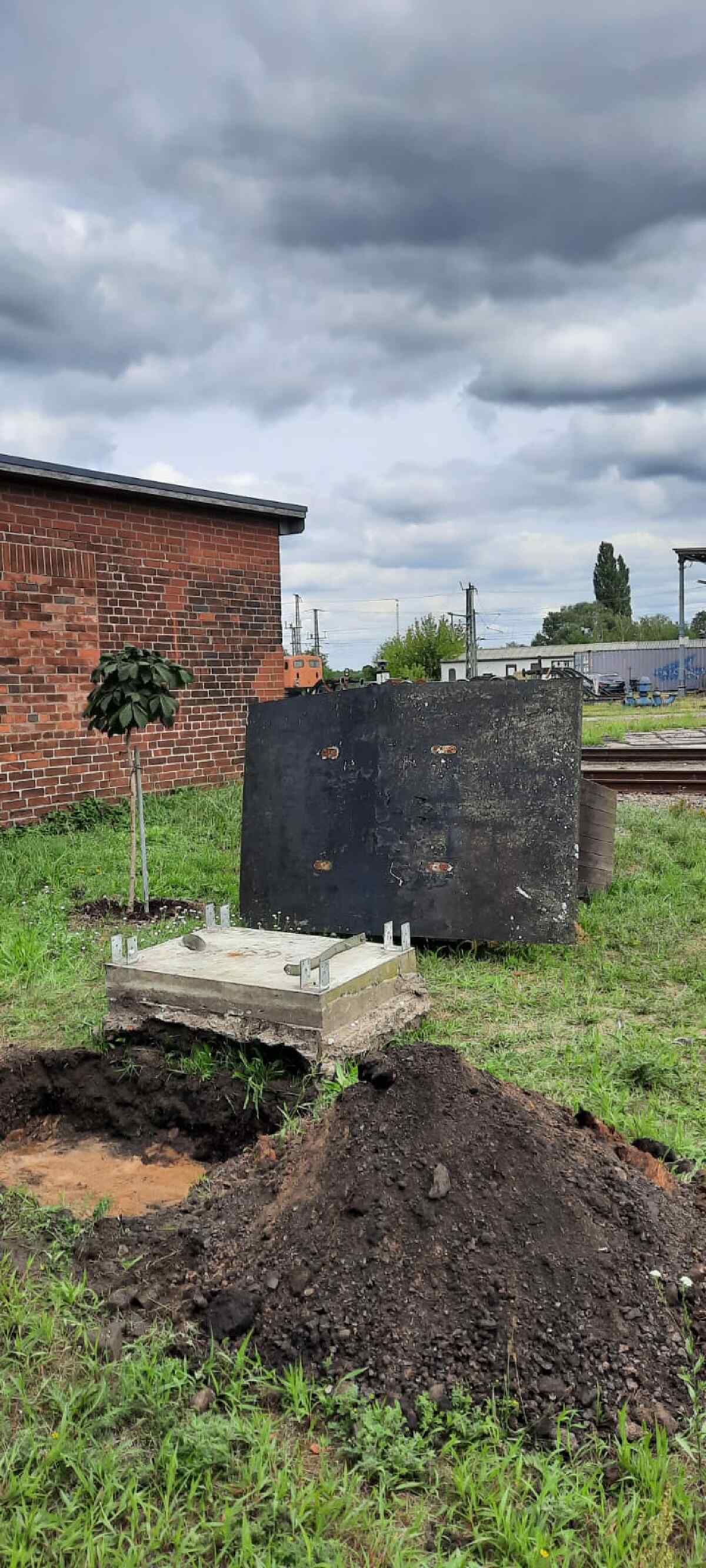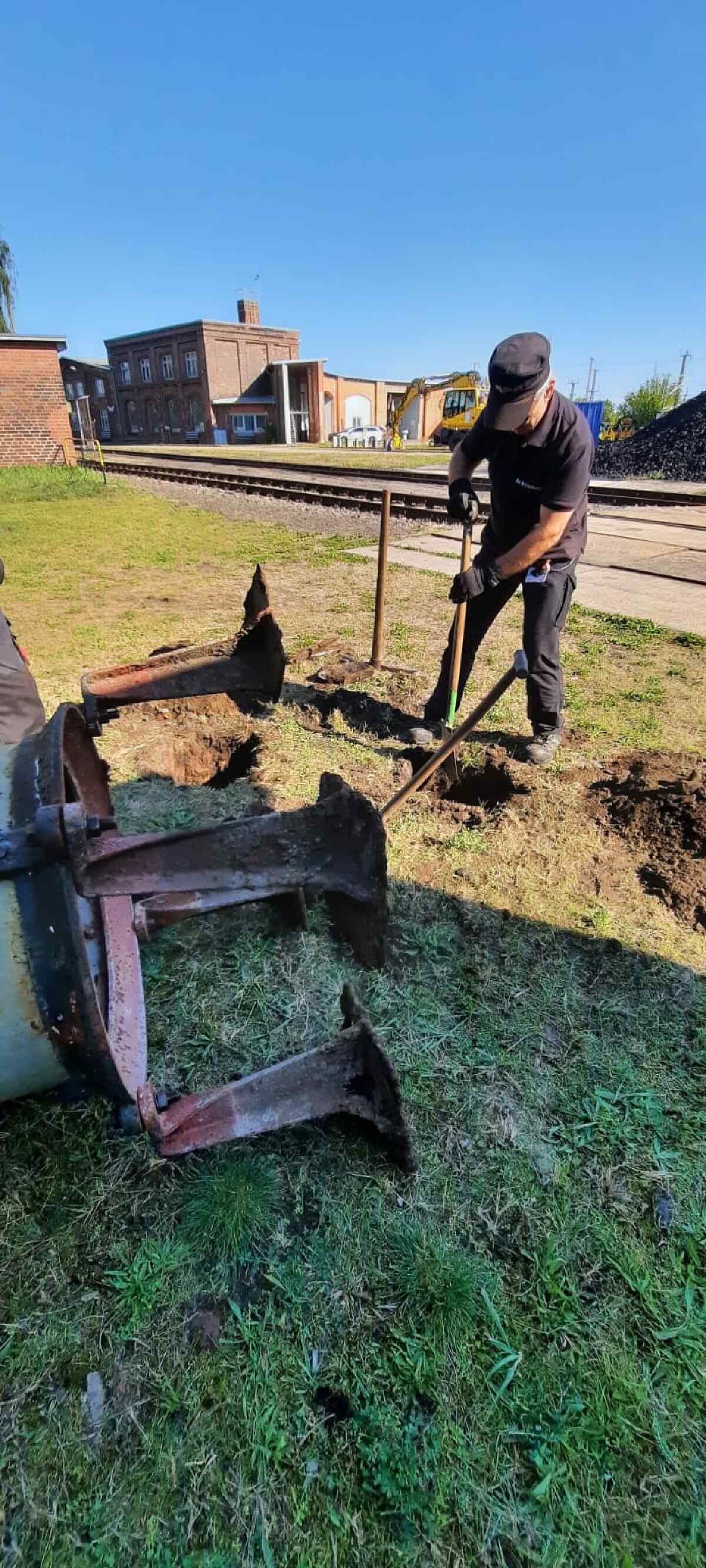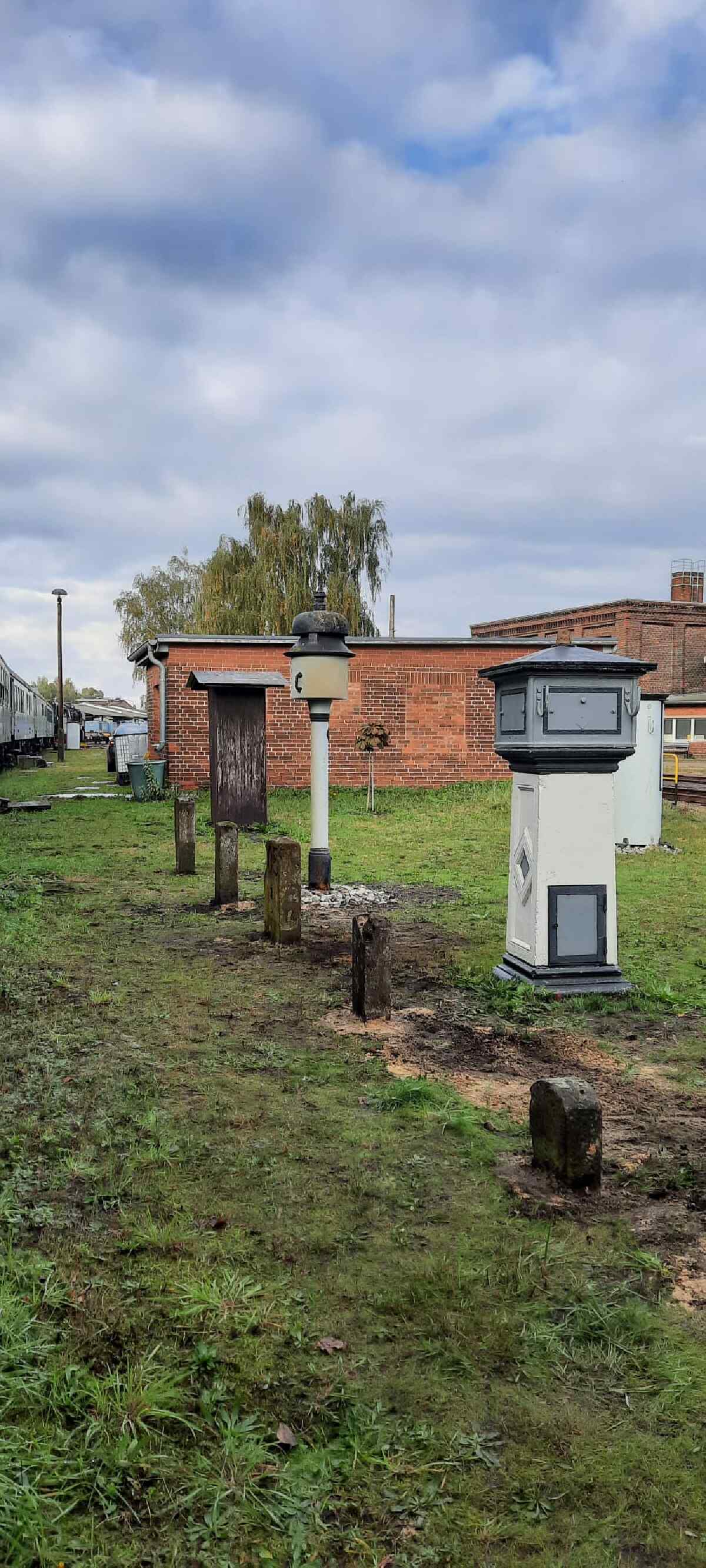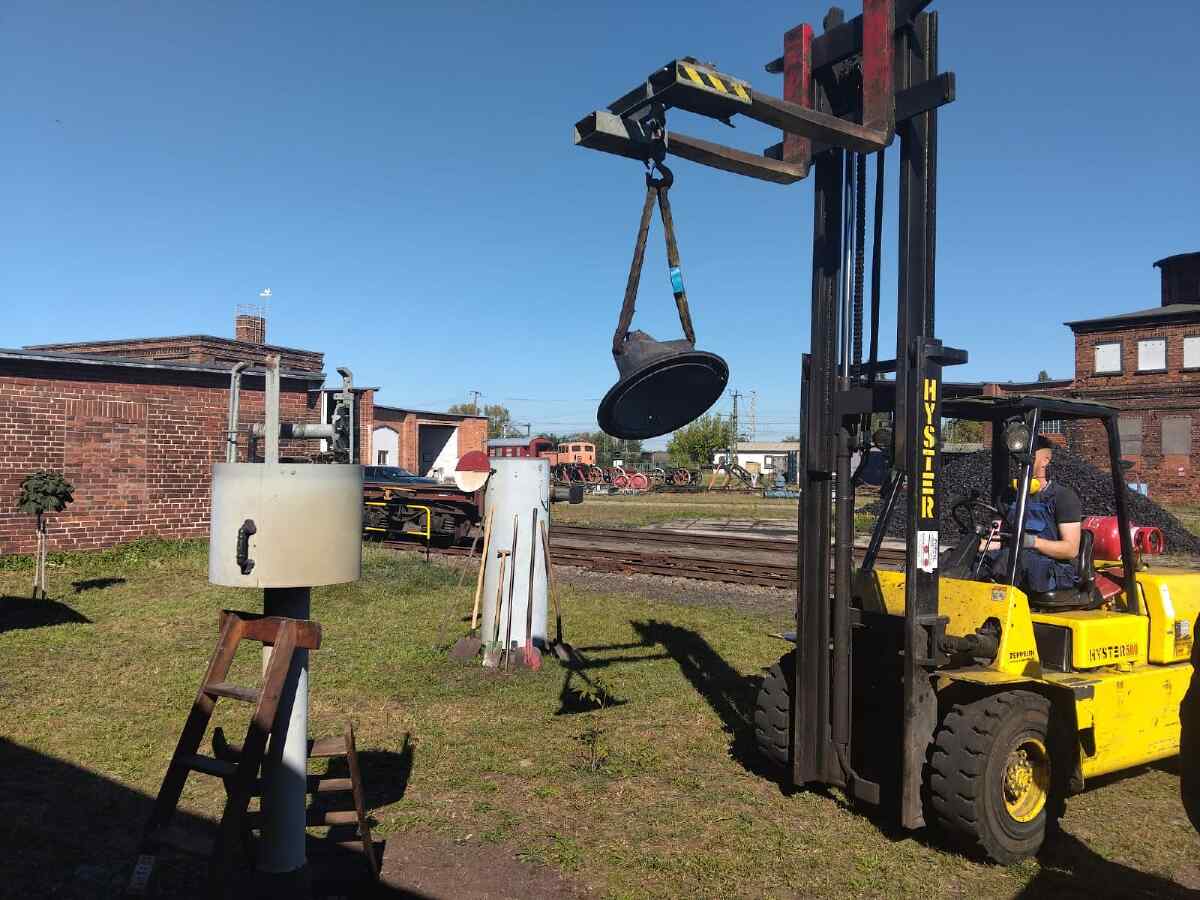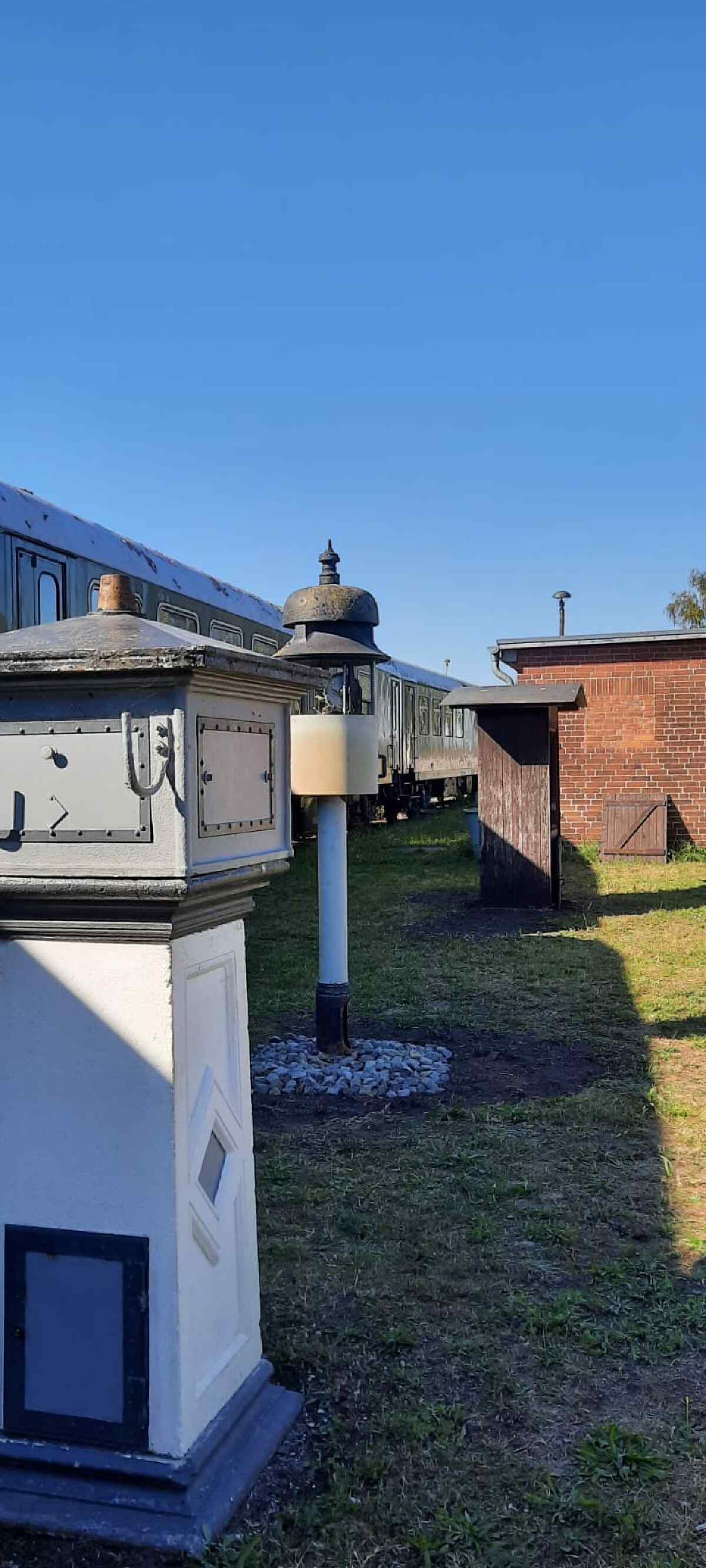 The "small parts" and the rest of Wolfgang List's collection, which also includes extensive documentation, will soon be housed in our new exhibition room in the southern gable building of the locomotive shed.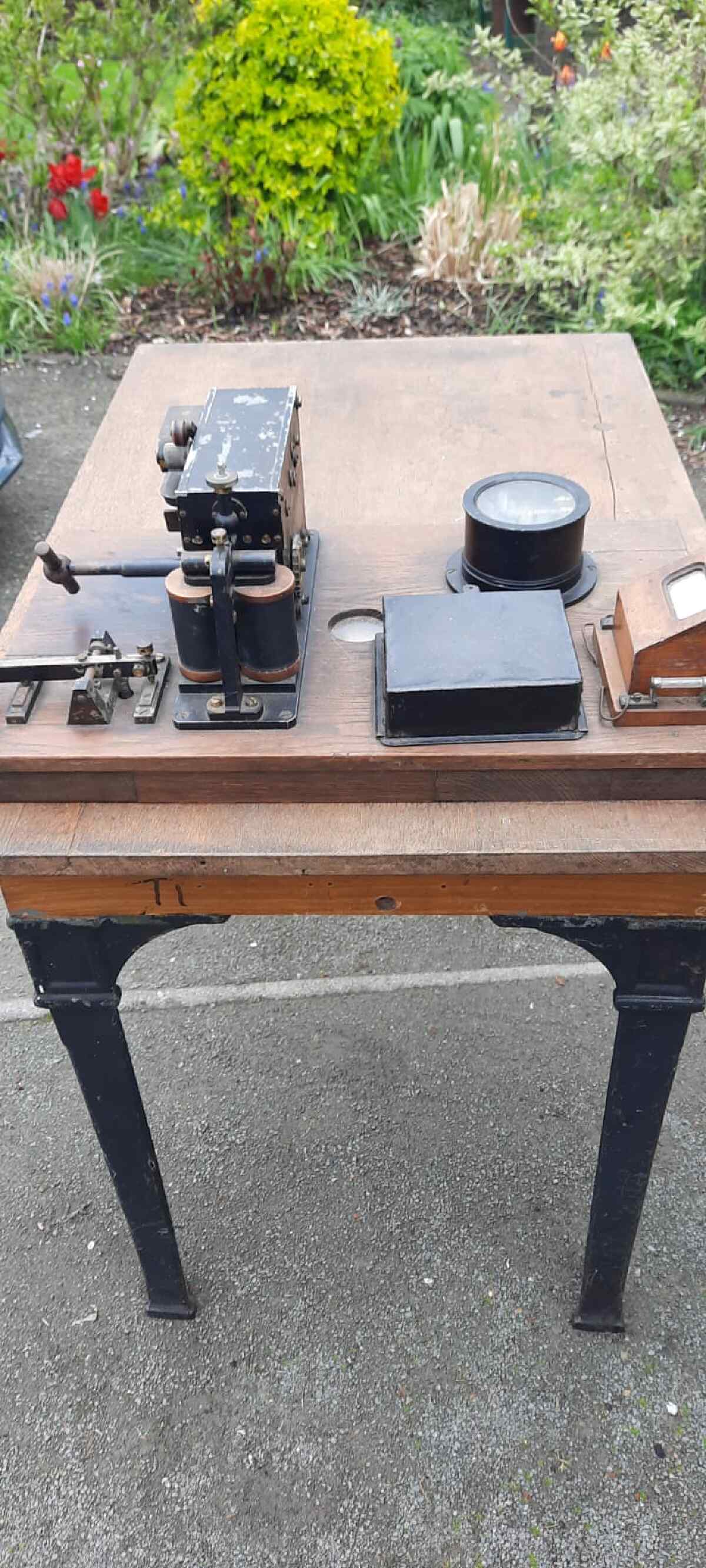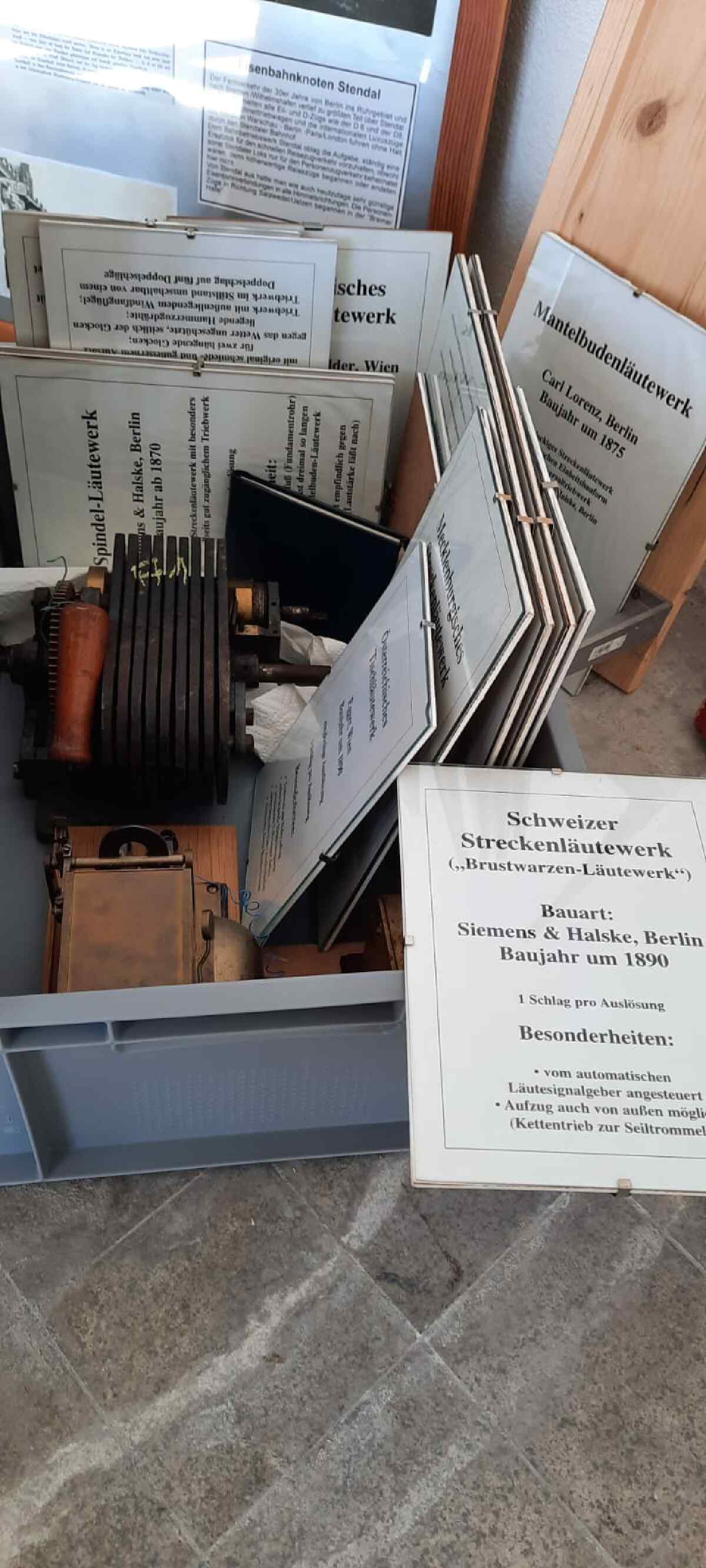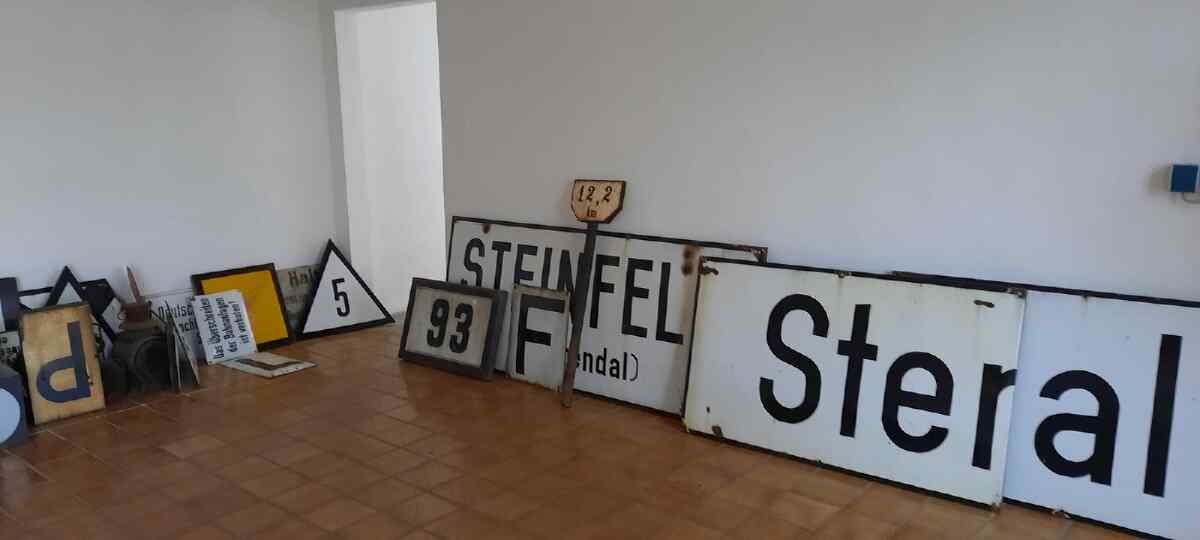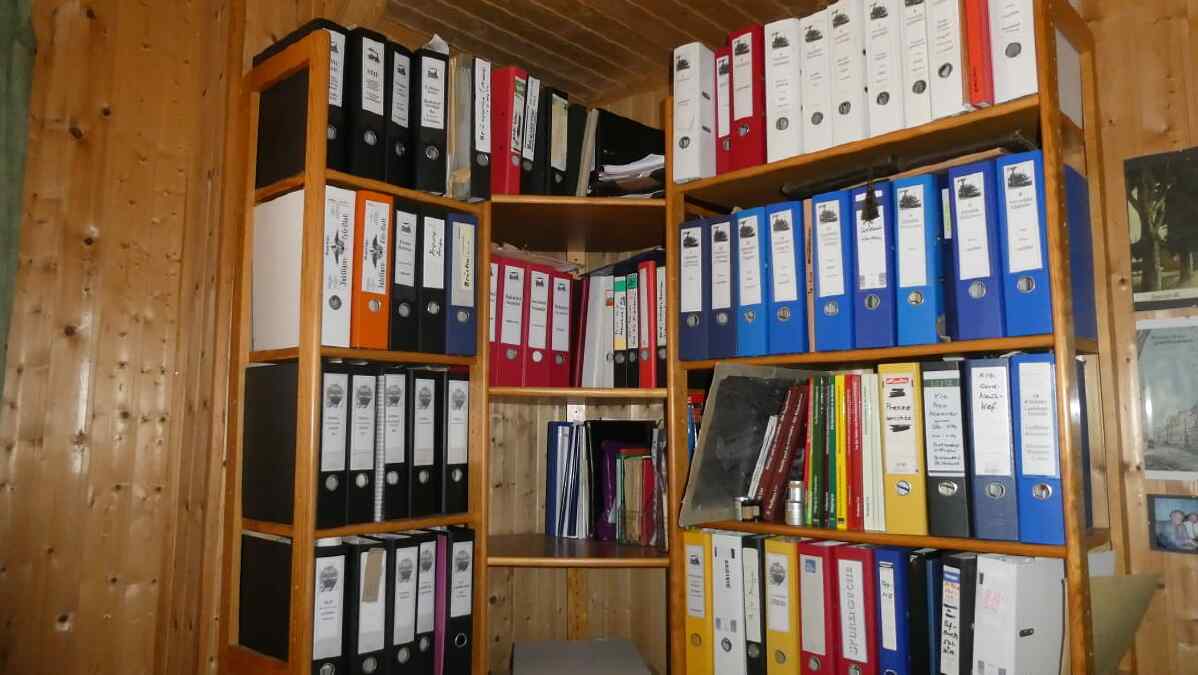 We will be installing the display cases donated by the German Museum of Technology in Berlin in the exhibition room. However, they still have to be set up and furnished. We will report on the progress.
If you are interested in getting involved, please get in touch with the Executive Board (
info@dampflok-wittenberge.de
). It is a very interesting task that requires sensitivity and intellect. Not only do the exhibits have to be set up, but the exhibition also has to be organised in such a way that future visitors understand what it is all about. This certainly requires some research, a few pedagogical skills and a bit of imagination to design appropriate display boards and labelling. Would you like to join the team? We would be delighted.
Of course, there are also costs involved, which we have to cover somehow. You can help here too. Especially at Christmas time, it is common for charitable organisations to ask for donations and we are no exception. As you know, donations are one of the few things on earth that make you happy, but not fat. Please feel free to contact our Board of Directors. Thank you very much in advance!
---
25.11.2023: News from Wittenberge
Even after the end of the 2023 season, the work doesn't get any less. After the first snow surprised us today, ...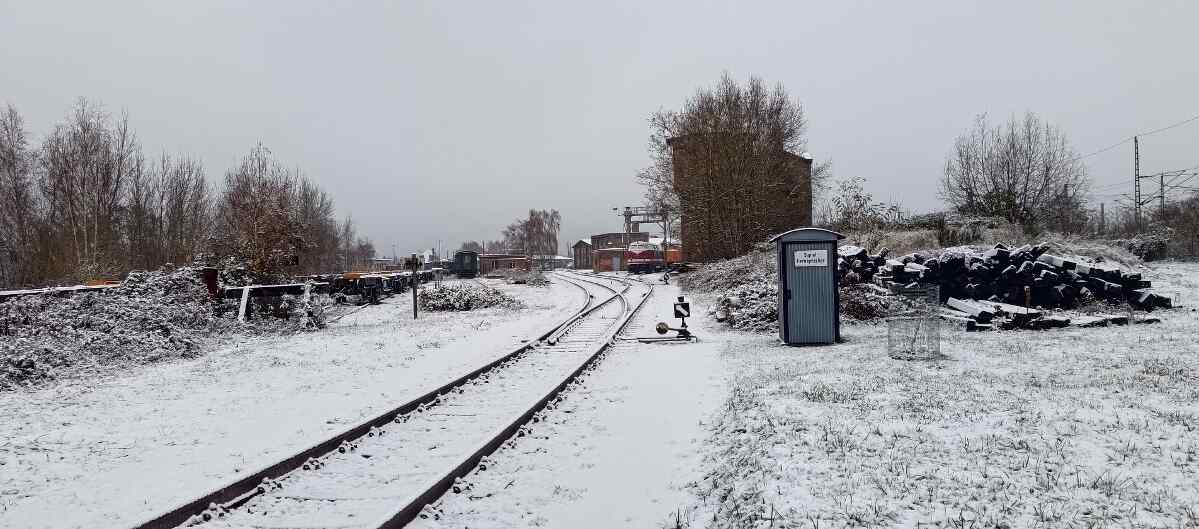 ... the activities shifted to the engine shed for the time being. Here there is progress to report on our excavator T174. After intensive reconditioning of the drive and the auxiliary units as well as the replacement of all hydraulic lines, the assembly is now so far advanced that the operating fluids can be filled. The first test run is imminent.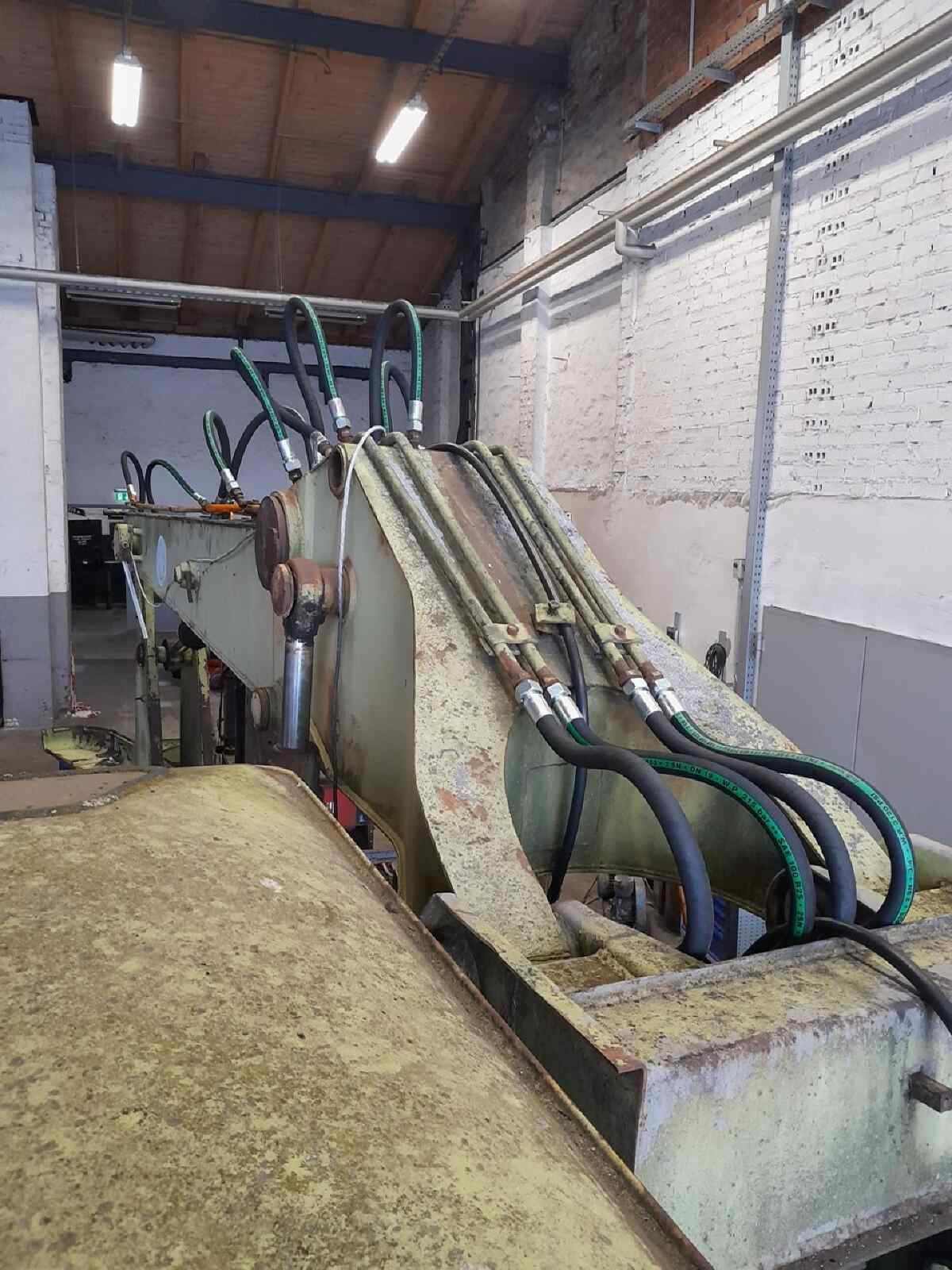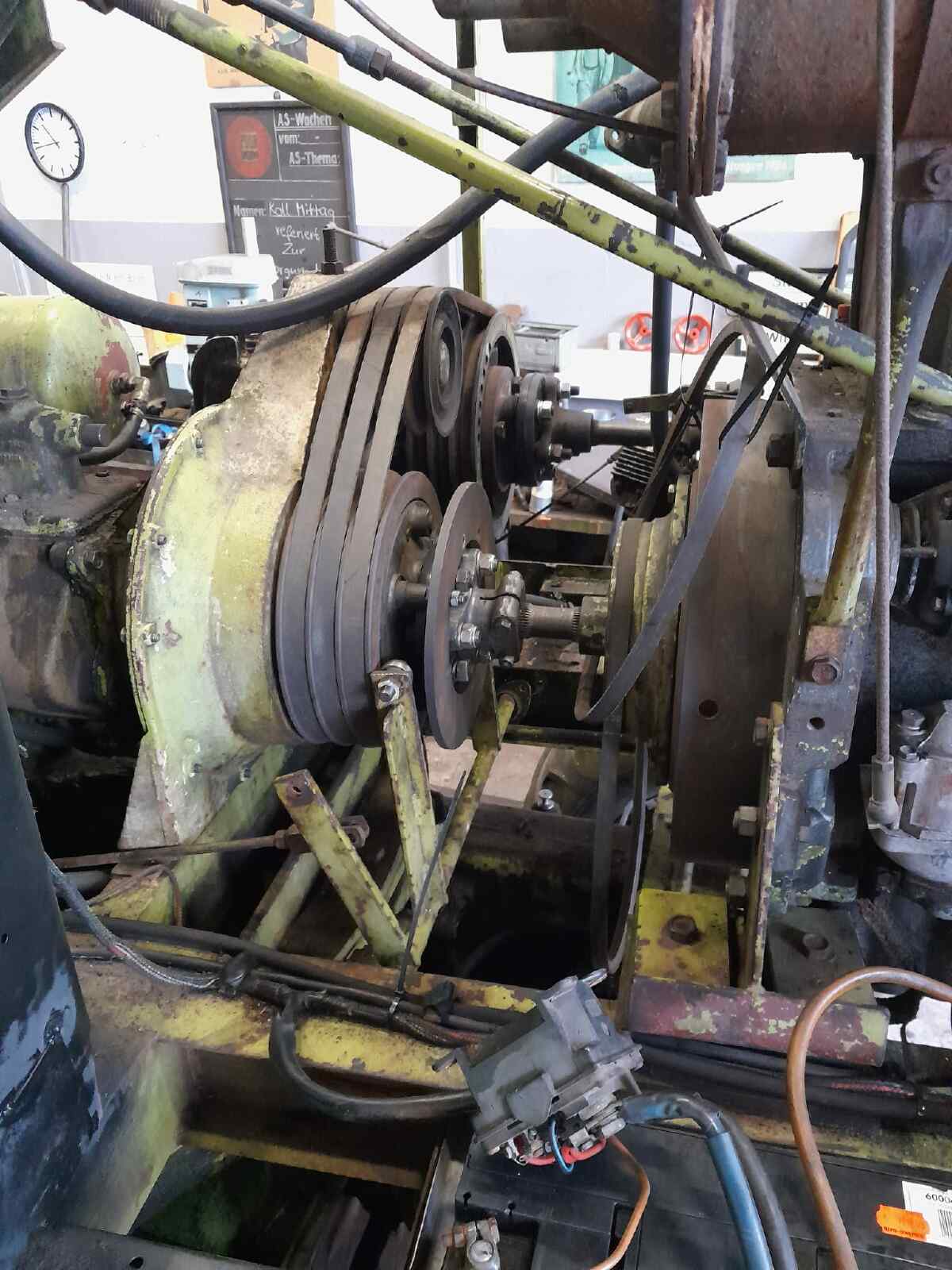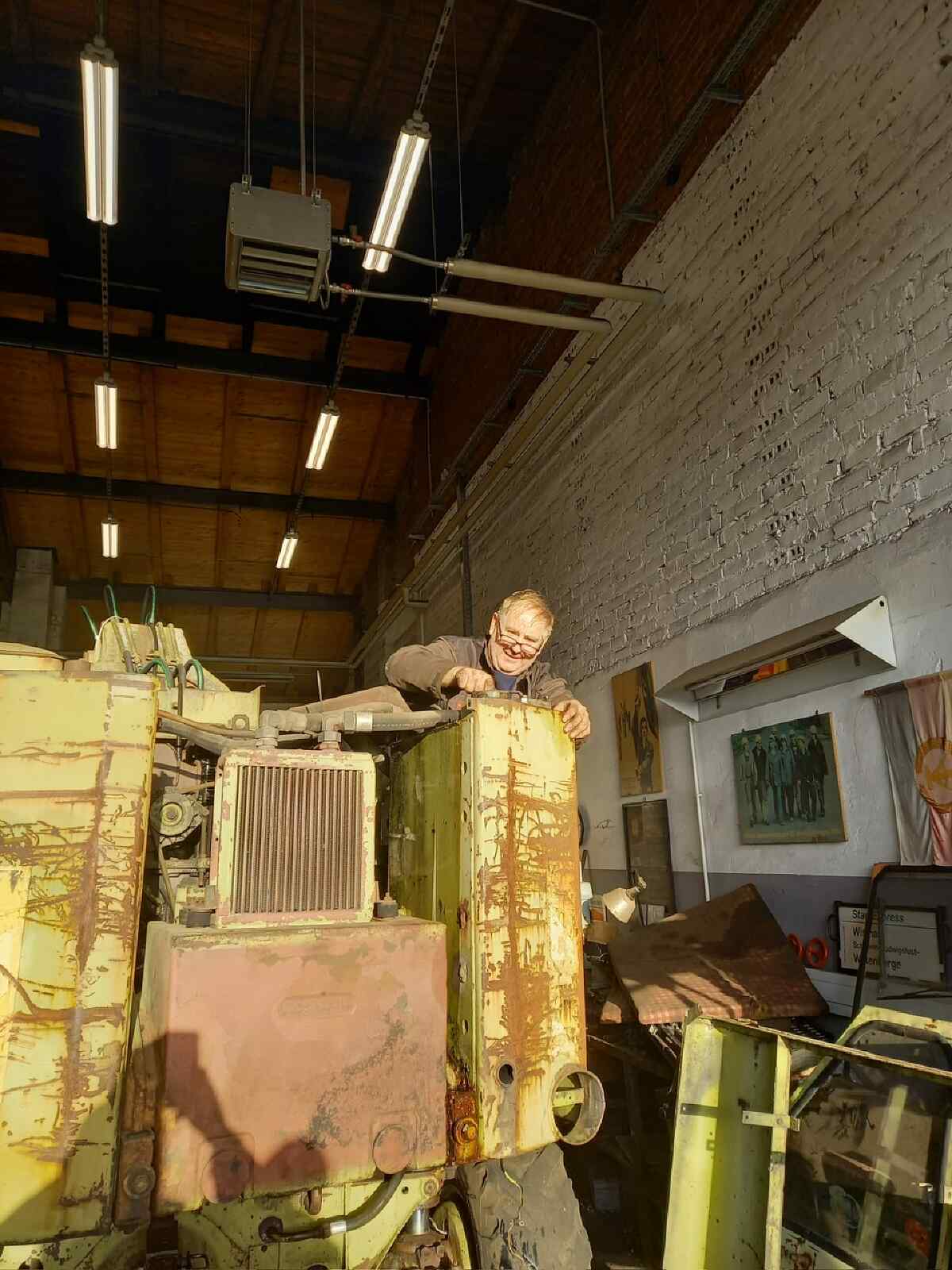 Our forklift truck also needed some attention so that the fork can stack again soon. Unfortunately, the starter motor is defective and needs to be replaced or repaired. Let's see what else we can do.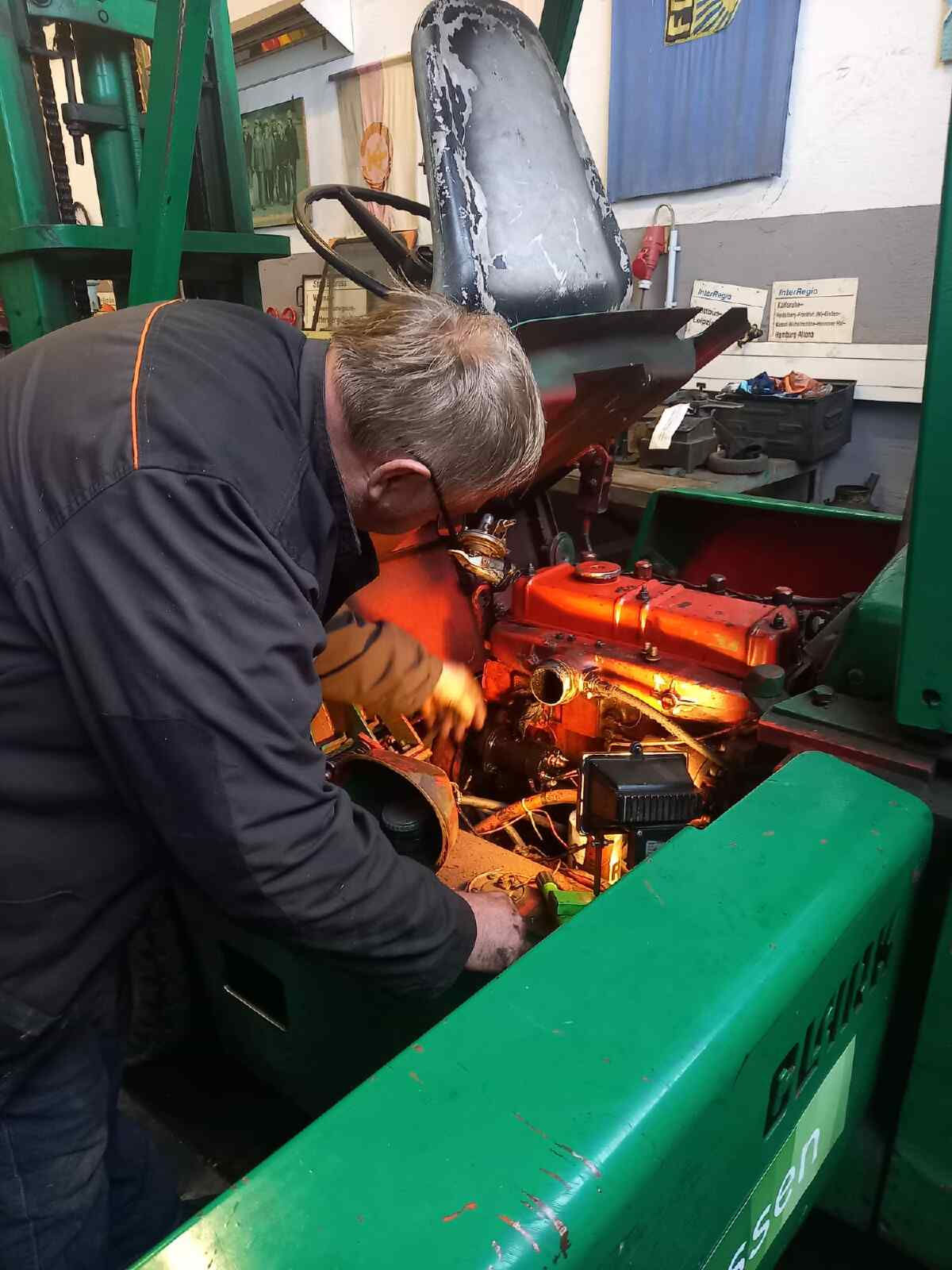 Work also continued on the tender of the 50 3570. Some of the sheet metal on the front end, which often rusts through, was replaced. This is a known weak point on the tenders. We hope that the repair of the vehicle can now finally be completed. While one person prepares the sheet metal, others weld it in.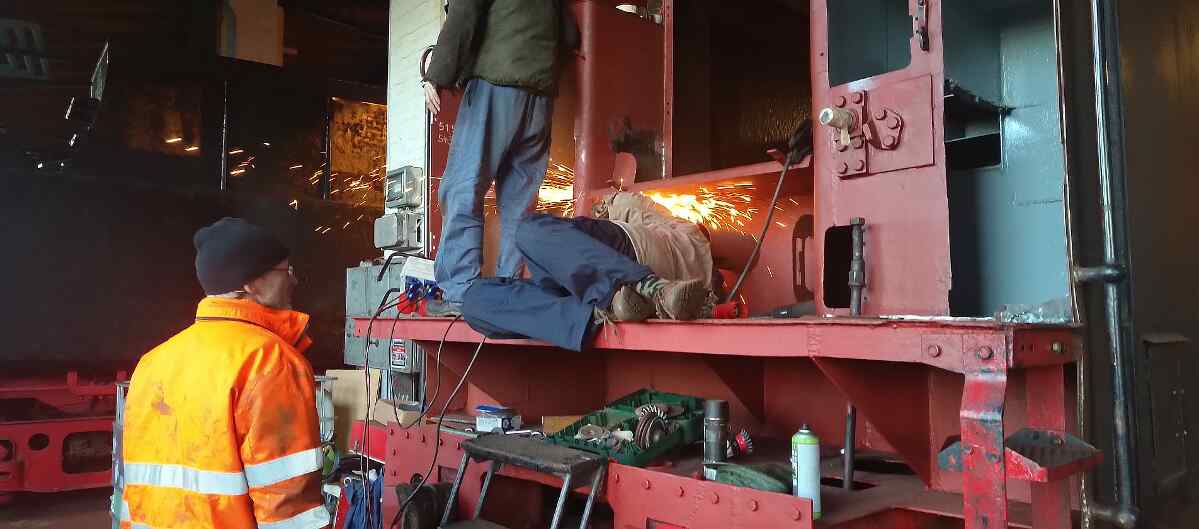 Then we finally had lunch. The chef had conjured up something delicious.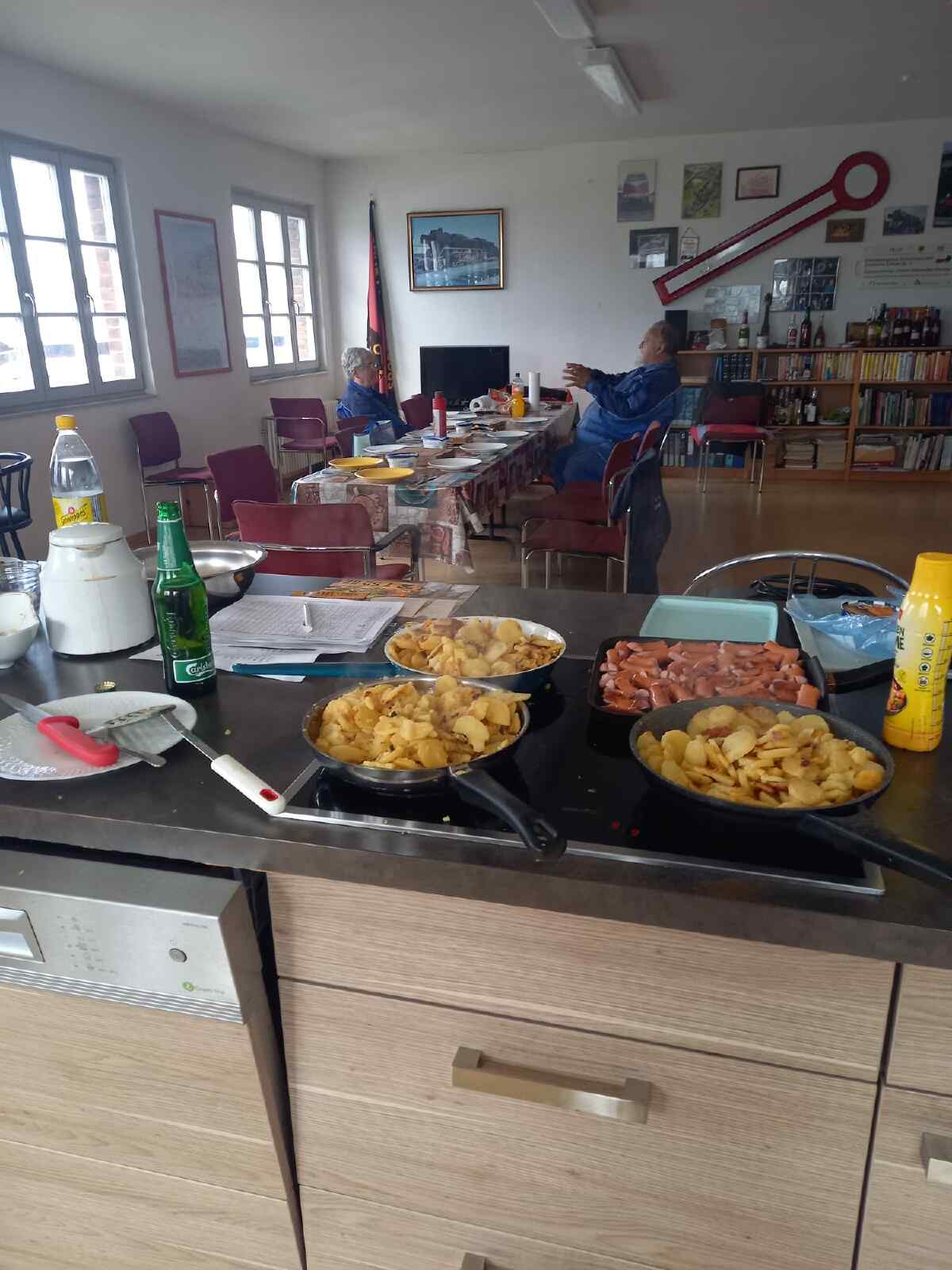 Fortunately, the snow had melted after lunch and there were still some major shunting tasks to be completed. So 50 3700 was temporarily placed behind the engine shed as an eye-catcher and now greets all passing rail travellers. 50 3685, which had spent the last few months outside, was allowed back into the engine shed instead.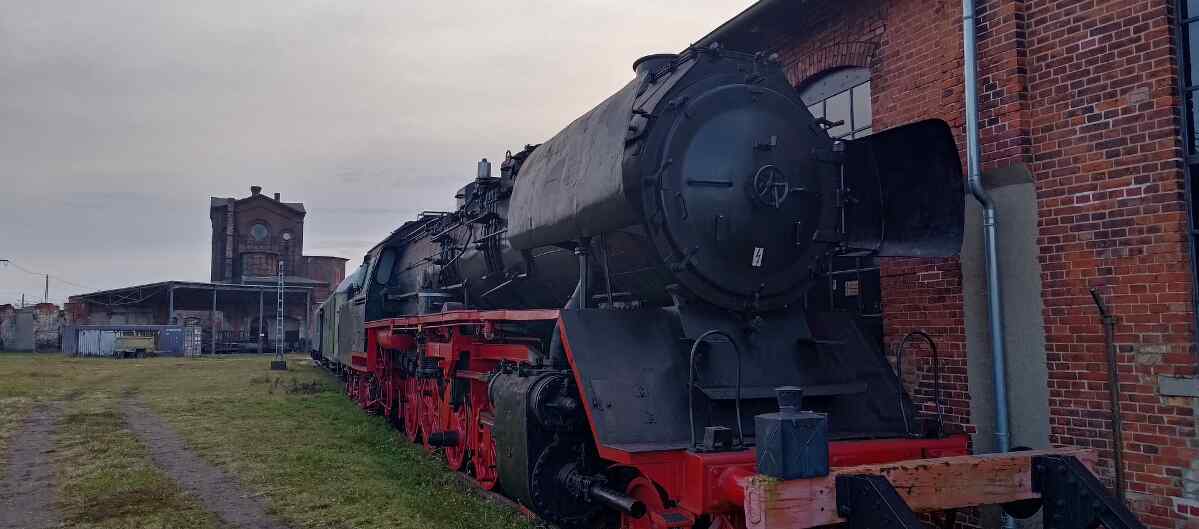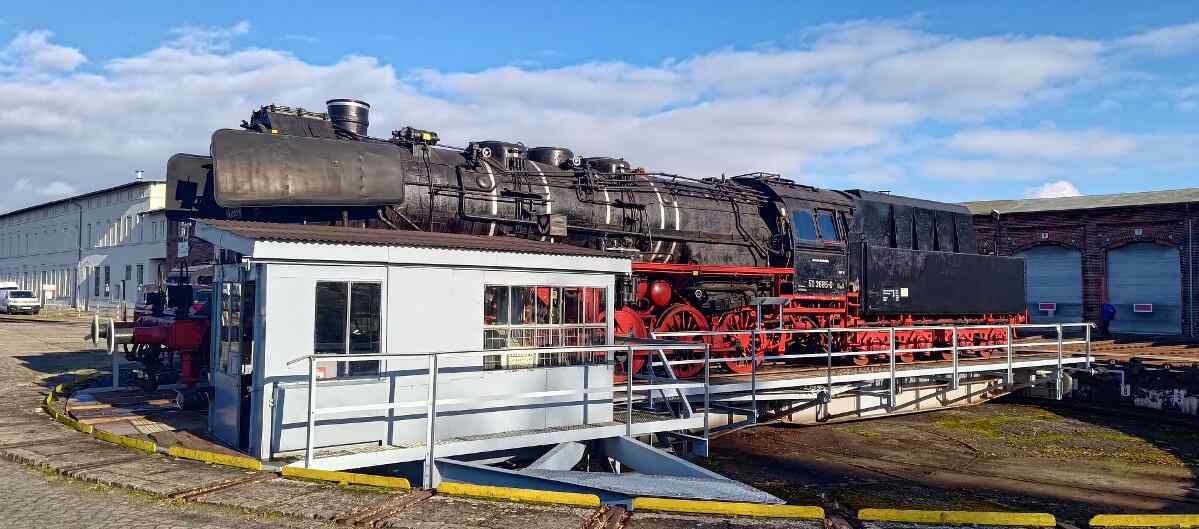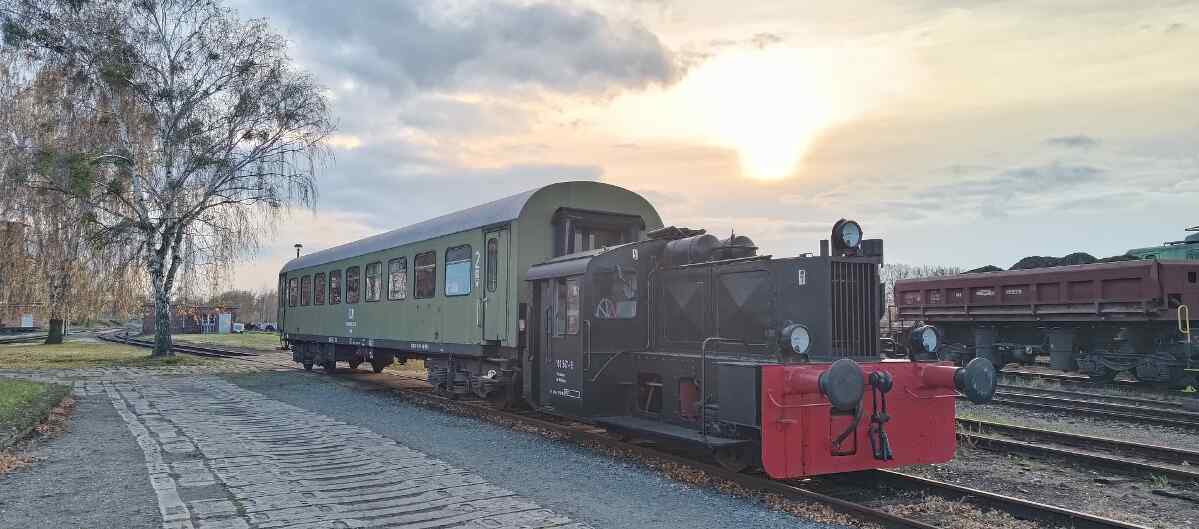 Picture 43 Köf and Bghw in the afternoon sun
So much for today and the current status. In the next newsletter in December we will report on the newly acquired collection of chimes. A really exciting thing. You can look forward to it!
---
24.10.2023: October in review
We were shocked to see that our last newsletter is already several weeks old. We would like to change that and give you, dear friends of the Historisches Lokschuppen Wittenberge, a short overview of our activities in October 2023. The month was packed full of activities. But let's start at the beginning.
We are continuously working on the maintenance of our track facilities. After all, what good is the most beautiful museum if you can't safely move the vehicles in it. This time, work was carried out on the so-called Magdeburg side of the station. A contractor replaced many wooden sleepers with concrete ones. In addition, remains of points were removed that were no longer needed.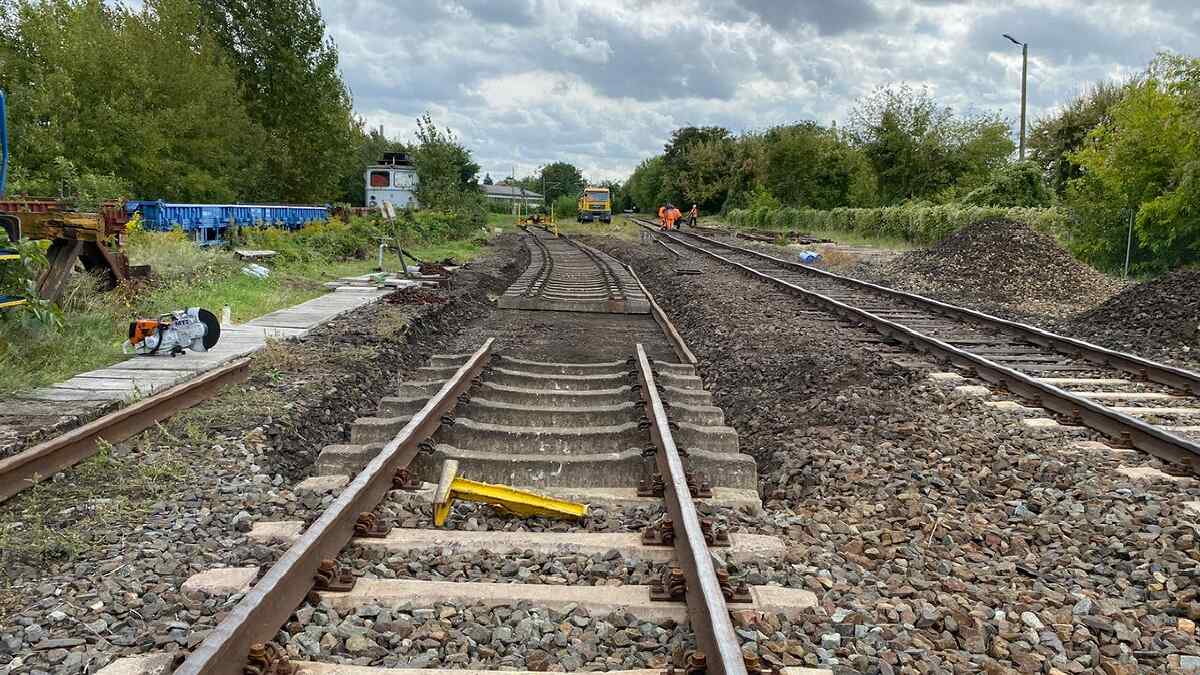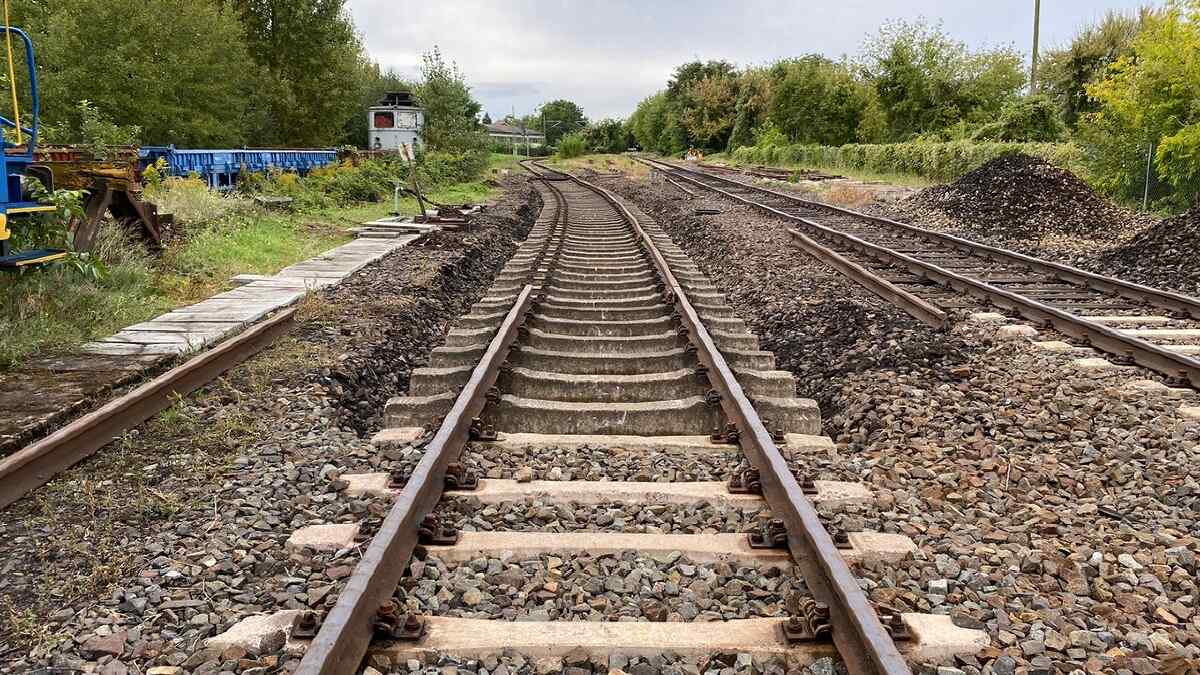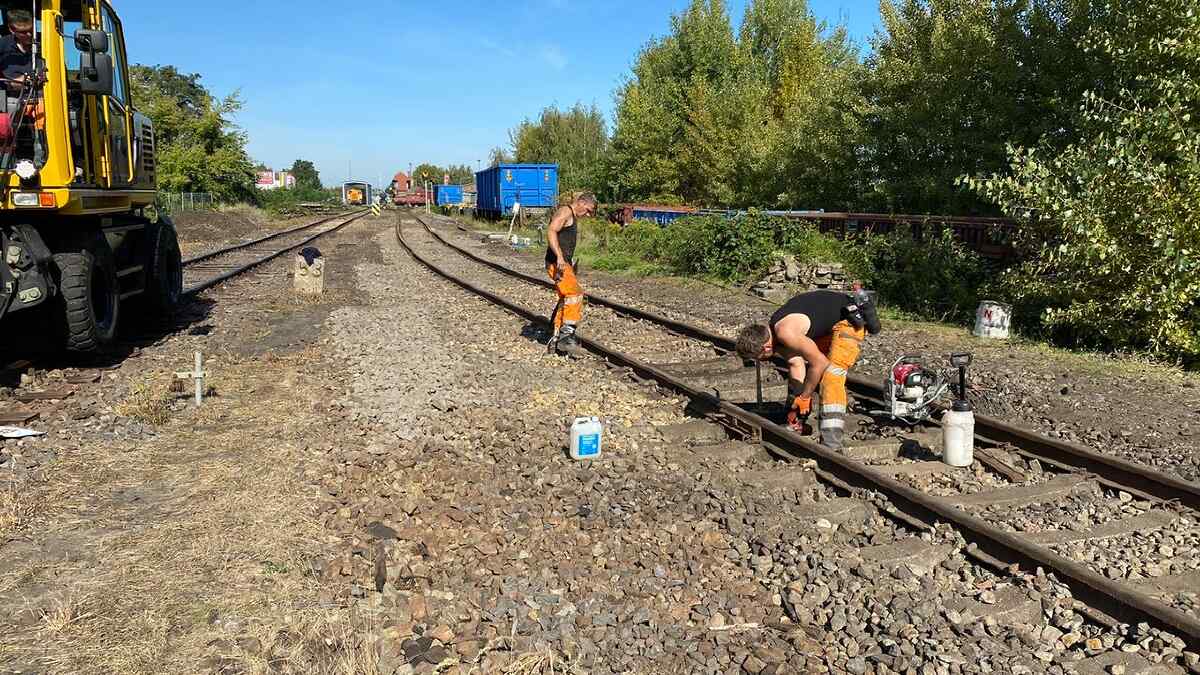 In addition to museum operations, the locomotive shed was also open for a number of festivities. There were two receptions in the locomotive shed, for which appropriate seating and decorations were set up. Especially in the warmer season, our locomotive shed offers a great ambience for such occasions.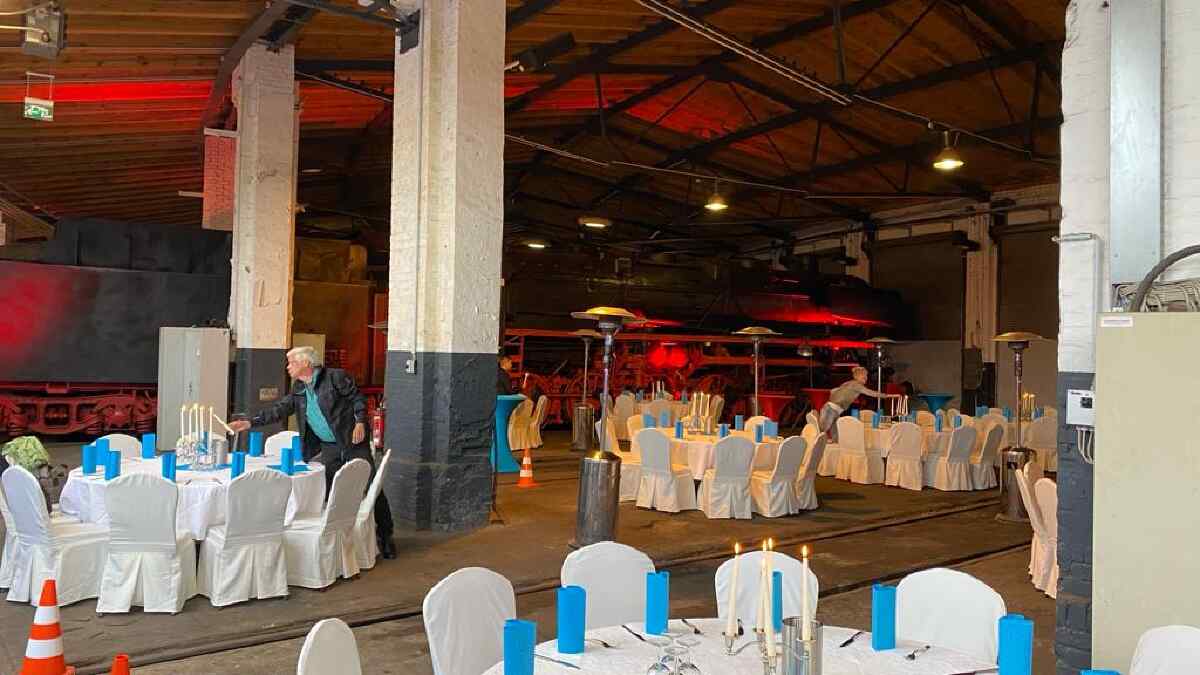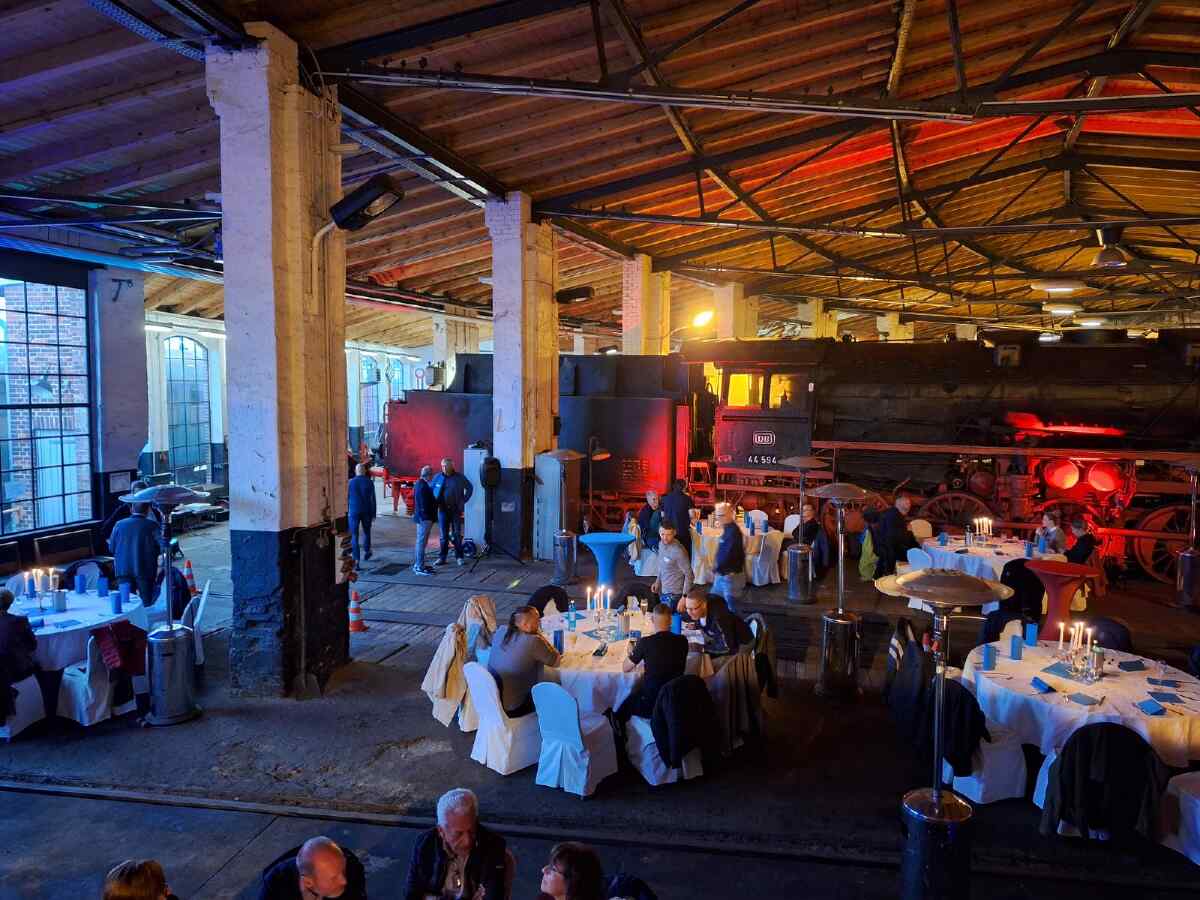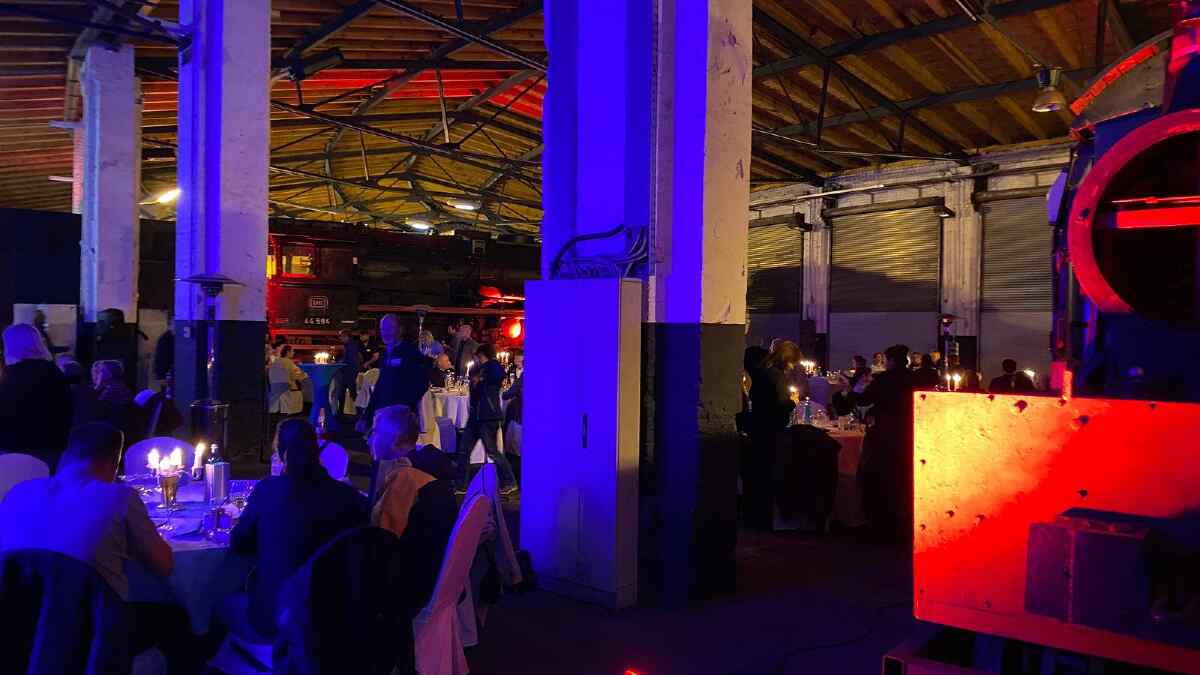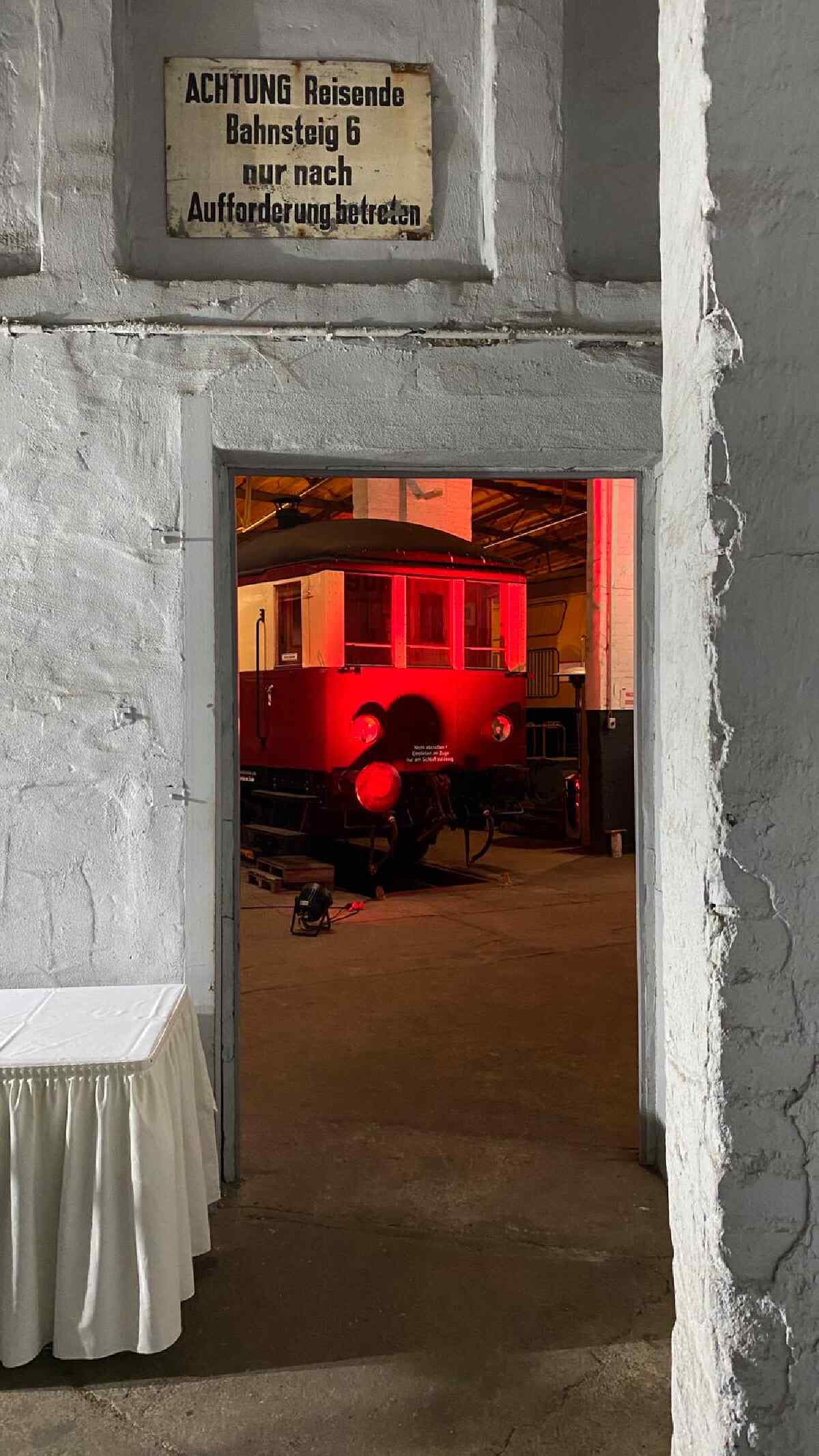 The highlight in October was our "Autumn Steam 2023" event. We had the pleasure of welcoming some guests who made their vehicles available for the exhibition. We would especially like to thank the Pressnitztalbahn company, who visited with their steam locomotive 86 1333, and the Lok-OST company, who made their diesel locomotive 232 903 available. We would also like to thank the Blaulichtmuseum Beuster, the transport police from Pritzwalk and several private collectors for the exhibition of their trucks, automobiles and two-wheelers. We also thank the Kulturlokschuppen Neumünster and the Verein Hafenbahn Neustrelitz, who visited us with their special trains. We were very pleased with your visit and think that the visitors enjoyed your vehicles as well.
Speaking of visitors: We were surprised, if not overwhelmed, by the high number of visitors. In total, we welcomed almost 2,200 visitors. And that despite the fact that Saturday afternoon was pretty rainy. So it was a great success for us and we believe we offered a lot to our visitors. The many friendly feedbacks were an incentive for us to continue like this next year.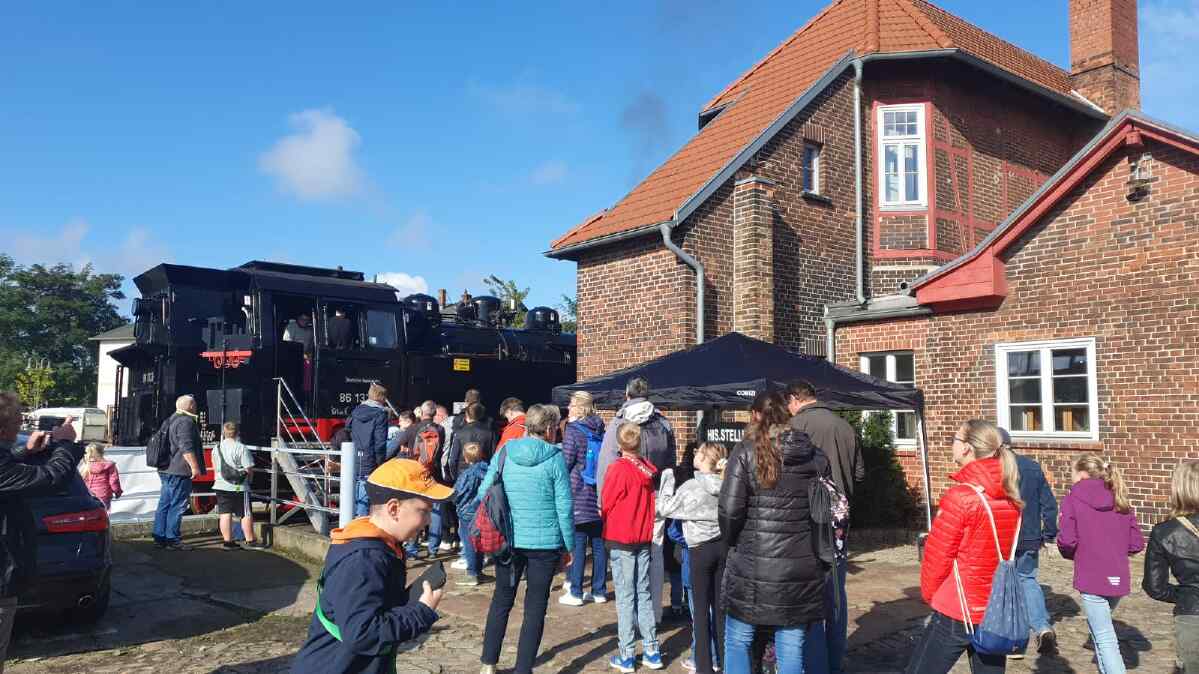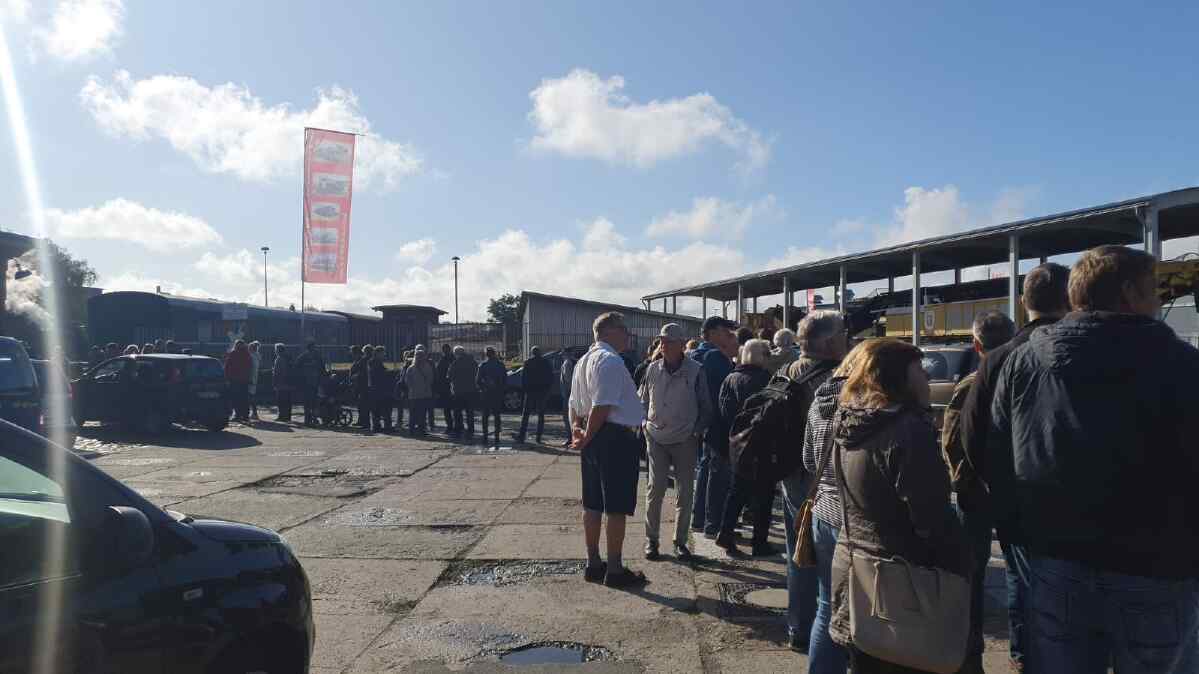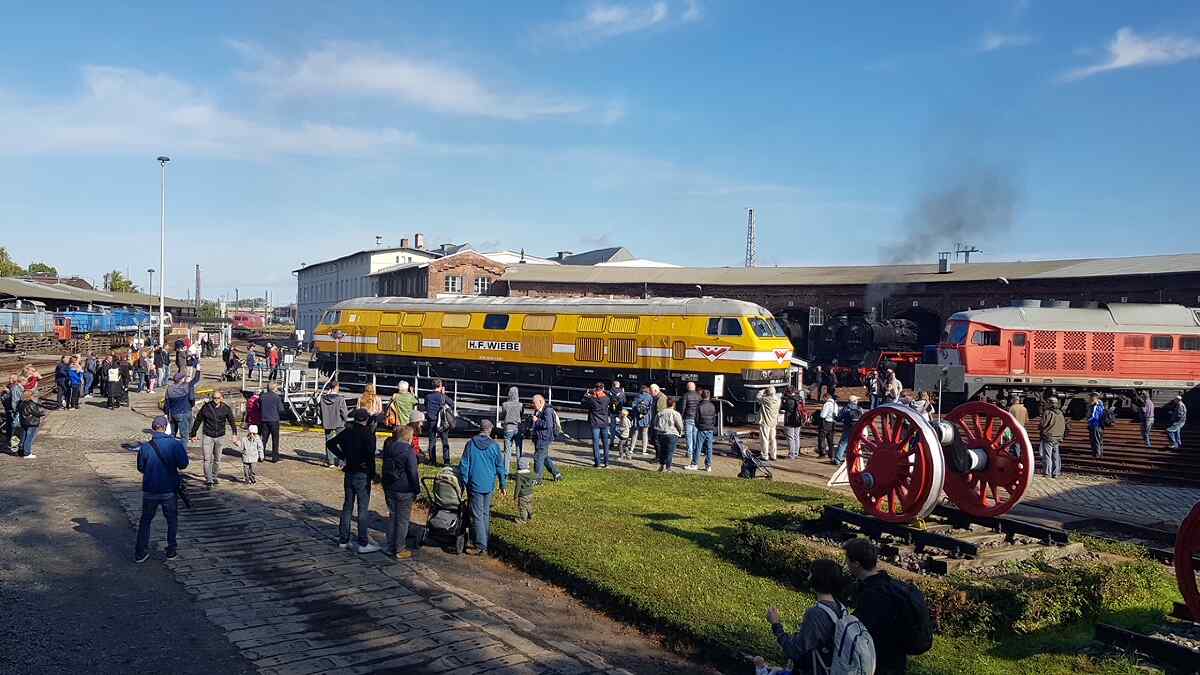 Unfortunately, the active participants themselves hardly had time to take photos during the event. Everyone was constantly busy with some task or other. But there were some snapshots that we don't want to withhold from you.
Exhausted fireman at the end of the shift: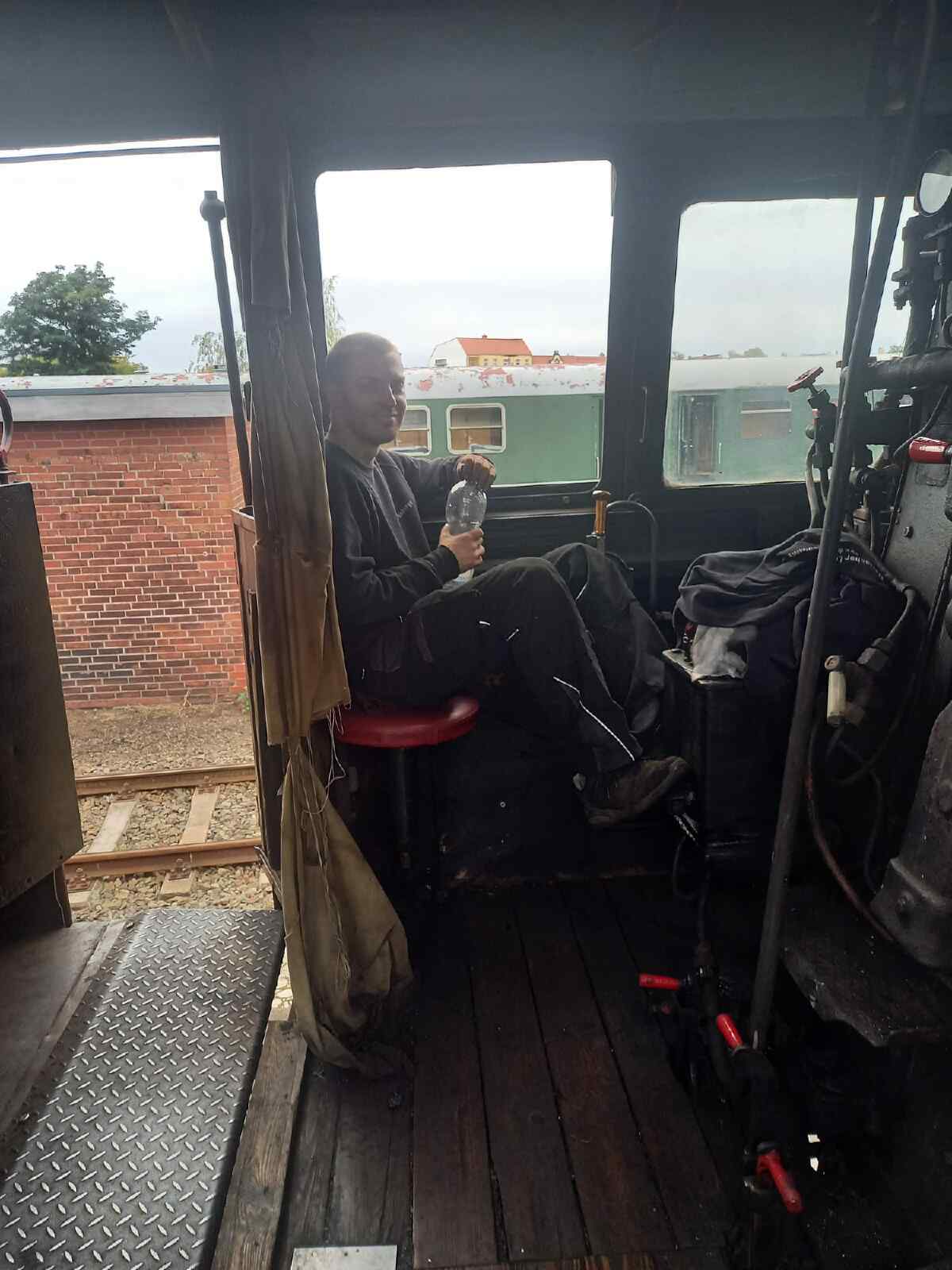 Lunch has to be kept warm: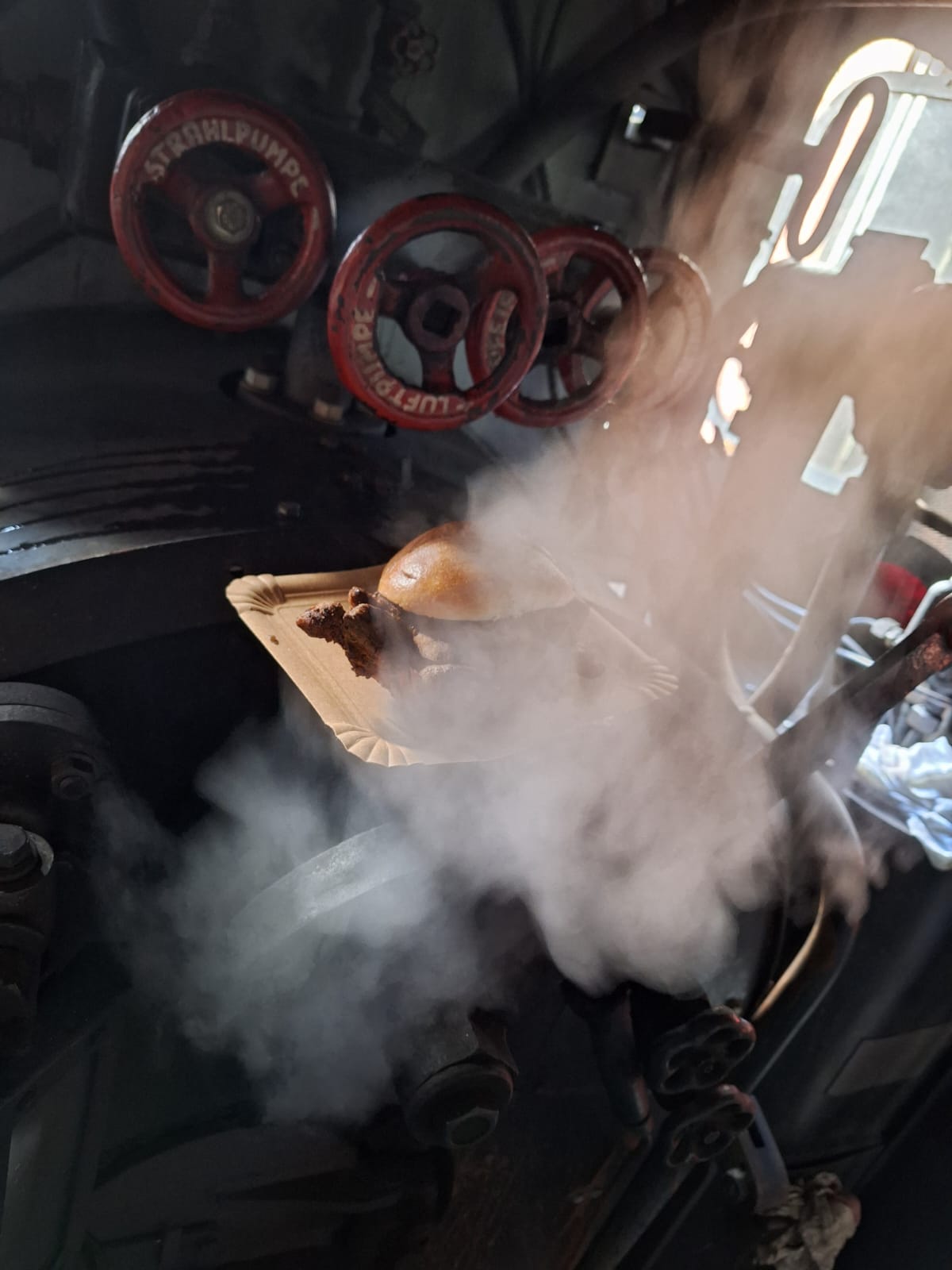 A bit of fun is a must: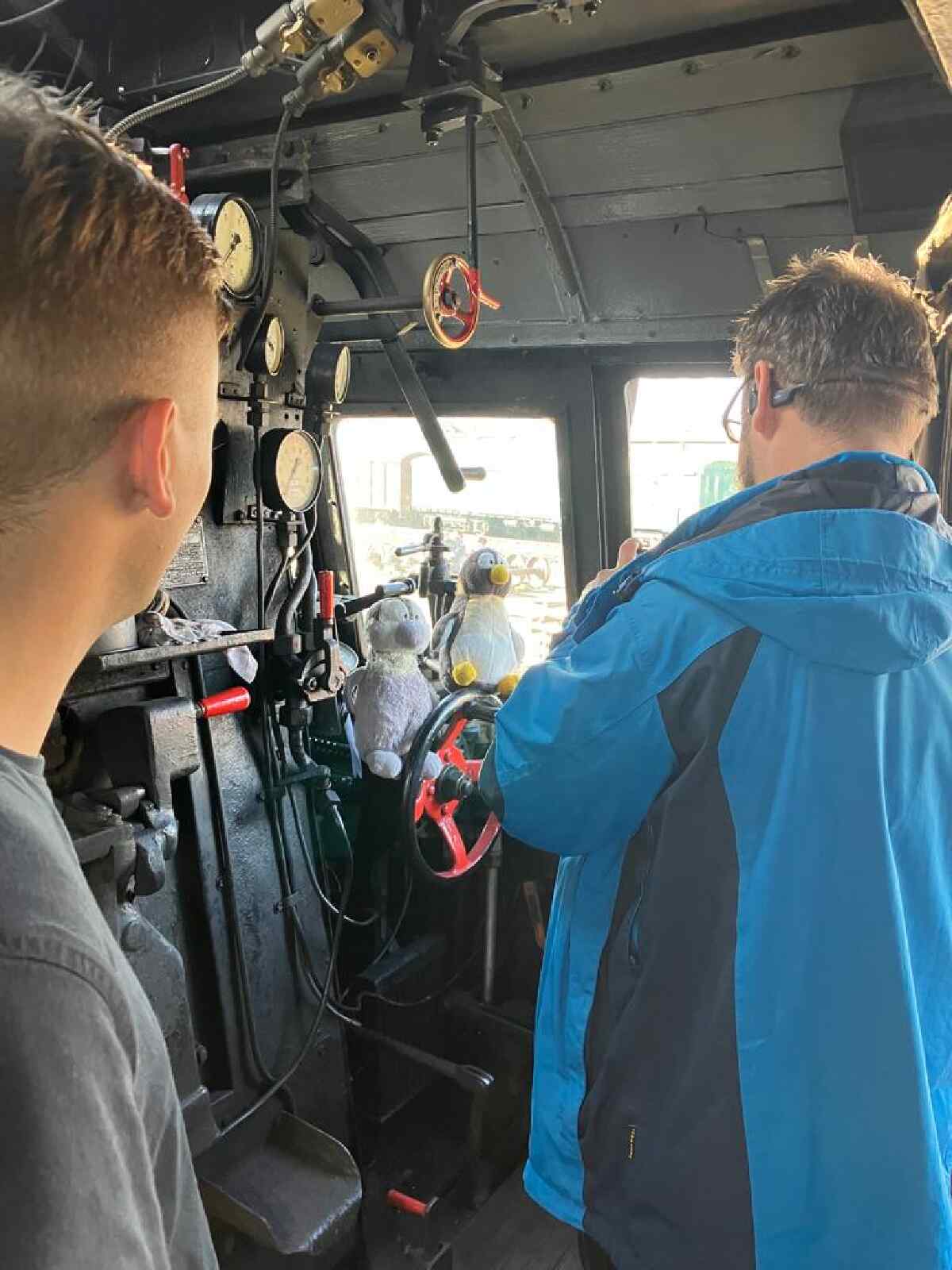 Shunting with diesel loco 320 001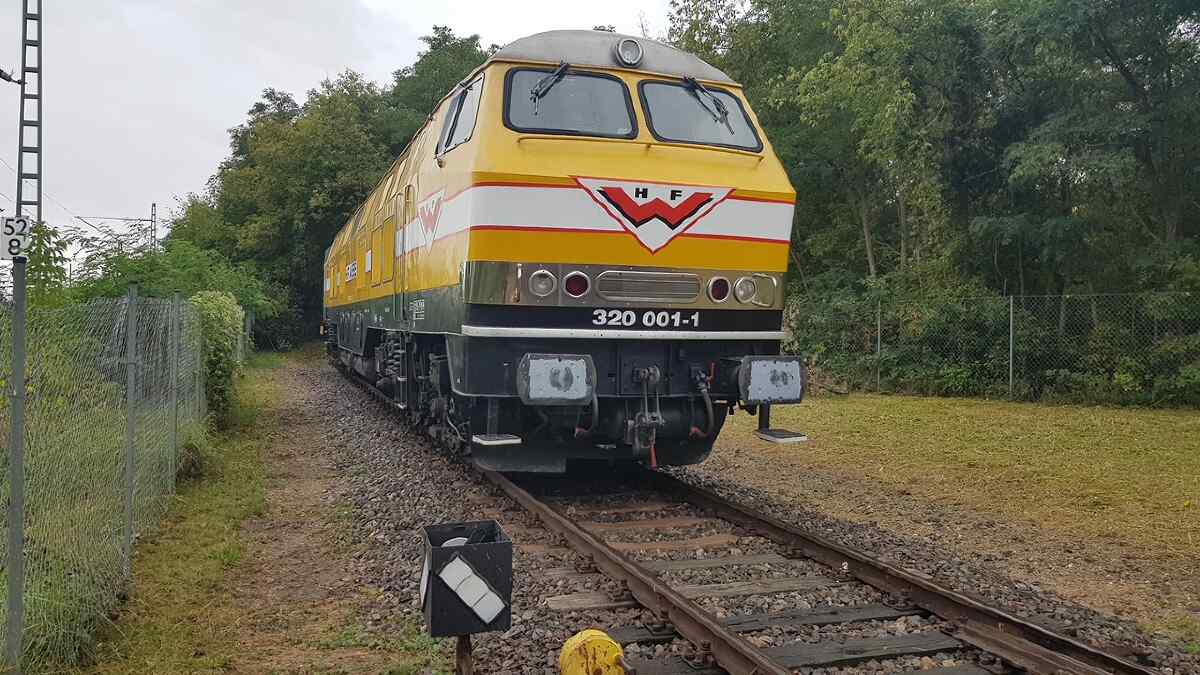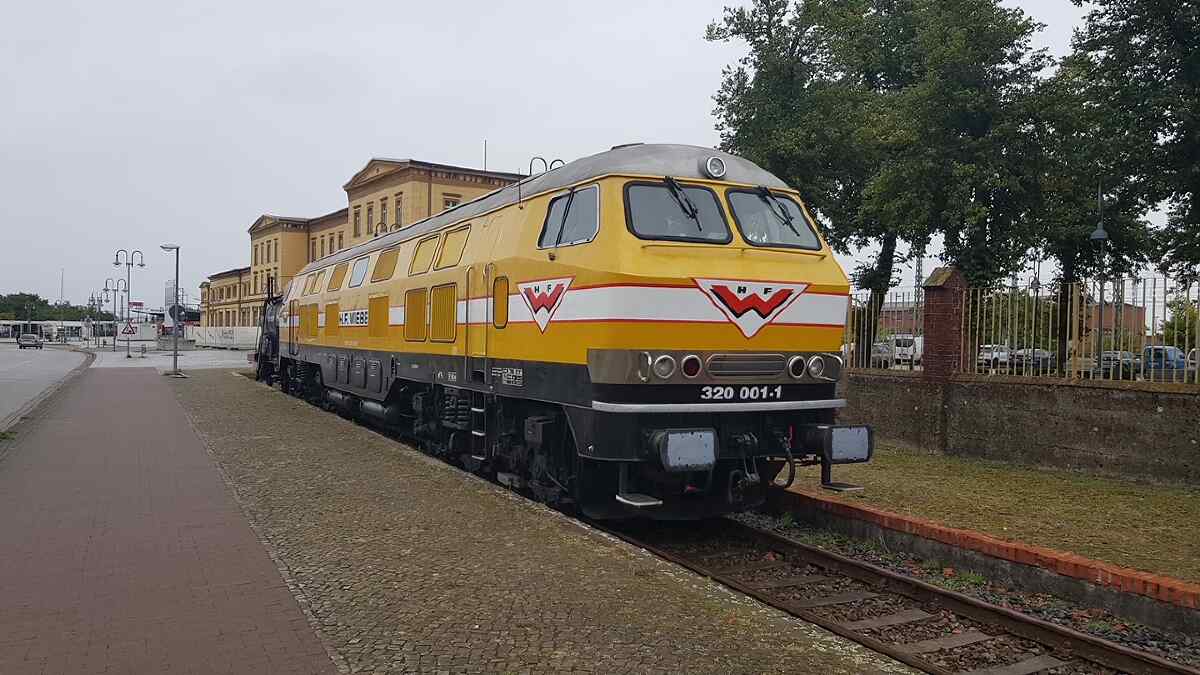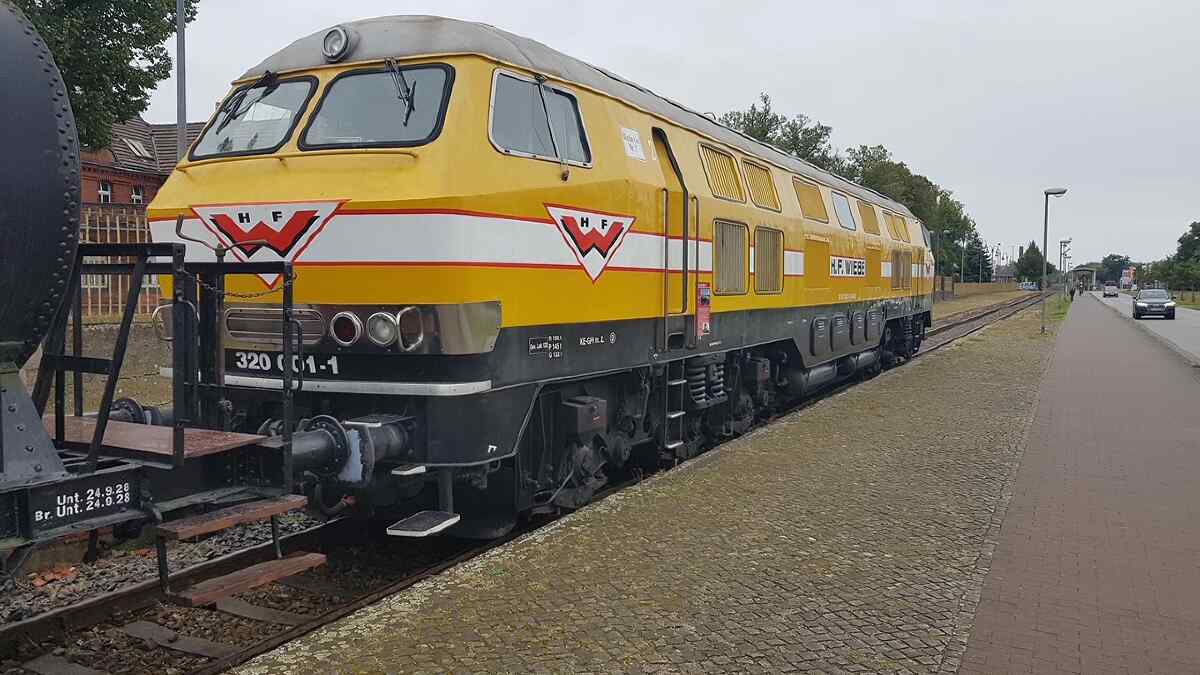 And when a little peace returned, our steel main actors rested in the locomotive shed: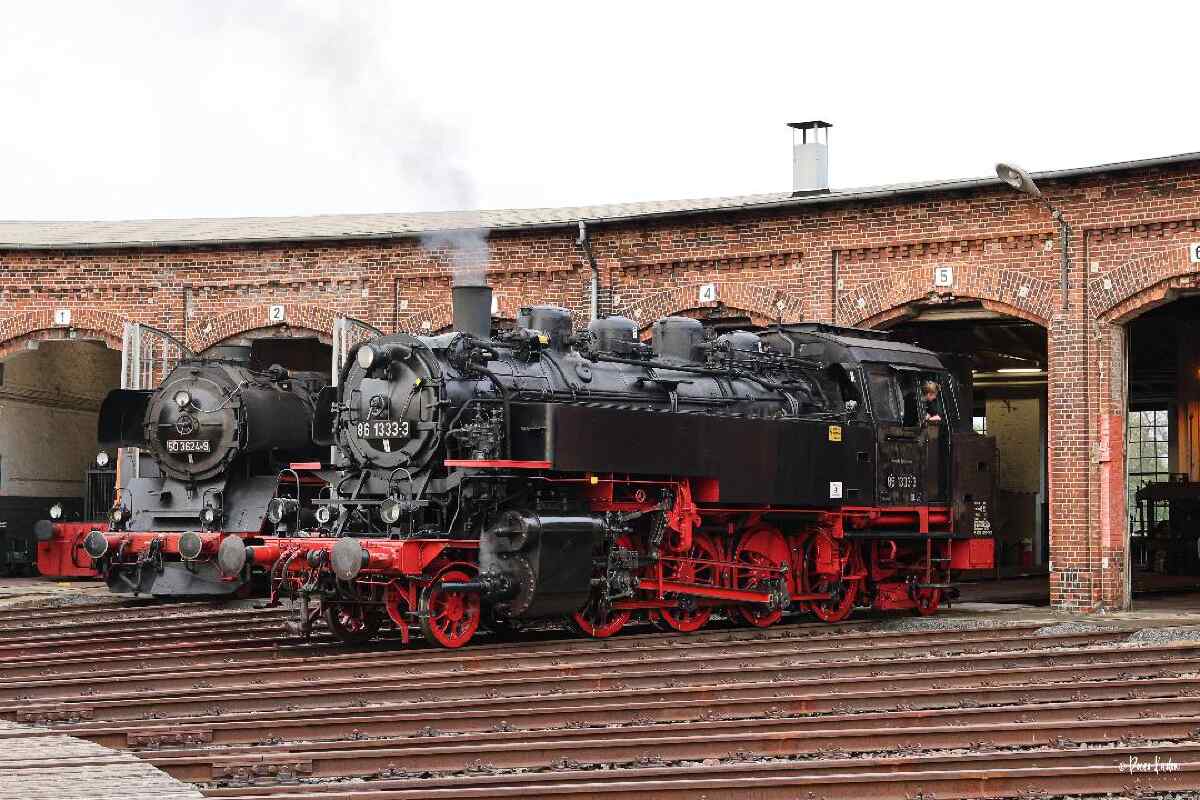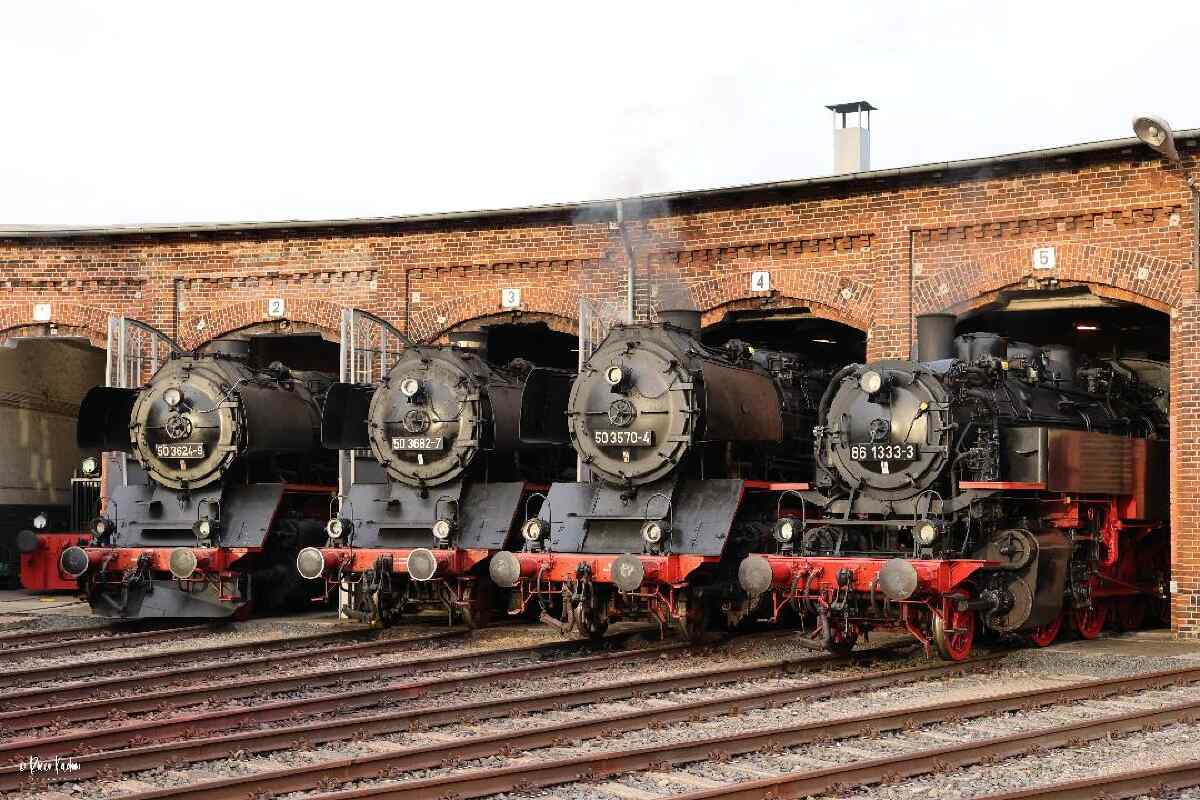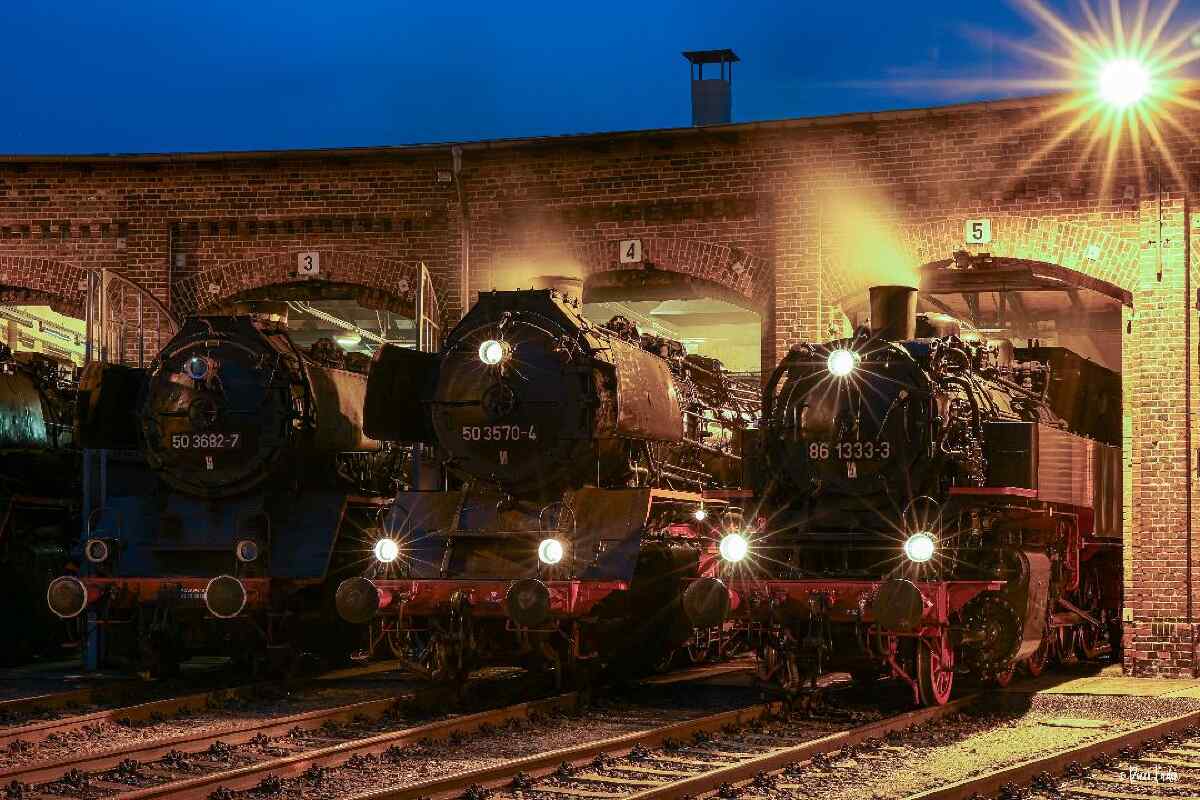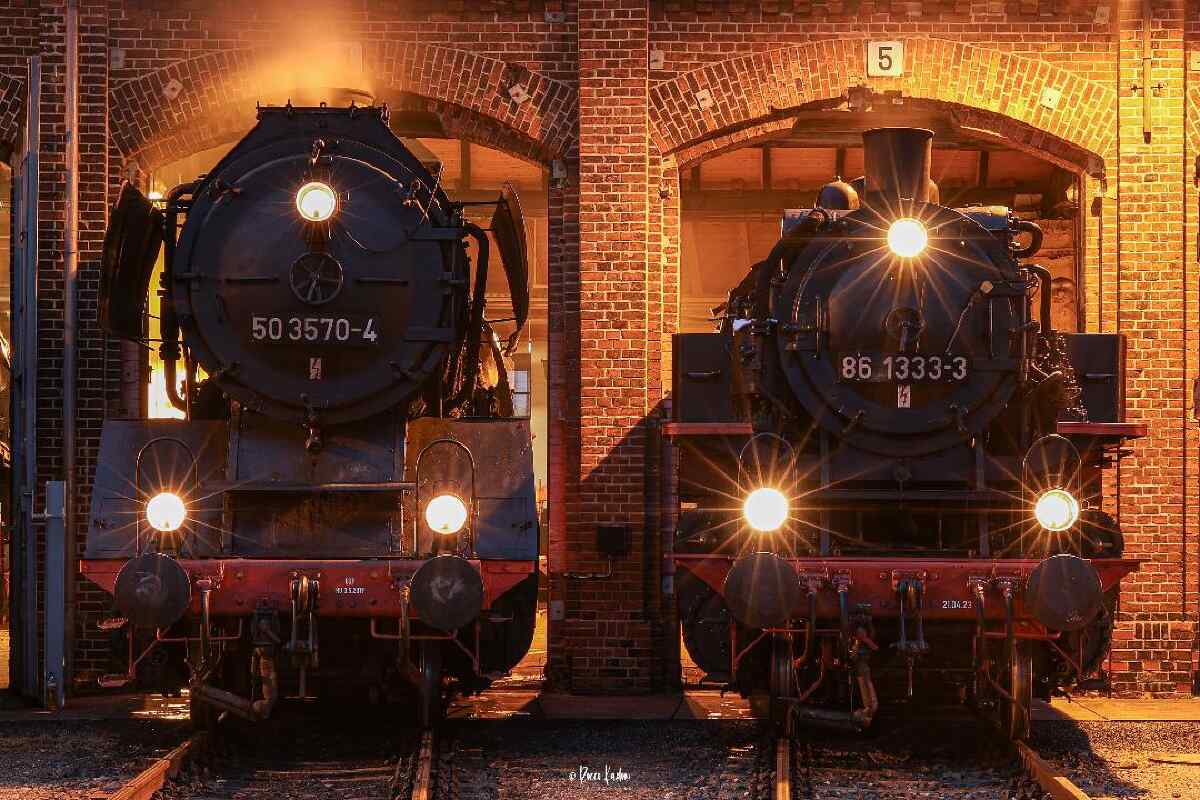 After a week's rest, the work continued last weekend. One by one, our steam locomotives are being winterised. This means in particular that the water must be drained from the boilers, storage tanks and pipes to avoid frost damage in winter. The boilers also have to be cleaned inside and out. Last weekend, locomotive "Emma" was on treatment.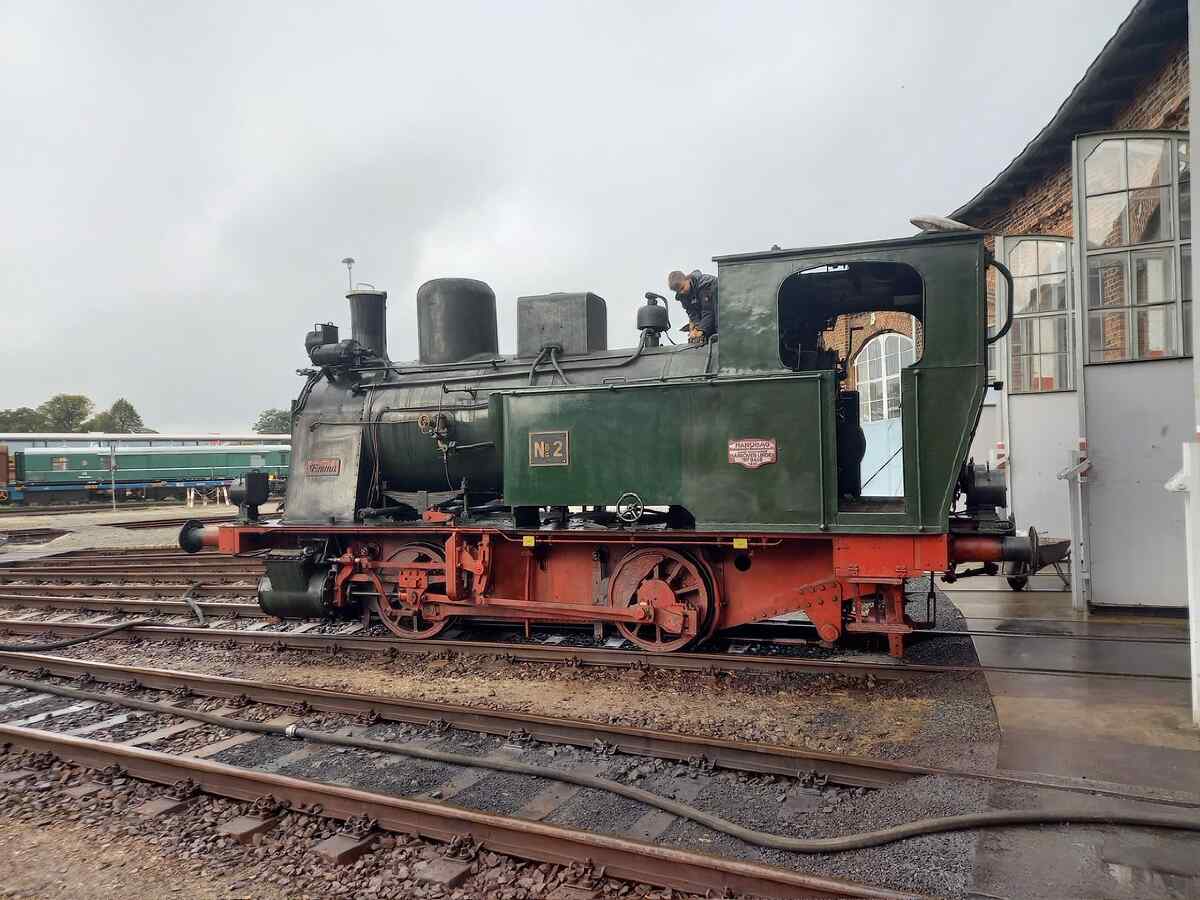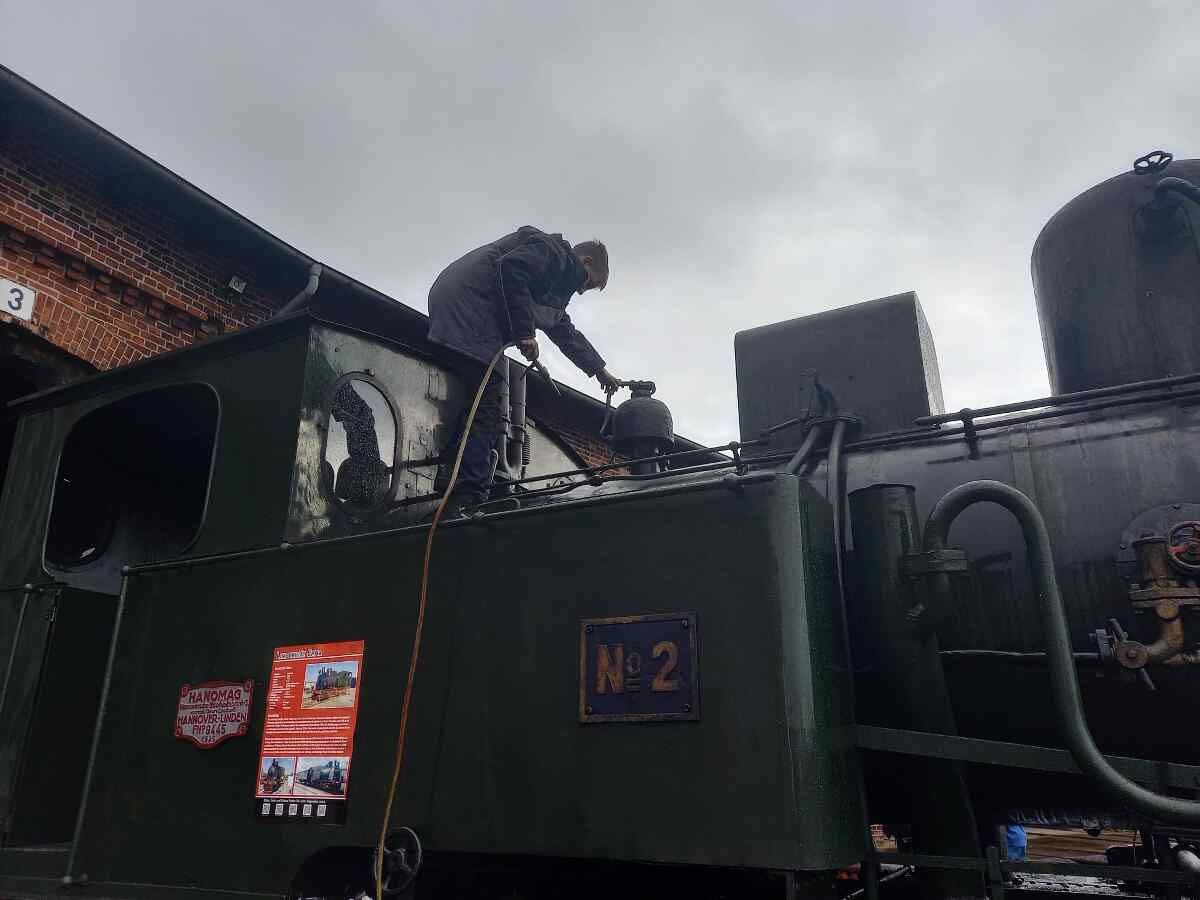 And because our buildings also need to be further extended and maintained, a group of activists has been busy installing new ceilings in a building on the so-called coal yard. Here, among other things, a part of the exhibition of bells is to be built up over the winter. We will report on this exciting story.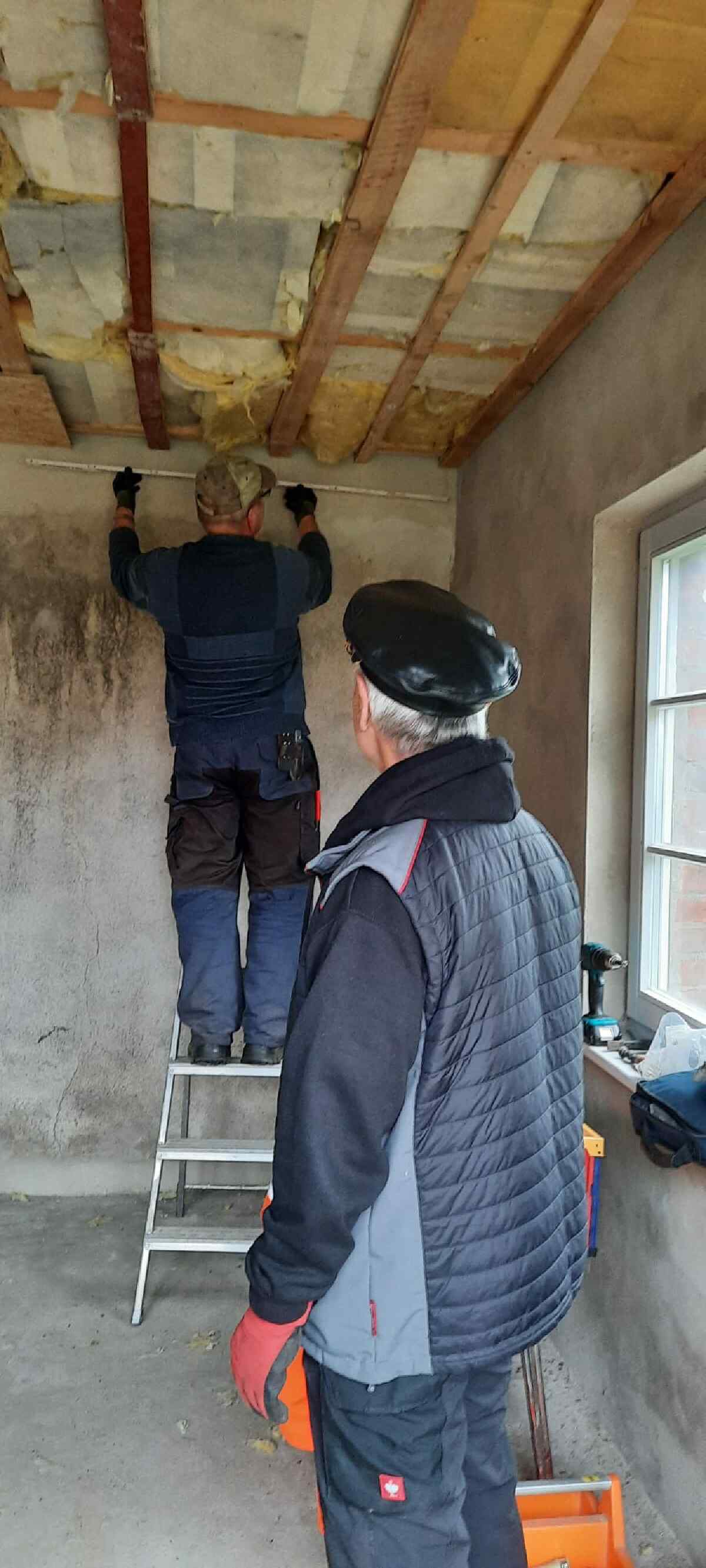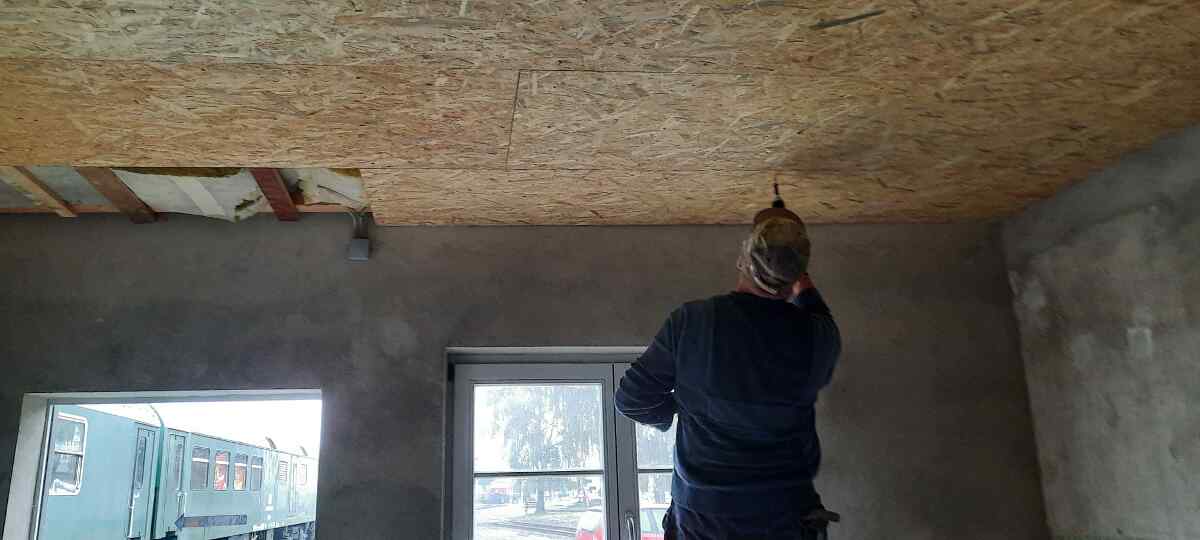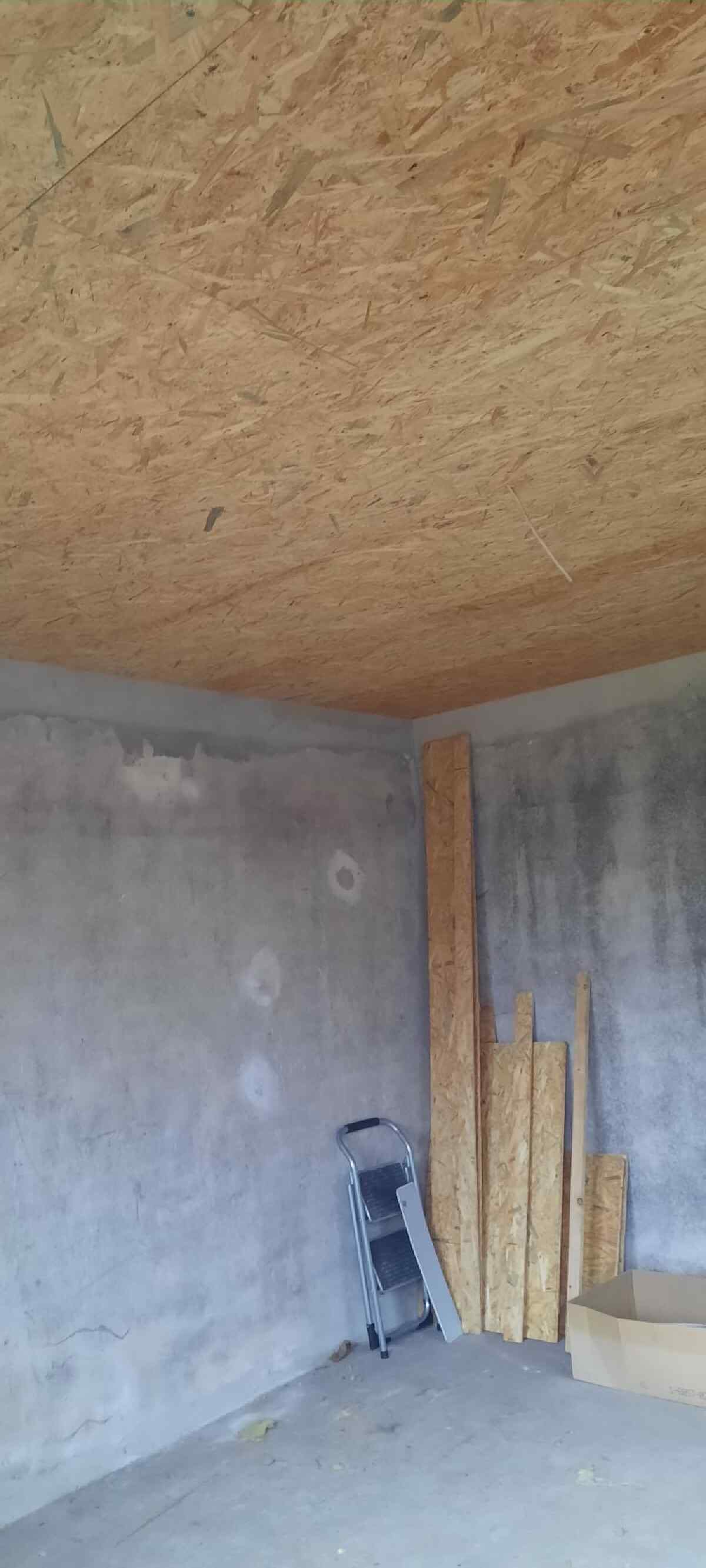 vehicles:
Emma
,
V 320 001-1
related articles (News):
related articles (Press):
---
13.09.2023: Autumn steam in sight
With giant strides we are approaching our third and last event this year. On 7 and 8 October, if possible, everything that can move itself will steam and diesel again. Tickets for the event are available on site for € 8,- (adults) / 4,- (children) / 20,- (families).
Of course, there are quite a few preparations to be made, which have been with us for some time now and are becoming more and more intensive the closer we get to the date. What exactly will be in use? First of all, there are our two steam locomotives 50 3570 and Emma, which are already in the starting blocks. This time they will be supported by the steam locomotive 86 1333 of the Pressnitztalbahn, which will interrupt its journey home from Hamburg especially for our event. Incidentally, the locomotive was built in 1939 at the Floridsdorf locomotive factory in Vienna and was initially used not far from Wittenberge in Waren, Wittstock, Parchim and Güstrow. So it's a home game, so to speak.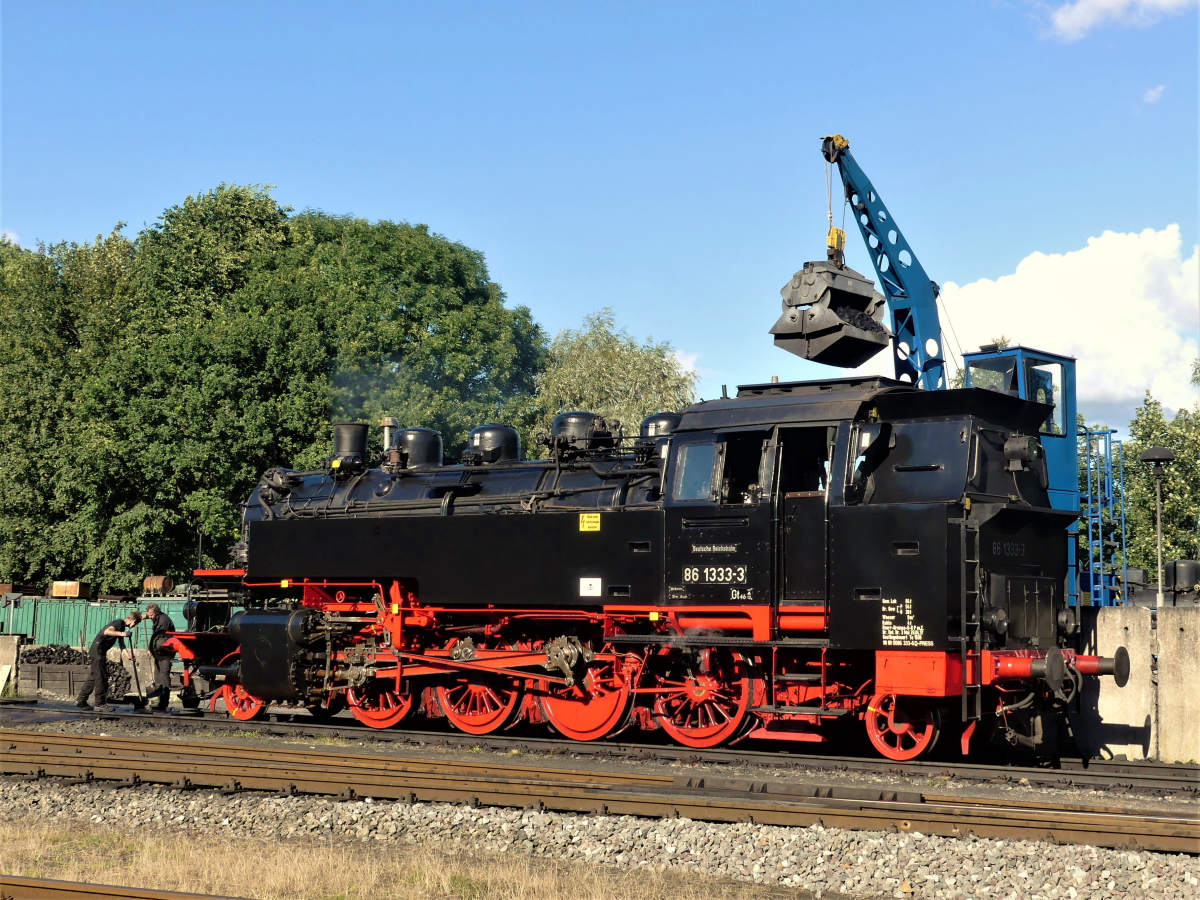 From the diesel fraction, we will probably show you our small locomotives of the Deutsche Reichsbahn and the Osthannoversche Eisenbahn. You will also see the large diesel locomotives V320 and probably 114 774, the latter of which we are still working on during its main inspection. In the meantime, the cardan shafts of the locomotive have been reinstalled and the brake parts have been assembled. So it can run and brake again.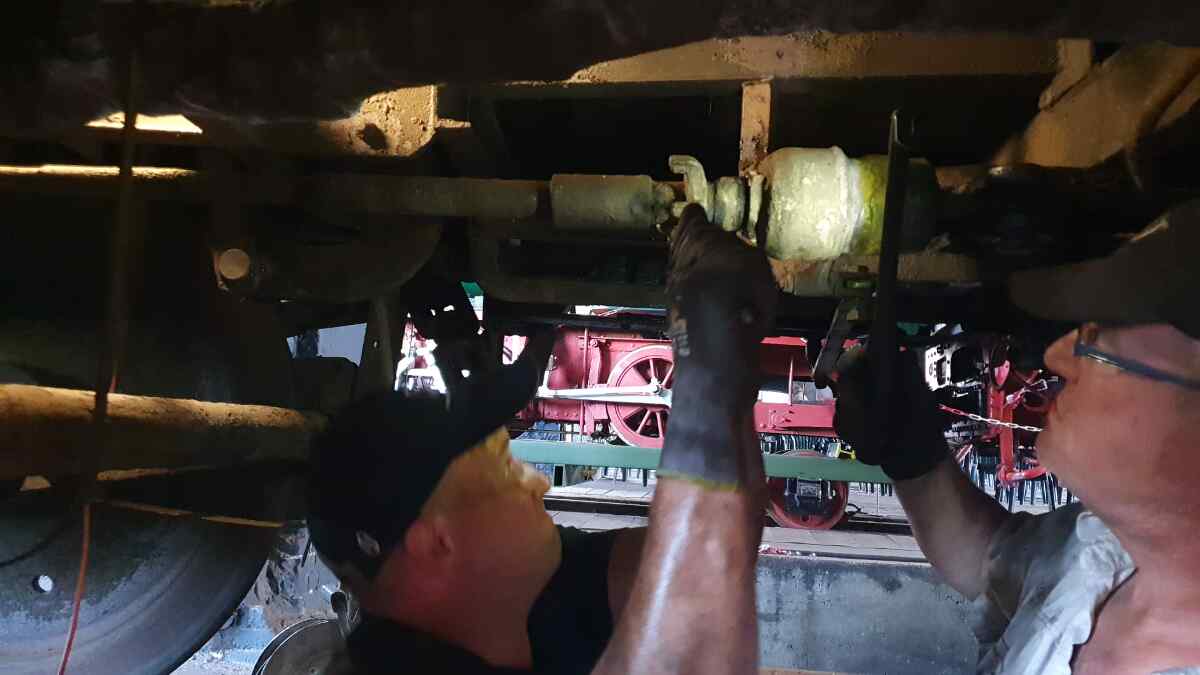 What else happened? We had three events to attend last weekend and that was quite exhausting, not only because of the summery weather. On 9.9, our neighbours, the Schienenfahrzeugwerke Wittenberge, opened their doors to interested visitors. Of course we supported them, because we actually share the grounds of the former Wittenberge railway depot. We also think that we complemented each other well, because the SfW showed modern technology, while we showed historical technology.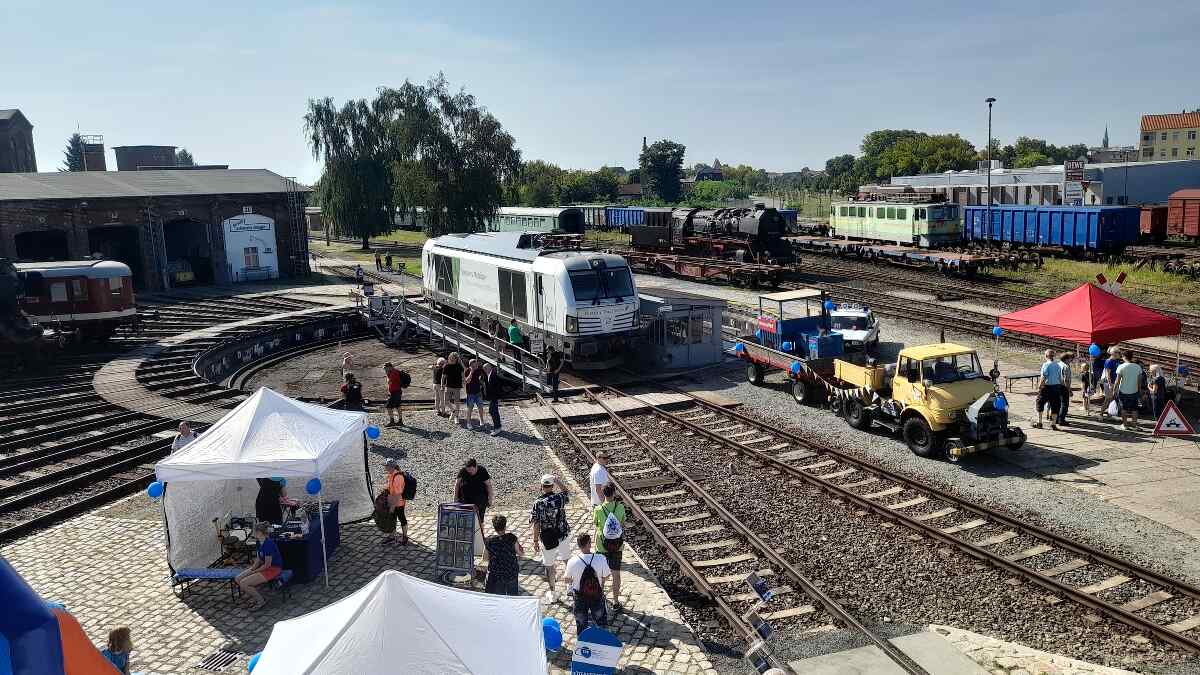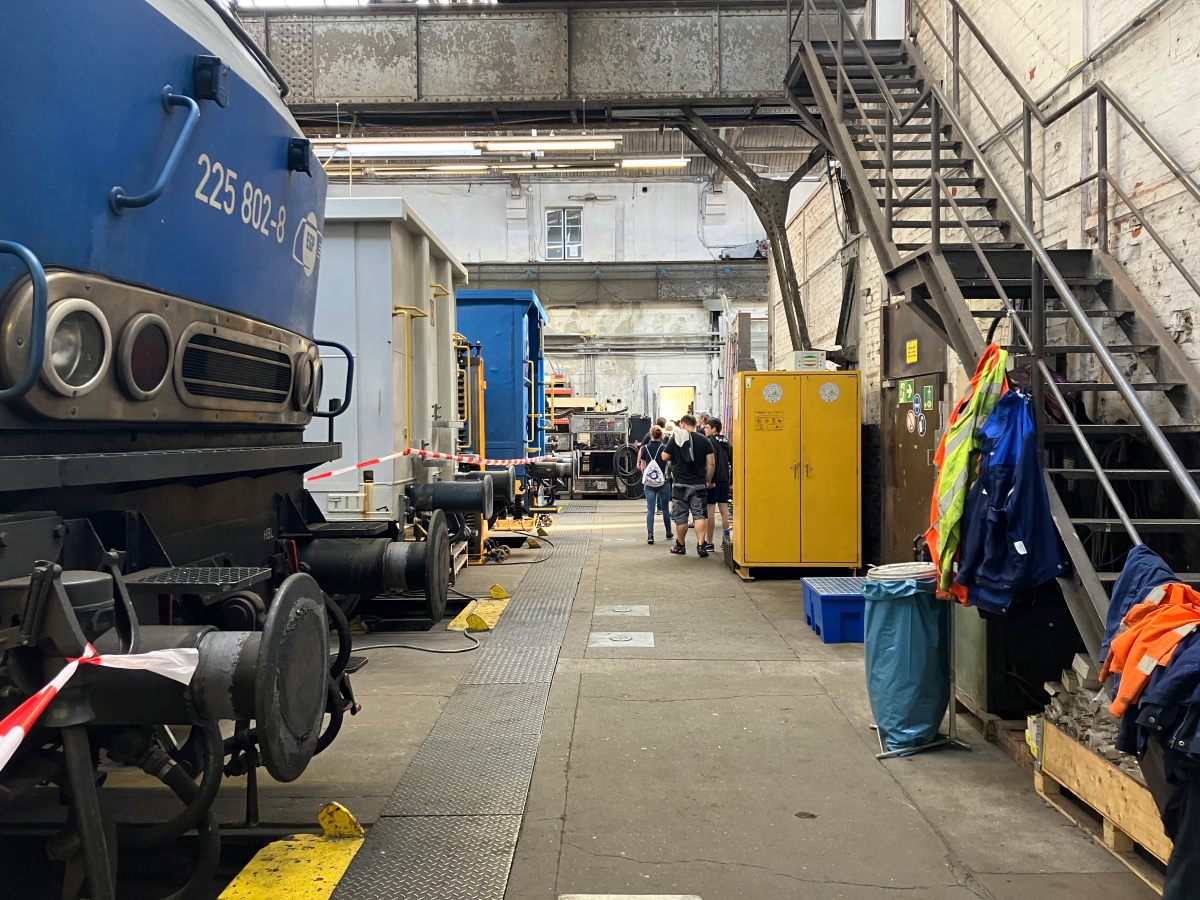 On 9.9. in the evening, a classical concert took place in the locomotive shed in front of a historical backdrop. The quartet and we were delighted to welcome more than 150 culture enthusiasts who listened to the sounds of Bach, Mendelsohn and Co. in the locomotive shed. Great atmosphere! It's nice that more and more people are taking advantage of such an offer.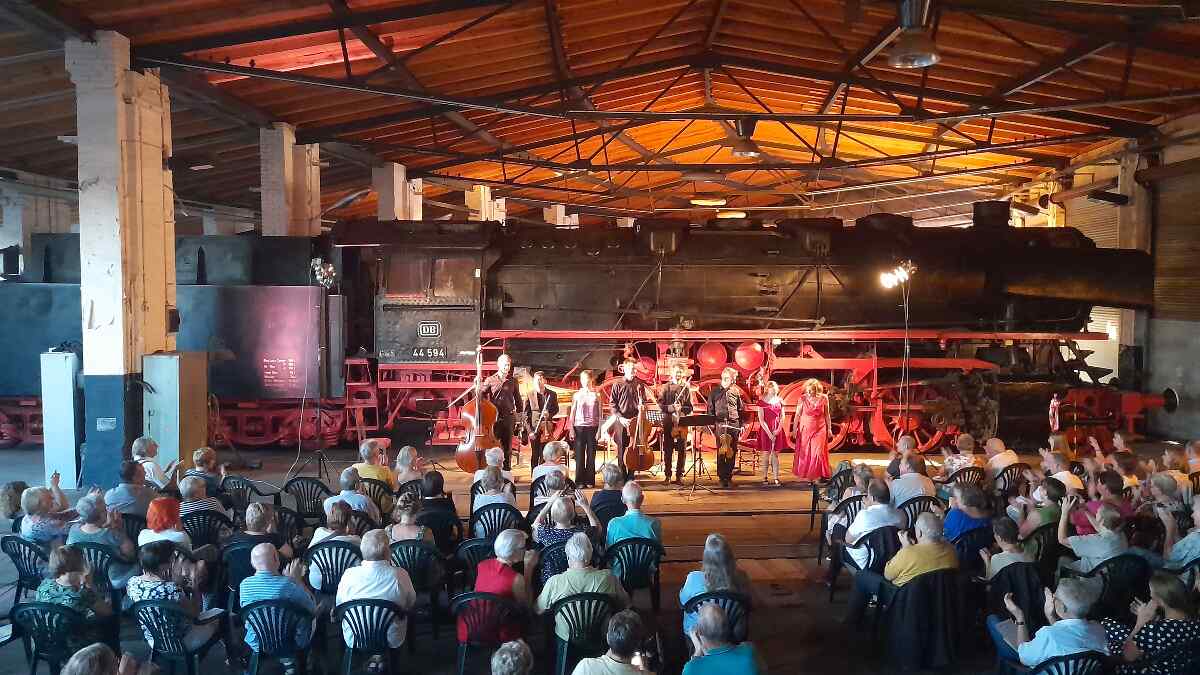 On Sunday, the nationwide Open Monument Day took place. We also took part in this event and were able to tell quite a few visitors about our activities to preserve our monument.
Today we can also report on another small sensation. Unfortunately, the well-known Stendal specialist book author and railway enthusiast Wolfgang List passed away some time ago. However, we were able to come to an agreement with the family that our museum will take over and exhibit the extensive collection of bell mechanisms. These are various devices, some of them the size of telephone booths, which were used to signal incoming and outgoing trains by morse signals before the digitalisation of the railway. Wolfgang List had saved such equipment from being scrapped in many parts of Germany and restored it to working order in his private collection. Now the parts will be given their rightful place in Wittenberge. We would like to thank the relatives once again for their willingness to hand over the collection to us. A few days ago, we started to set up the large exhibits in our outdoor area.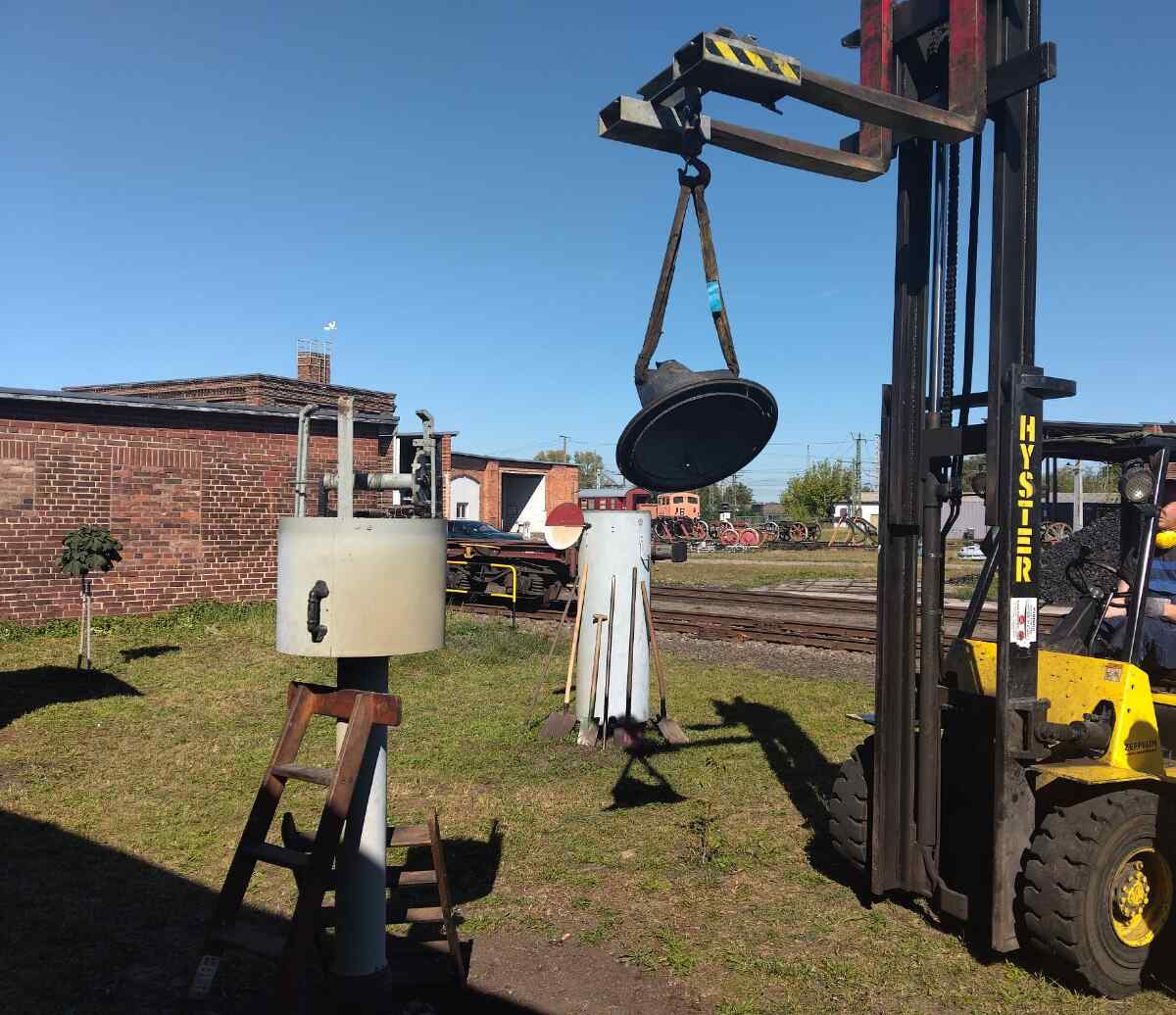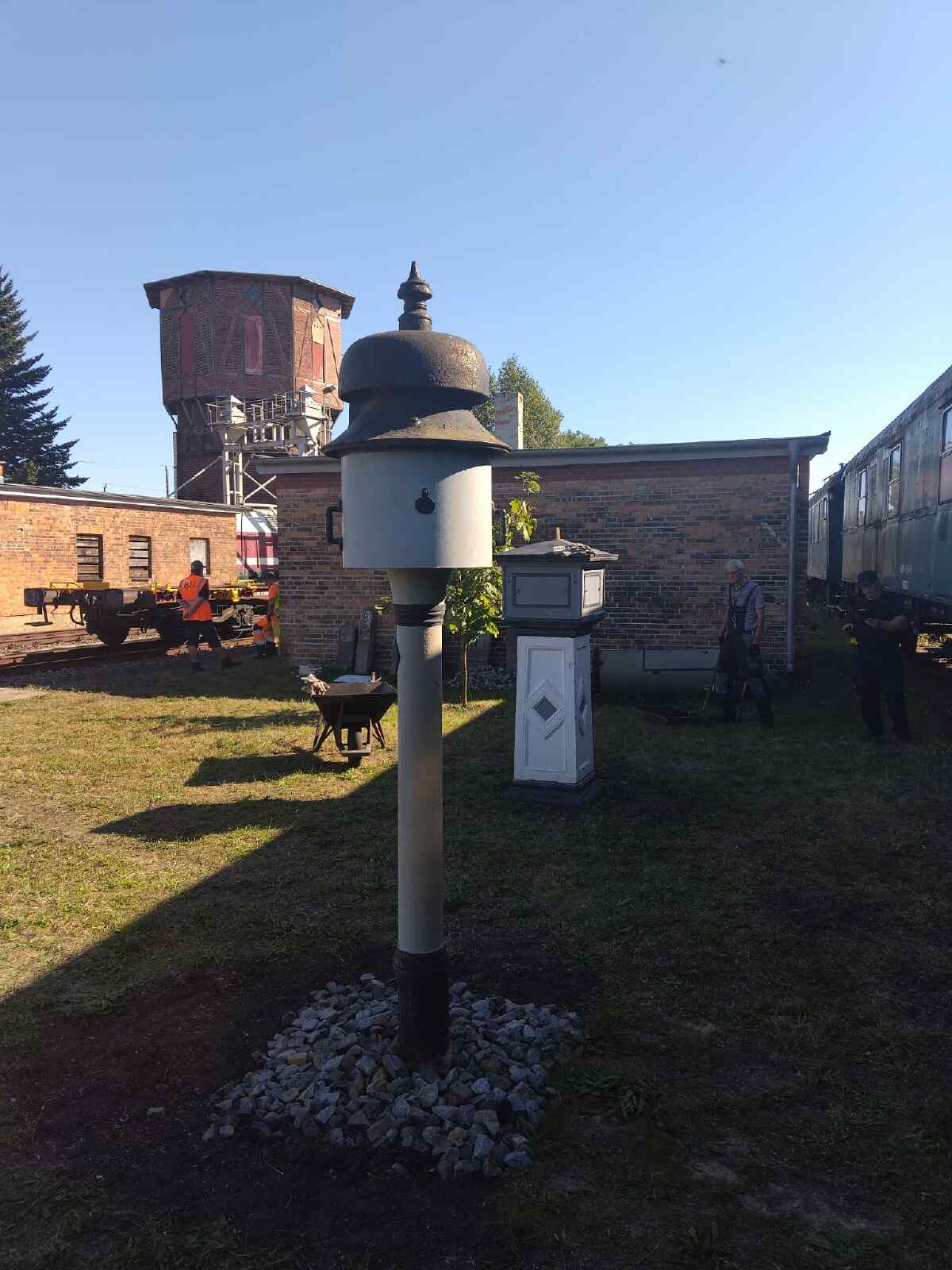 Now back to the initial topic, the looming autumn steam: We have already referred to the event itself. However, there are a few other highlights that need to be mentioned.
First of all, there are the feeder trips to our steam days. On Saturday, 7 October, a special railcar from Neumünster will travel to Wittenberge, and on Sunday a railbus "Ferkeltaxe" from Neustrelitz. Tickets are still available. So if you would like to travel in style on one of these trains, you can find more information and bookings on our website www.dampflok-wittenberge.de and the website of our colleagues from Neumünster www.kulturlokschuppen.de.
If you are travelling by car on Saturday, 7 October, and it was produced in the GDR, you have the opportunity to drive directly to the museum grounds and save the entrance fee. However, we ask for advance notification by email to service@bw-wittenberge.de.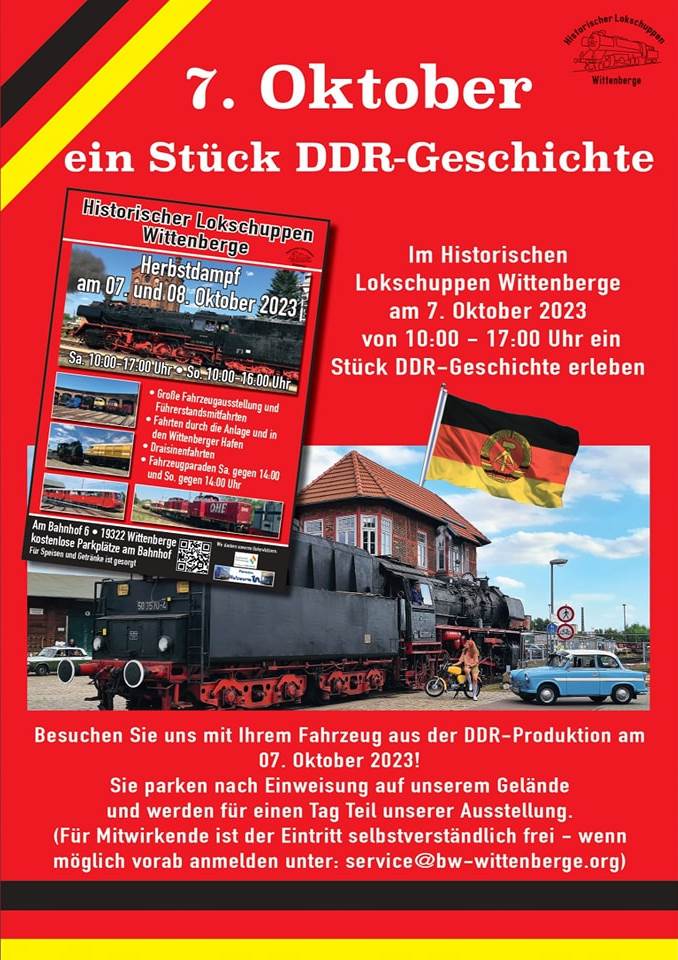 And if you would like to take stylish photos of our vehicles and the guest locomotive 86 1333, our photo sessions on Saturday, 7 October, from 17:00 are particularly suitable. Here we will re-enact scenarios from operational service according to a script and ensure your photographic pleasure at the blue hour, without you having to worry that someone will walk through your picture. Tickets at a price of € 30 will be available at the museum entrance on the day.
---
27.08.2023: Main inspection of our diesel locomotive
Last Saturday, another big step was taken in the main inspection of our diesel locomotive 114 774. Now that all the work on the locomotive's running gear and frame had been completed, the locomotive could be put back on its "own feet". This meant for the active members that they had to put the locomotive back on its bogies and thus on its own axles. This was an exciting moment and millimetre work, but it worked out well to the great relief of those involved. Of course, we also took a few photos during this action, which we do not want to withhold from you.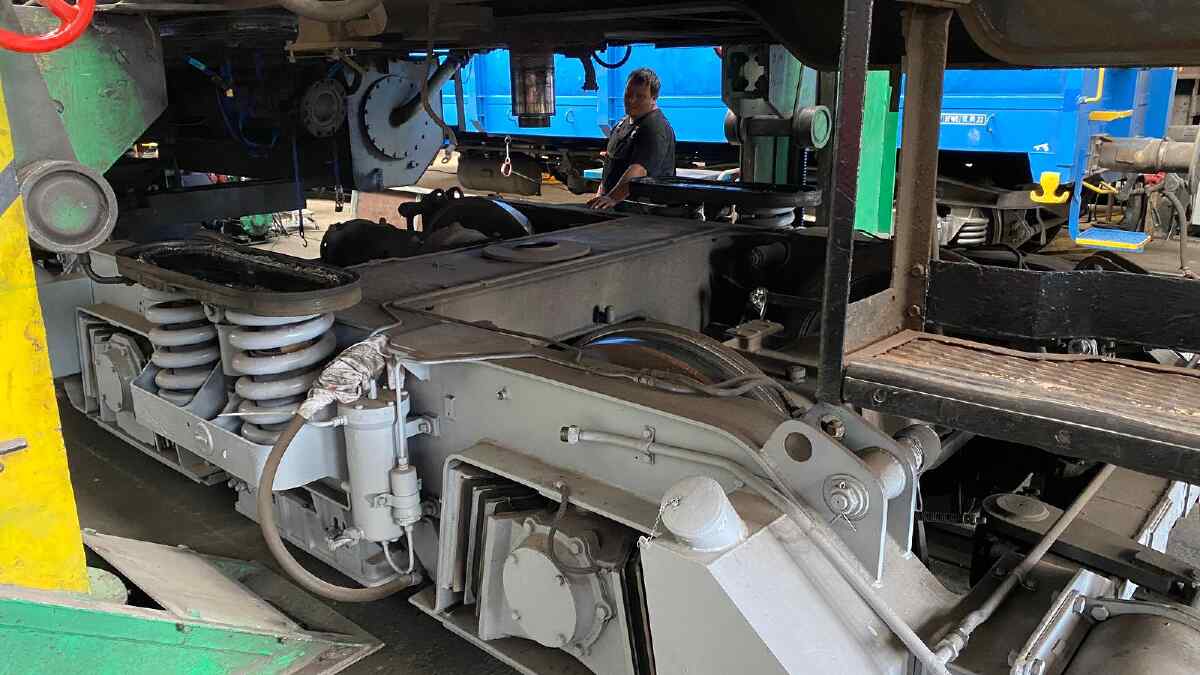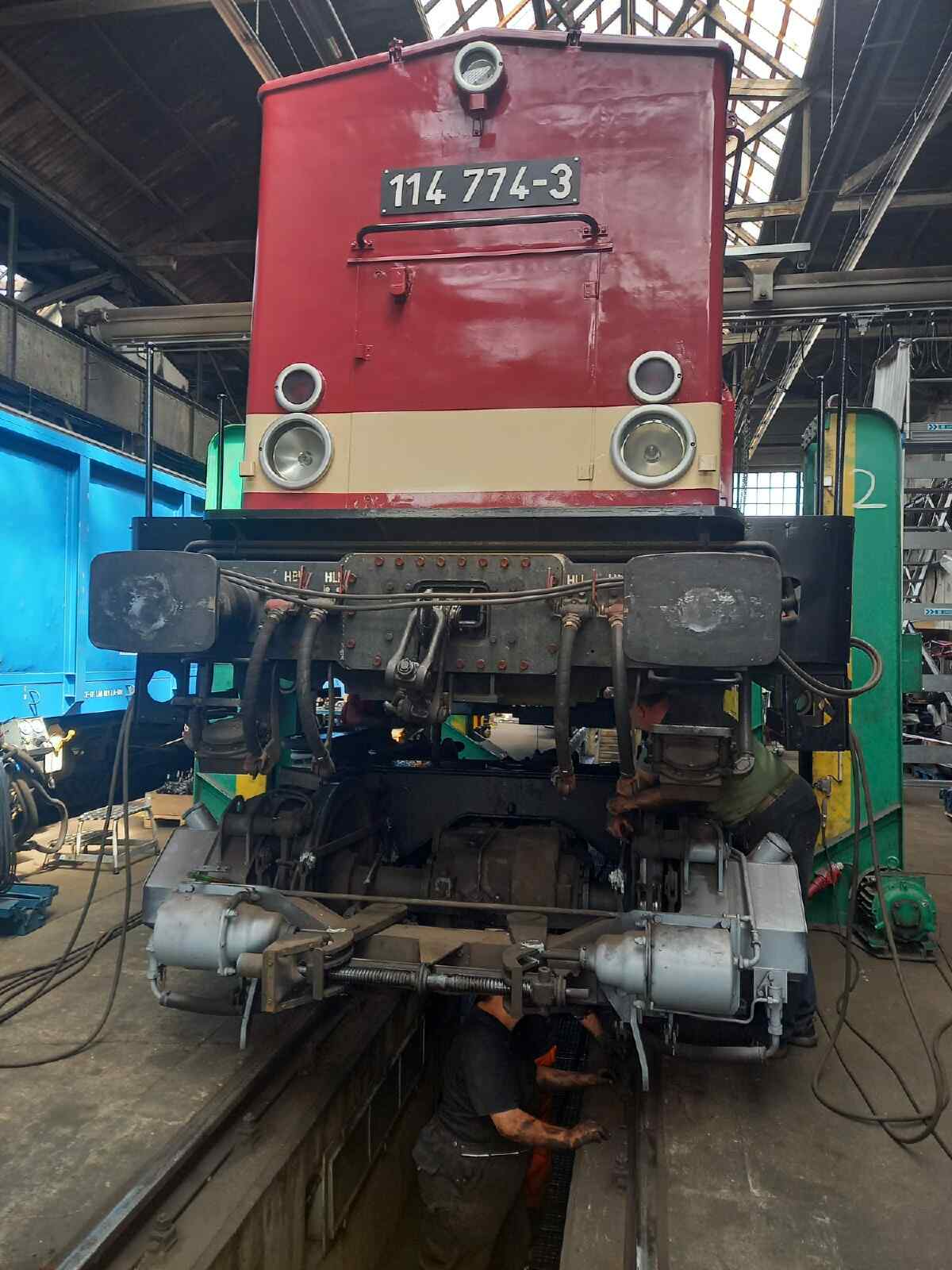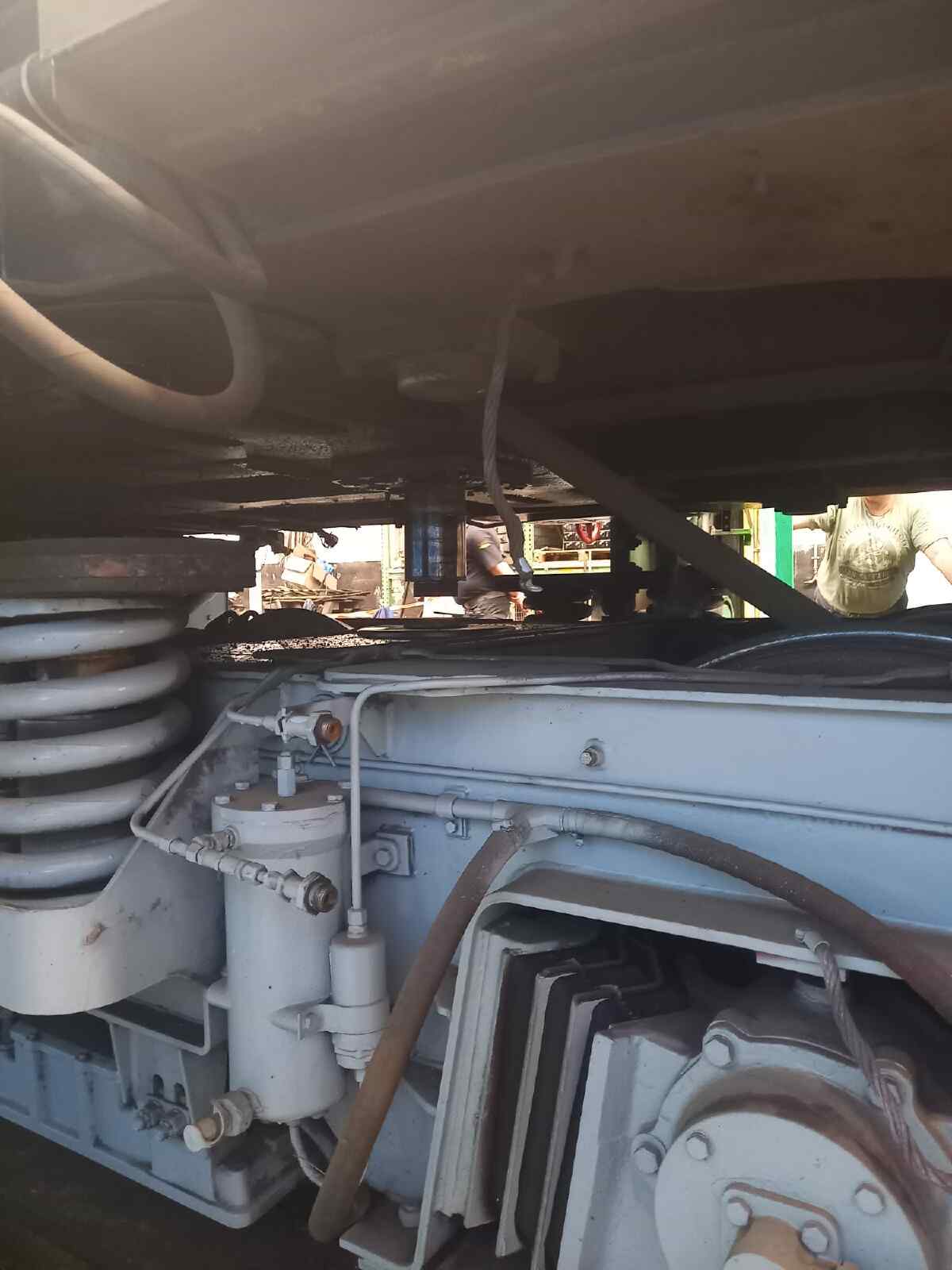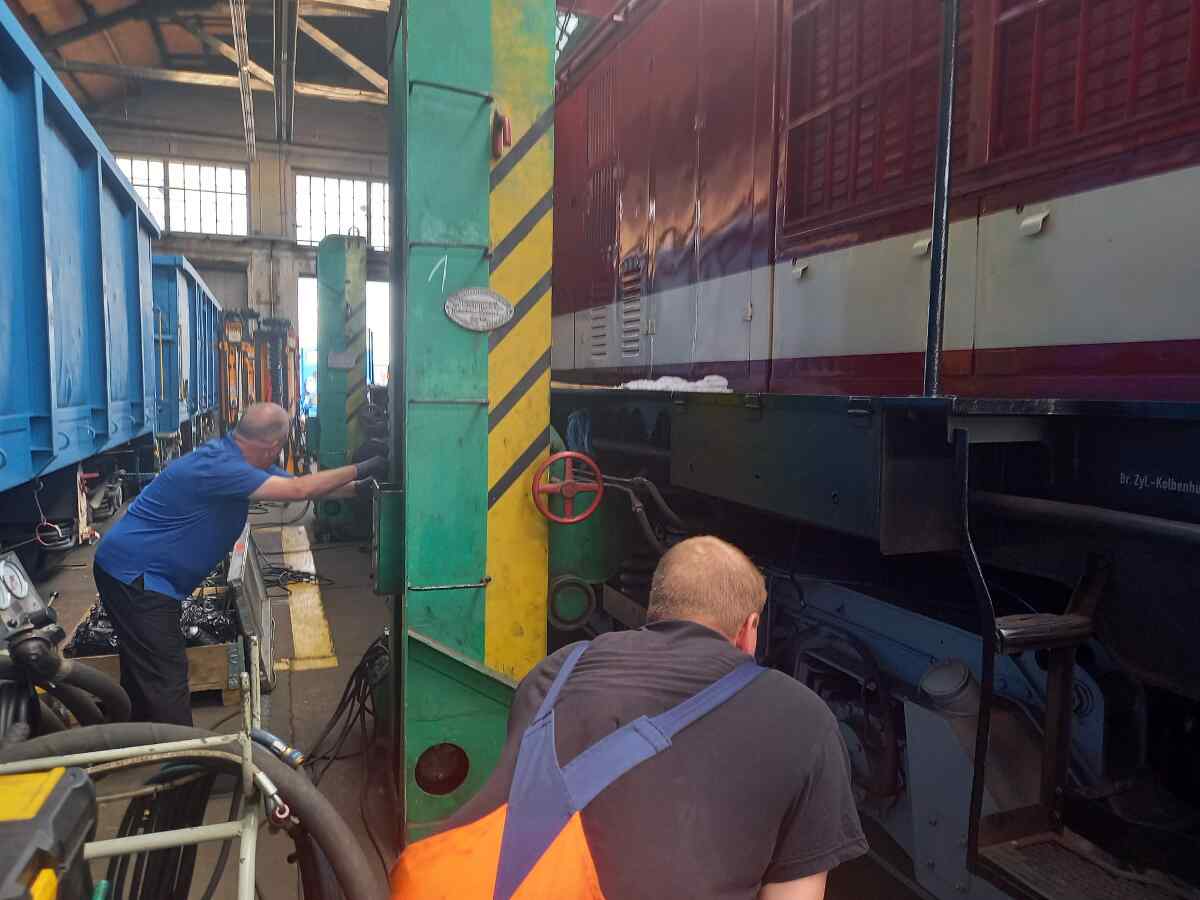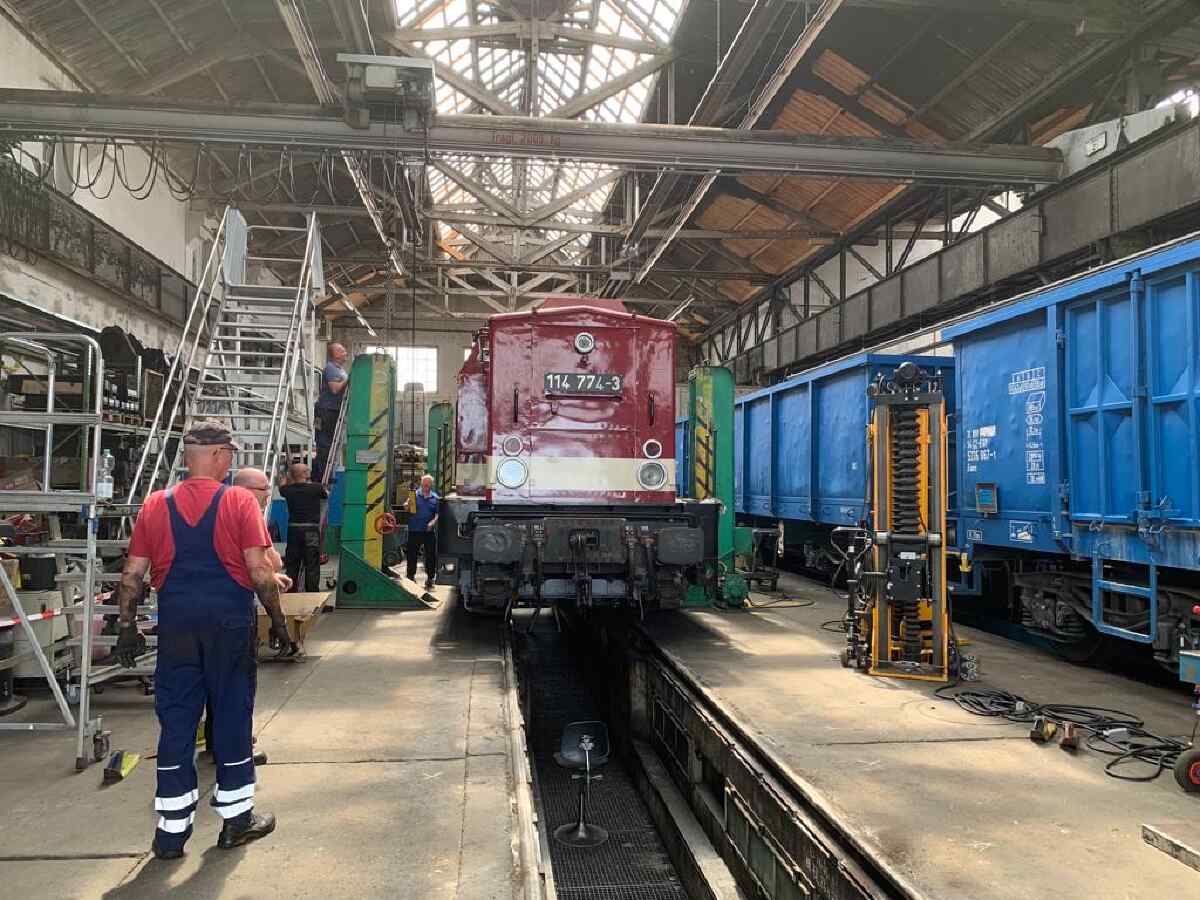 Afterwards, the locomotive was brought back to the museum area where further work will be done. Once again, we would like to thank our colleagues at Schienenfahrzeugwerke Wittenberge for their support.
Last weekend, we also welcomed a large group of motorbike enthusiasts to the museum, who have since published a YouTube video
https://youtu.be/BLrVGGOuLXU?si=-3CW5h98siknbNRO
of a drone flight that is well worth watching. Before take-off, please sit down and fasten your seat belts! Thank you very much for your visit.
Today we would also like to draw your attention to the next events.
On 9th September, 2023, our neighbours, the Eisenbahngesellschaft Potsdam, are holding an open day from 10:00 am. In the workshop adjacent to our museum, you can take an exceptional look behind the scenes.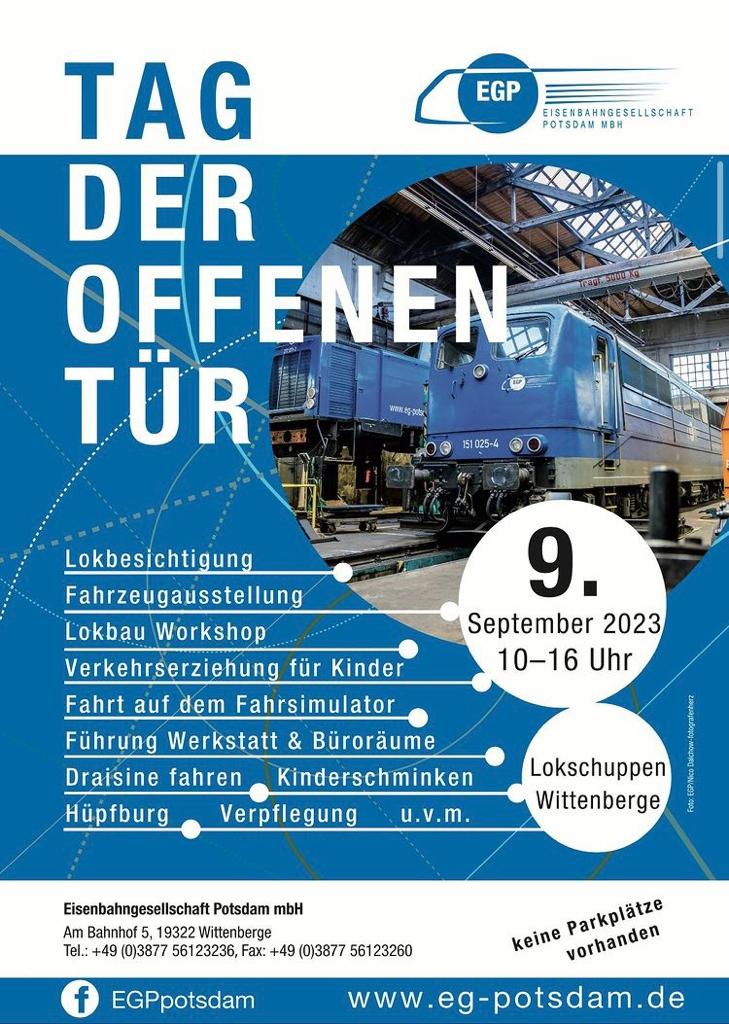 On 9.9.2023 there will then be culture of the classical kind in our museum from 5 pm. Under the motto Klanglandschaften Prignitz, the Kulturkombinat Perleberg will delight us with music by Bach, Mozart and Mendelsohn. A late summer treat!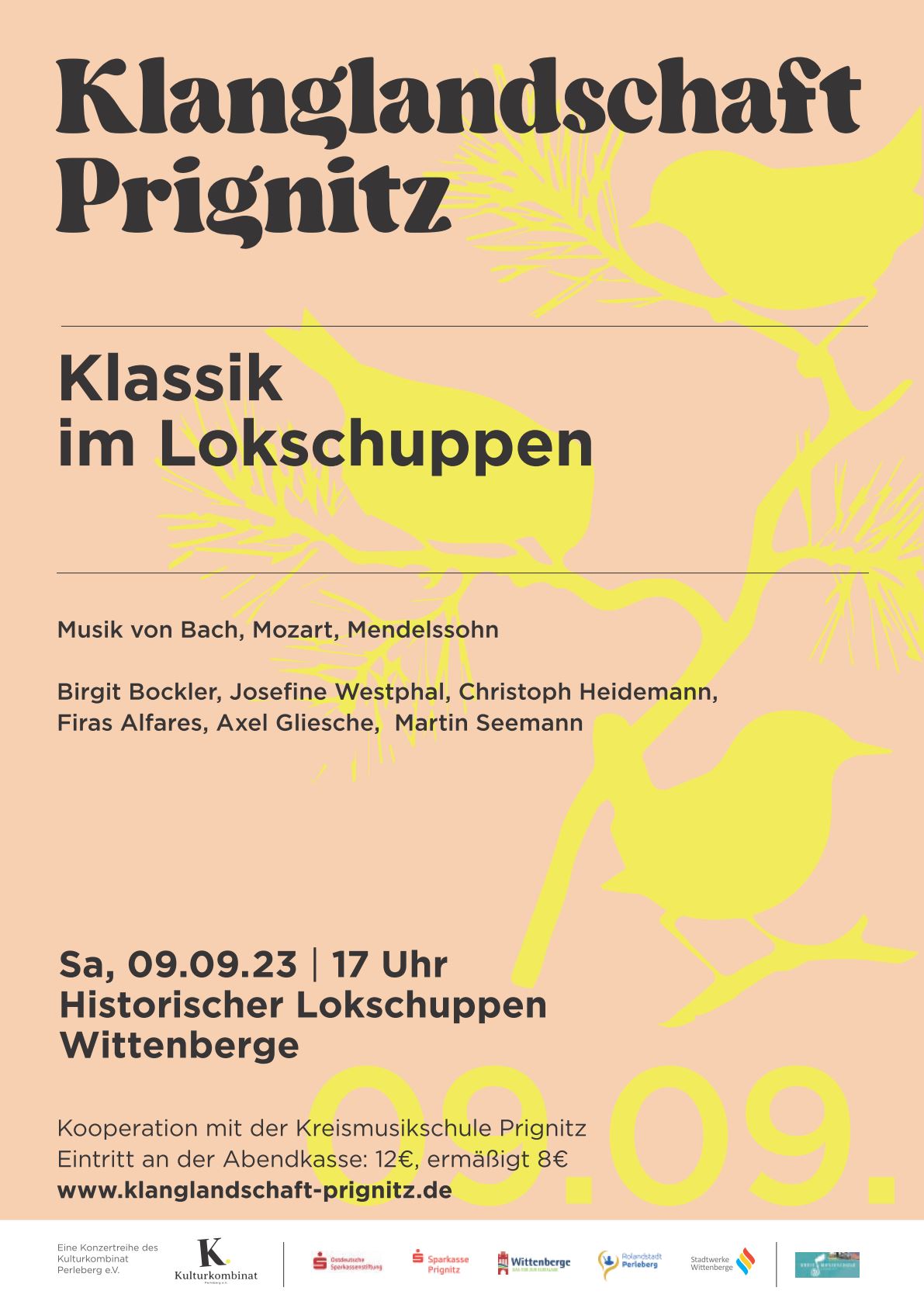 On 10.9.2023, the all-German Open Monument Day will take place, in which we will also participate. For once, the museum will be open on a Sunday.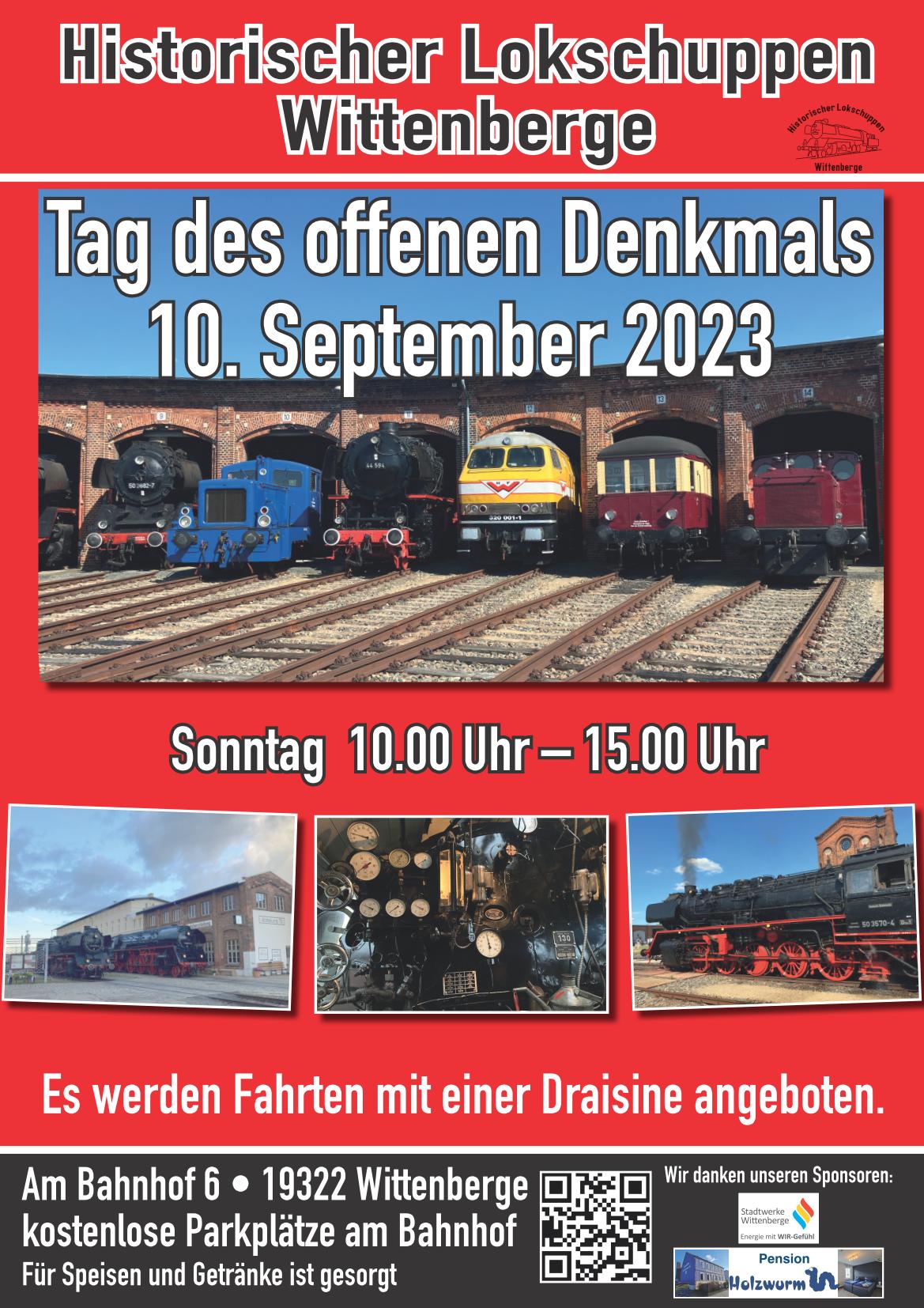 And on 16.9.2023, Germany's Rail Day will take place. We will also be taking part in this.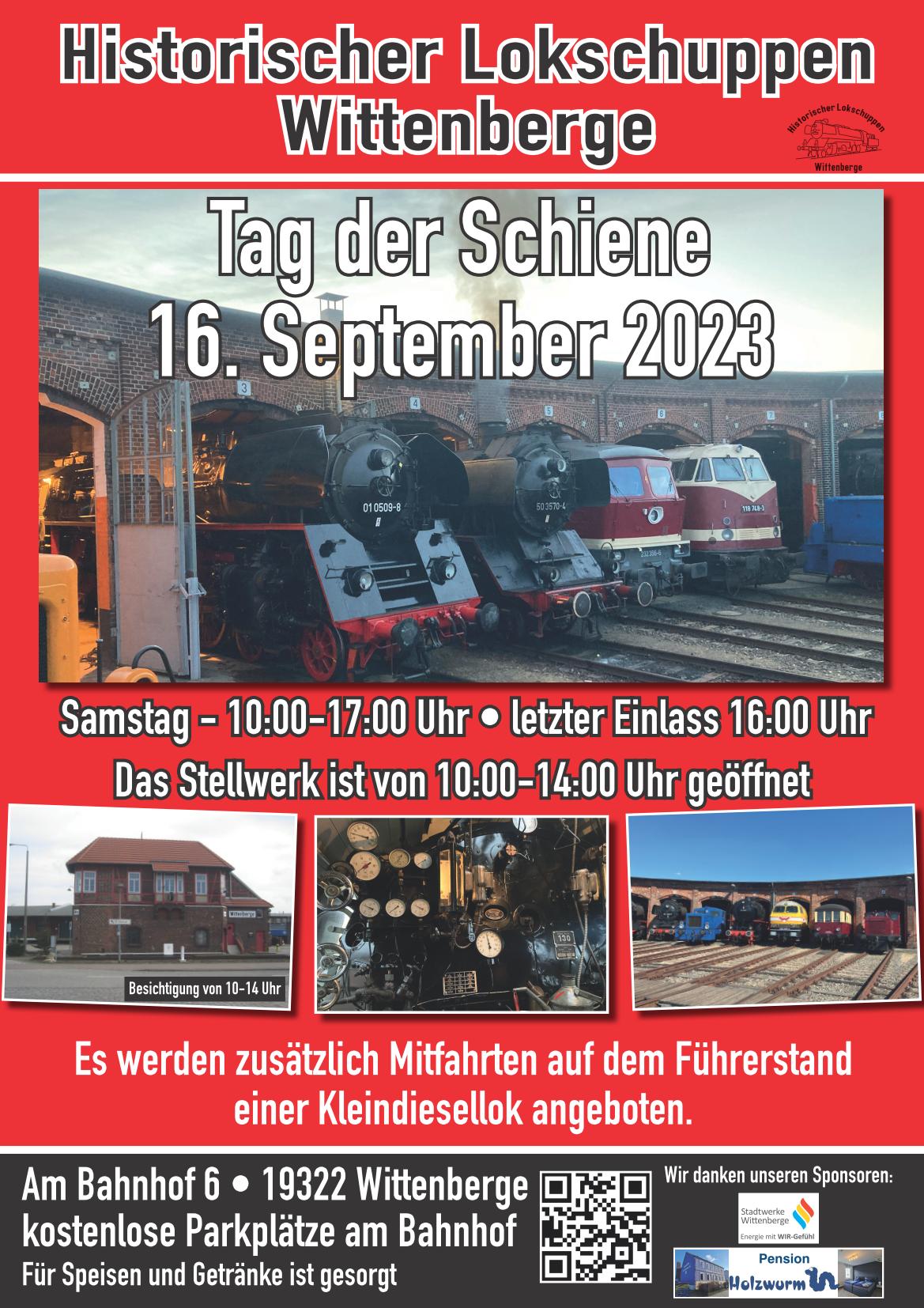 And last but not least, we would like to take this opportunity to announce our "Autumn Steam Gala", a colourful locomotive festival for the whole family with lots of activities in the engine shed and special trips to Wittenberge harbour.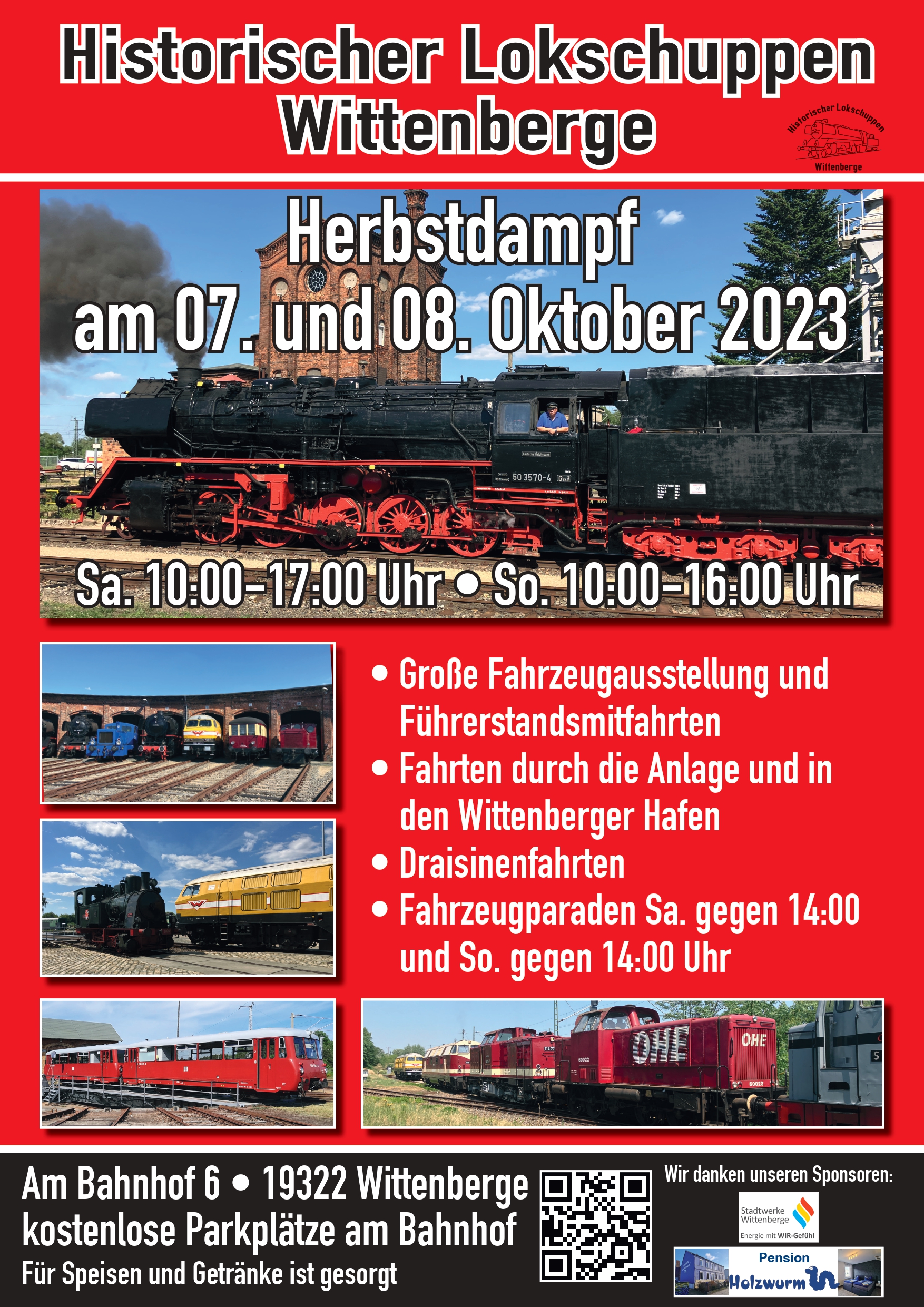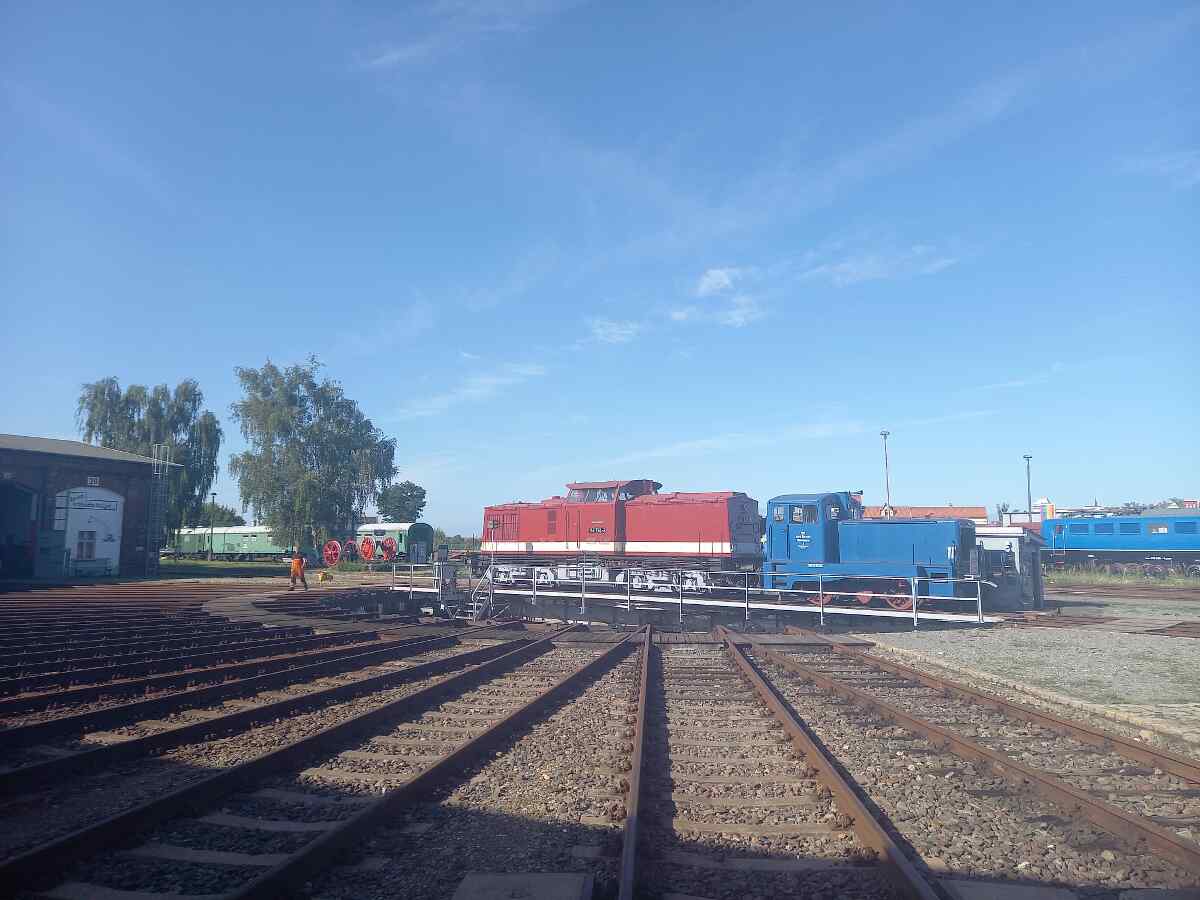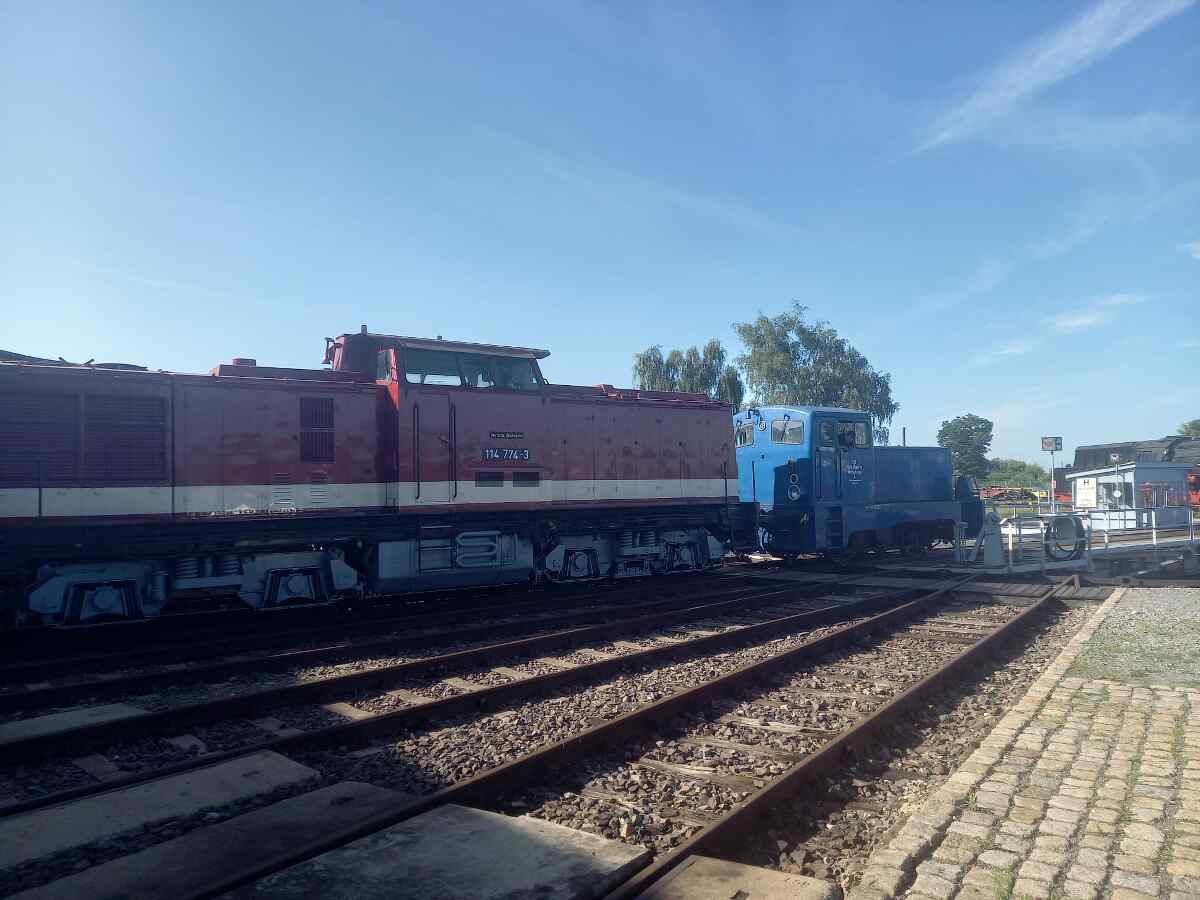 ---